If you've ever run iTunes on both Windows and Mac operating system before, you may have found that iTunes for Windows is much slower than iTunes for Mac. After an enormous amount of added features, it has become bloated and runs painfully slow. Sometime it just drives people mad.
Actually, you can totally speed up your iTunes no matter the operating system. These optimization tips could be very helpful to make your iTunes run faster in Mac or Windows PC.
1.Turn off Genius
If you don't see a reason to use it, or haven't turned Genius on in iTunes, then don't. While it's running it's doing a lot of things in the background and taking up system resources.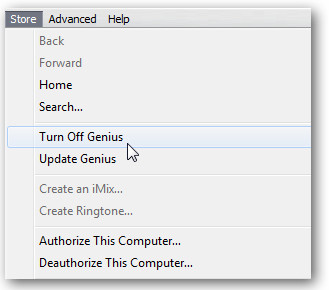 2. Delete Smart Playlists
One of the easiest ways to speed up the launch of iTunes is to delete the default Smart Playlists. After disabling them you should notice a remarkable difference in the startup time. You can make and transfer your own regular playlists and that doesn't slow down performance like the Smart Playlists do.
1. Run iTunes, right click on a smart playlist and select Remove.
2. Repeat this process to remove other Smart lists.
3.Disable Unnecessary Services
Apple usually assumes that you have iPod/iPhone/iPad and many services are open by default. If you have no Apple device, disable these options.
1. Launch iTunes and click Edit -> Preferences.
2. Go to Devices tab.
3. Uncheck the options of Allow iTunes control from remote speakers and remotes Search iPod touch, iPhone and iPad. If you do not share your library with computers in your network, go to Sharing tab and disable the option Share my library on my local network.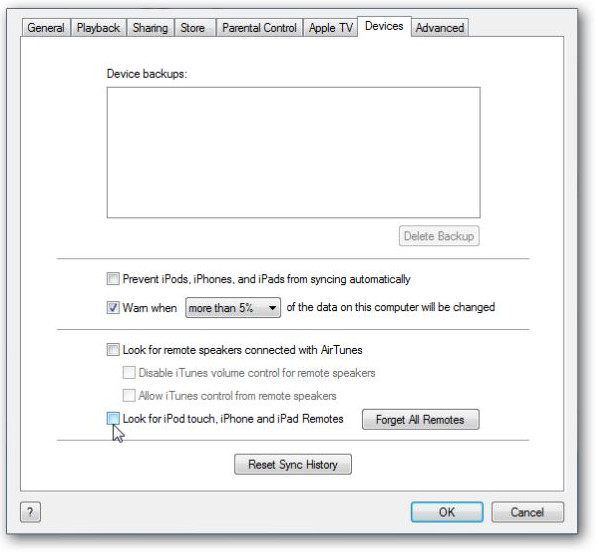 4. Remove Library Columns
To help you get through your library faster, get rid of the column entries you don't care about. While viewing your Library, right click one of the columns and uncheck the ones you don't need showing up. On the other hand, maybe you find more columns useful in your navigation, just check additional ones.
This doesn't necessarily make iTunes run faster, but can make your navigation experience much easier.
5. Reduce Clutter
Unnecessary column information in your playlists is also a cause of slow iTunes. Too many columns not only use more resources, but make it more difficult to find the info you want. To reduce this clutter, right click the column bar on top and then uncheck useless columns.
6. Stop Annoying Messages
The "Do not as me again" again information is annoying. Check it to get a quiet world, and save time.
7. Disable Device Syncing
Your iPhone, iPad, or iPod touch are easily managed on their own without the need to plug them in to your computer. If you don't use iTunes to sync and manage your device, go to Edit > Preferences and then click the Devices tab. Check the box Prevent iPods, iPhones, and iPads from syncing automatically. That way, if you do have your device attached for some reason, iTunes won't be wasting time looking for it and start throwing up options that are useless to you.
8. Get Rid of Duplicate Files in iTunes
Through the years you've probably grown a huge music collection, and chances are there's several duplicates in your library. To weed out duplicates, click View > Display Duplicates. Be careful with this though as it might bring up duplicate songs from different albums. For instance you might have a song on an album, and the same song is on a "best of" collection.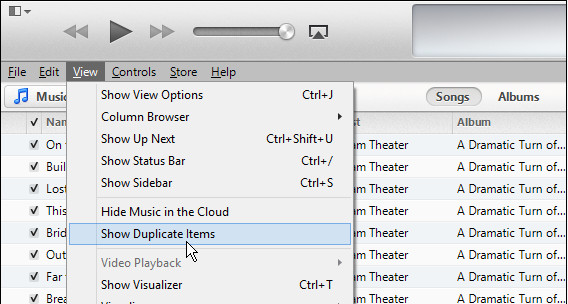 9. Manage iTunes library via Syncios iOS Manager
Syncios iOS Manager is a very powerful and multifunctional music tools for music lovers, it can optimize your iTunes and local music library with just one click. Extract or transfer iTunes music, playlist,  album artwork and lyrics easily to iPhone, iPad, iPod or Computer/ Mac. What's more it supports to delete duplicates, and remove missing/broken tracks.