Former Motorola CEO Dennis Woodside says his company had plans to add a fingerprint sensor to the Nexus 6 but that Apple acquired the company it was hoping to partner with.
iPhone maker Apple is to blame for the Nexus 6 smartphone missing a fingerprint sensor, according to the former CEO of Motorola.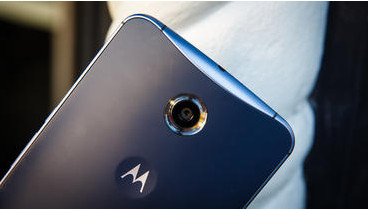 Dennis Woodside said in an interview published Monday in the UK-based Telegraph that Motorola — which co-developed the Nexus 6 with Google — had plans to put a fingerprint sensor on the back of the phone but that the idea was ultimately scuttled after Apple acquired fingerprint sensor maker AuthenTec in 2012.
"The secret behind that is that it was supposed to be fingerprint recognition, and Apple bought the best supplier," Woodside told the Telegraph, referring to the dimple on the back of the Nexus 6 that currently houses the Motorola logo. "So the second-best supplier was the only one available to everyone else in the industry and they weren't there yet."
Fingerprint-sensing technology has been around for quite some time, but is relatively new to smartphones and tablets. The iPhone 5S was the first smartphone from Apple to come with the technology, which allows devices to "read" a person's fingerprint and perform certain tasks, including accessing a home screen and getting into an app. The technology is viewed as an improvement to security, though there have been several hacks leaked to the Web that show how fooling fingerprint sensors in smartphones isn't all that difficult.
Apple bought AuthenTec in 2012 . That company offered a technology unlike any other in the marketplace, in that it allowed users to simply hold their finger over the sensor for prints to be recognized. Other major sensor makers, including Validity, which is owned by Synaptics, at that time required people to swipe their fingers over a sensor.
Not long after its AuthenTec acquisition, Apple took the technology off the market for use in Touch ID for the iPhone 5S. That same technology is also in the iPhone 6 and iPhone 6 Plus, as well as the company's latest iPads.
Google's Nexus 6 launched late last year. Like previous models, the Nexus 6 isn't actually built by Google, but instead by third-party device maker Motorola. Several companies have built products for the Nexus line in the past, including HTC and LG. The key distinction between Nexus and other Android handsets is that the devices must run standard versions of Android. Other handsets running on Android often come with an operating system "skin," developed by the device maker, to differentiate their products.
The Nexus 6 has generally earned solid reviews, thanks to its vibrant six-inch screen and thin design. CNET Reviews gave the device four stars out of five last year, calling it "the most powerful pure Android handset available and the largest Nexus yet."
Still, the dimple on the back of the handset caused some to question what Motorola might have been thinking when it added the feature to the backplate. Woodside, who served as Motorola's chief executive when it was planning and building the smartphone, has finally answered that question.
If the Nexus 6 had come with a fingerprint sensor, it wouldn't have been the first Android device to have one. Products such as the HTC One Max and the Samsung Galaxy S5 have come with fingerprint sensors. However, they were engineered by companies other than AuthenTec and have been roundly criticized for being unreliable — a complaint echoed by Woodside in his comments to the Telegraph. Motorola's Atrix 4G smartphone had a fingerprint reader from AuthenTec, but it was an earlier version that proved inconsistent.
Although Motorola declined to comment on Woodside's comments, he would likely be the person to know. Woodside worked at Google before being appointed Motorola's CEO when the search company acquired the mobile phone maker. After Motorola was sold to Lenovo last year, Woodside moved on to Dropbox, where he serves as the cloud storage company's chief operating officer.
Google did not respond to a request for comment.
Reference: Cnet
You can follow Syncios on Twitter, Facebook for more tips and tricks.
Recommend: Do you still feel sad about deleting phone data by accident, do not worry. You can try this perfect one click data recovery tool SynciOS Data Recovery to recover photos, messages on your iPhone, iPad or iPod Touch, as well as contacts, reminders, calendars, bookmarks, videos, notes, call history, voicemail, voice memos and other files. Simply download and have a try.