In this article, we provide several troubleshooting tips to fix problems where cellular data (3G, 4G or LTE) is not working on your iPhone XS or iPhone XS Max. These tips have helped our readers in the past.
But the good news in most cases based on our experience you should be able to resolve the issues without needing to visit the Apple Store.
How to Fix Cellular Data (3G/4G/LTE) Not Working on Your iPhone XS or iPhone XS Max
Here are 7 solutions you should try to fix the cellular data or mobile data not working problem on your iPhone XS or iPhone XS Max.
1. Ensure Cellular Data is Enabled
While we know most of you might have already checked it, we have come across a surprising number of people who face the issue where cellular data is not working, where they have disabled Mobile Data, and forgotten to toggle it back on.
So just to be doubly sure, follow these steps:
● Swipe down from the right to access the Control Center.
● Check if Mobile or Cellular Data has been enabled. If mobile or cellular data is enabled, the cellular icon should be green.
● If the cellular data icon is grayed out then tap the icon and wait for it to turn green to turn on Cellular data, and the issue that you were facing with Cellular data not working should be fixed.
You may also want to check if AirPlane mode is disabled. If not disable it. I tend to put my iPhone XS Max in AirPlane mode when I am taking a video to prevent calls from stopping the video.
2. Enable and Disable AirPlane Mode
At times, you may face an issue because your iPhone is connected to a cellular tower that may be overloaded with connections.
An easy way to switch cellular towers is by enabling AirPlane mode, waiting for 10 seconds, and turning disabling it. This results in your phone getting disconnected from the cellular tower, and trying to connect with another cellular tower, which may not have the problem. I have tried this a few times on the iPhone XS Max when I faced an issue with cellular or mobile data and it has resolved the problem.
3. Hard Reset iPhone XS or iPhone XS Max
Like all tech problems, there is no harm in starting off by hard resetting or force rebooting your iPhone XS and iPhone X to see it helps.
➤ Backup/Edit/Delete/Create/Deduplicate Contacts on iPhone XS/XS Max/XR
On the iPhone XS and iPhone XS Max, press the Volume Up button, then the Volume Down button and then quickly press and hold the Side button until you see the Apple logo show up. You can check our post on how to hard reset iPhone XS and iPhone XS Max if you need further help.
4. Reset Network Settings
Most networking related issues I've experienced have been fixed after resetting network settings. Resetting these settings flushes caches and clears DHCP settings and other networking related info. To reset network settings, open the Settings app and navigate to Settings > General > Reset and tap on Reset Network Settings. It will prompt you to enter the passcode to proceed.
Please note that the only downside of Resetting Network Settings is you need to add the VPN settings and related profiles again.
➤ How to Backup / Import / Delete Photos on iPhone XS/XS Max/XR
5. Disable VPN
If you have enabled via the Settings app or a VPN app, then try to disable VPN to see if it resolves the issue. You can disable VPN via the Settings app and navigate to the VPN settings to disable the Status toggle from Connected to Not Connected. If you are not able to disable it then launch the VPN app to disable VPN temporarily to figure out if it resolves the cellular data not working problem on your iPhone.
6. Upgrade to the Latest iOS Software Update
If the methods mentioned above doesn't work then try to install the latest iOS software update. I didn't mention this earlier, as we are seeing some reports of users facing mobile data connectivity issue after upgrading to iOS 12.1.2. But if the tips mentioned above don't help, then you can try to install the latest iOS software update.
7. Restore and Setup as new iPhone
If none of these tips fix the cellular data or mobile data issues, the last resort is to restore your iPhone or iPad via iTunes and set it up as a new device. This way, you start afresh and get rid of possibly problematic customizations and settings on your device. Follow the instructions in the post linked below to do a clean restore to the latest version of iOS via iTunes.
➤ 5 Quick Ways to Transfer Data from Android to iPhone XS/XS Max
8. Visit an Apple Store
Even after performing all these steps, you're still having problems, then you might want to visit your nearest Apple Store to know of any possible hardware related issues.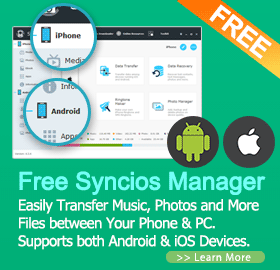 Support to transfer, edit, backup, manage, view iOS & Android mobile data: Music, videos, photos, apps, ebooks, contacts, messages and more.
Download videos from 100+ video sharing sites up to 4K HD video quality and transfer to iPad/iPhone/iPod/Android.
Handy toolkit: Audio converter, video converter, ringtone maker, etc.
Free
You can follow Syncios onTwitter,Facebookfor more tips and tricks.