The iPhone 8 may not be what you expect it to be. In two days, we may all be talking about iPhone X, the presumptive chart-topping handset in Apple's mobile line-up. And thanks to firmware leaks, the world may even be privy to iPhone X specs and features.
So iPhone 8 is now called iPhone X?
One of the biggest questions we've had about the next iPhone has been what's Apple going to call it. First it was the iPhone 8, then the iPhone Pro, then iPhone 8 again, then iPhone Edition. And now it appears as though they were all wrong. As evidenced by references in the iOS 11 code spotted by developer Steve Troughton-Smith, Apple's new phone will actually be called iPhone X.
Why X? Well, we won't know for sure until we hear it from Apple, but presumably it's a reference to 2017 being the tenth anniversary of the handset. Remember, Apple shifted away from the "X" branding last year in macOS Sierra, so there won't be any confusion with the desktop. And besides, X is a super-cool letter.
Will there still be an iPhone 8?
Rumors say that Apple will be releasing an iPhone 8 and 8 Plus alongside the iPhone X, so it isn't abandoning the old naming scheme altogether. The iPhone X is more like a special edition model like the iPhone SE or iPhone C.
But what about iPhone 9?
Hung up on names much? It all depends on what Apple plans to do with the lineup going forward, but remember, Microsoft jumped from Windows 8 to 10, so apparently tech companies just don't like the number nine.
What does the iPhone X look like?
While nearly everything about the iPhone X will be different, all everyone will be talking about is the design. While we haven't seen it in the flesh just yet (and please don't count the dummy models made by case makers), identical icons inside the HomePod firmware and iOS 11 GM suggest it will be radically different from any iPhone that came before.
The iPhone X is presumed to feature a completely bezel-less, all-screen design, with a thin notch at the top (for the camera and other sensors) that juts into the top of the screen. It will likely be 5.8 inches, but with a significantly smaller form factor than the iPhone 7 Plus. With so much screen, you can say goodbye to the home button, a move that is sure to ruffle some feathers.
Elsewhere, the layout of the phone will be similar, with a power button on the right side (though it looks to be a bit longer than the iPhone 7's) and volume buttons on the left, along with a dual camera on the back. This time, however, the camera array will likely be arranged vertically in the top left corner rather than horizontally.
How will the notch work in landscape mode?
It's unclear, but presumably the screen will orient itself just short of the notch.
How will I use Touch ID without a home button?
Good question. According to the leaks, Apple will be dumping Touch ID in the iPhone X for a new system called FaceID.
What's Face ID?
Face ID is the likely name of Apple's new biometric system for unlocking and payments on the iPhone X. It will likely utilize a new 3D camera for accurate and secure scanning. In the iOS 11 GM, developer Guilherme Rambo found the full Face ID setup process, complete with toggles for using it to unlock, pay, and autofill; a screen that describes how it works; and authentication animation. We've had mixed results using facial recognition on other phones, but Mark Gurman of Business Insider says the system will be "quicker, more secure, and more accurate" than Touch ID.
So I won't be able to use my fingerprint to unlock my iPhone X?
Unless Apple is hiding something big—like under-the-display fingerprint authentication—then no, you won't be able to unlock iPhone X with your finger.
So, how will I get back to the home screen?
iPhone X should feature a new navigation system, so there will be a learning curve. Instead of tapping the home button to get back to the home screen, 9to5Mac has confirmed that there will a new navigation bar on the bottom of the iPhone screen. Pulling up from the button of the screen will now bring you back to the home screen, and a longer pull will bring up the new app switcher-Control Center combo.
How will I access Siri on iPhone X?
In addition to "Hey Siri," Guilherme Rambo discovered a new method of summoning Siri by holding the sleep/wake button.
What chip will the iPhone X have?
As expected, 9to5Mac is reporting that the iPhone X will rock the A11 Fusion chip, which promises to be a good deal faster than the iPhone 7's A10 and the iPad Pro's A10X. According to the site's evaluation of the iOS 11 code, the new chip will be Apple's first septa-core silicon, with "four high performance, or 'Mistral,' cores and two battery life efficient 'Monsson' cores." The code also indicates that the iPhone X will have 3GB of RAM.
What are iPhone X camera features?
We don't know a whole lot. Based on renders shared on Twitter, it's all but certain that the iPhone X will sport a dual camera aligned vertically, but we don't know if it will be better than the iPhone 7 Plus' dual 12MP wide-angle and telephoto cameras. Fast Company has also reported that the new iPhone will feature a 3D laser system on the main camera to aid with augment reality applications.
The biggest clues we've gotten come from the iOS 11 GM. According to 9to5Mac, there will be a new Portrait Lighting feature to go along with the wide-aperture Portrait Model that presumably uses the flash to adjust lighting. The settings the site found are Contour Light, Natural Light, Stage Light, Stage Light Mono, and Studio Light. Additionally, the camera will be able to record 4K video at 60 frames per second (up from 30 fps on the iPhone 7) and 1080p HD at 240 fps (up from 60 fps).
What about iPhone X storage?
We don't know for sure, but rumors have suggested that the iPhone X will start at 64GB of storage, with 128GB and 256GB options.
What about the iPhone X battery?
We've heard nothing about the battery. In the iPhone X, but we're willing to bet it will last at least as long as the iPhone 7 Plus. iFixit's teardown revealed that the iPhone 7 Plus has a 2,900mAh, so the iPhone X will likely cross the 3,000mAh threshhold.
Will iPhone X support wireless charging?
Most likely, yes. Rumors and references from the HomePod firmware suggest that the iPhone X will support wireless charging, but it's unclear if it will work with third-party chargers. Our money is on no.
Will AirPods be included in the iPhone X box?
That would be nice, but we doubt it. The iPhone X will presumably come with the same Lightning EarPods and 3.5mm dongle in the iPhone 7 box. However, there will likely be a new model of AirPods coming, as evidenced by an animated GIF hidden in the iOS 11 GM code.
What is the iPhone X release date?
We'll know more Tuesday, but assuming Apple follows the same schedule as prior years, preorders will start Friday. However, the design and OLED display could lead to massive supply shortfalls.
Related: 4 Methods to Transfer Data from iPhone to Samsung Galaxy Note 8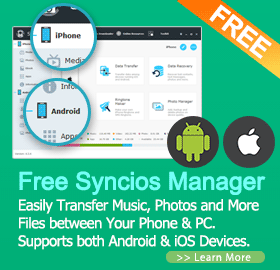 Support to transfer, edit, backup, manage, view iOS & Android mobile data: Music, videos, photos, apps, ebooks, contacts, messages and more.
Download videos from 100+ video sharing sites up to 4K HD video quality and transfer to iPad/iPhone/iPod/Android.
Handy toolkit: Audio converter, video converter, ringtone maker, etc.
Free
You can follow Syncios onTwitter,Facebookfor more tips and tricks.