Troubleshooting an Unresponsive iPhone Touch Screen
We've got several steps to troubleshooting an unresponsive touch screen on an iPhone, if your iPhone is not responding well to touch and the screen seemingly is not working as well as it should with touch input, follow along and you should be able to remedy the issue. I just experienced this problem myself and so this is the set of steps I used to troubleshoot the issue, for my specific situation the iPhone just needed to be hard rebooted and some storage freed up for the touch screen to work as expected again.

1: Clean Your Screen, And Your Fingers
The first thing you'll want to do is to clean off your iPhone screen, as well as your fingers (or other input appendage or device). If you have a case or a thick third party screen protector on the iPhone, you'll want to remove those as you troubleshoot this as well.
Give your iPhone screen a good look in bright direct lighting and tilt it around a bit to reveal any obvious gunk, oil, residues, liquids, moistures, dried crust or food, or anything else that may be interfering in the screen. In the sunnier weather, sunscreen is another common thing that can get on a screen and make the iPhone touch screen unresponsive or erroneously responsive. You'll want to make sure the iPhone screen is clean and clear of anything that can interfere with the ability to detect touch properly. Wiping it down with a soft cotton cloth is often sufficient to remove anything from the iPhone displays touch screen, but you may need to use a slightly damp (and I do mean slightly, never enough moisture to drip) cloth to wipe the screen free.
As for your fingers, a stylus, or other input appendages, just make sure they're clean and dry. Wash your hands or your fingers if in doubt and if you have a bunch of gunk on them. Unusually dry skin or callouses generally don't matter and should not cause any issue with the touch screen, though if your hands are wet that may cause issues.
Just make sure the screen is clean, and that your hands are clean and dry.
2: Perform a Hard Reboot
Often times simply restarting the iPhone will fix the unresponsive touch screen, but a hard reboot is often easier even if it's a bit more forceful.
Hard rebooting is easy, but it depends on which iPhone model you have:
To force restart iPhone 7 and newer without a clicking Home button: Hold down the VOLUME DOWN button along with the POWER BUTTON until you see the Apple logo
To force restart iPhone 6s and older with a clickable Home button: Hold the Home Button and the Power Button until you see the  Apple logo on screen
When the iPhone boots back up, the touch screen should work just fine again if it's a simple software issue like a bug or a software freeze with iOS or an app.
From personal anecdotal experience, my iPhone 7 Plus screen can sometimes become totally unresponsive to touch for a while, and a hard reboot always fixes it.
3: Delete and Update / Reinstall the Problematic App
Sometimes an iPhone touch screen is unresponsive in just one particular app. If this is the case, the problem is likely that app and not the iPhone touch screen at all, but since the app is open at the time the app stops responding as it "freezes". A frozen app will often not respond to any touch screen input at all, but pressing the Home button will often exit the app and go back to the Home Screen in these scenarios.
If the touch screen is not working in a given app, you'll want to update it first. Open the App Store and check to see if updates are available for the app in question, if an update is available install it.
If there is still a problem with the touch screen not working in a specific app after you have updated that app, you can also delete the app, and then reinstall the problematic app. Relaunch it again to see if it works as expected. If it still fails, the app could have a bug that needs to be addressed. If the touch screen works with every other app except for the problematic one, that particular app is likely the problem and it's probably nothing to do with the screen or iPhone at all.
4: Free up iOS Storage
When an iPhone has zero storage available, things tend to go haywire in general, and that can include experiencing an unresponsive touch screen.
Make sure your iPhone has storage available on the device. You can check this in Settings > General > Storage & Usage > Manage Storage. Aim to have at least a few hundred MB available if not a few GB, as iOS really starts underperforming with less space available.
Deleting unused apps is an easy way to recover some storage space.
I have noticed this is particularly true with modern versions of iOS when an iPhone is totally full and has 0 bytes of storage remaining, in which case many apps become unresponsive as does the touch screen. Sometimes even both the Home button along with the touch screen may be unresponsive and not work at all for a while on a totally full iPhone, until whatever software cache clearing mechanisms complete. This is often easily reproducible too; just fill up an iPhone so that it has zero bytes remaining, and then start trying to use apps that rely on a lot of caching like Instagram, Twitter, Facebook, Spotify, etc, once those app caches build up you will likely notice the touch screen becomes unresponsive for short periods of time as iOS struggles to deal with having zero storage available. In such a case, just free up some space, then reboot the iPhone, it should work again.
5: Is the iPhone Touch Screen Cracked? Is the iPhone Touch Screen Damaged? Was the iPhone damaged or dropped?
This is probably obvious from the get-go, but if the iPhone touch screen is cracked it can become unresponsive, partially unresponsive, or just not work at all. Likewise if the iPhone is damaged, it may not work at all, or the touch screen may not work reliably.
Water damage can also ruin an iPhone touch screen, or the entire phone as well.
If an iPhone has been dropped, it's also possible that internal components came loose, which may cause the touch screen to not be working.
If the iPhone has obvious visible damage and the iPhone touch screen is not working, the damage is likely to be the cause. In such a situation, take the iPhone to an authorized Apple repair center or an Apple store and have them give it a look.
6: iPhone touch screen still not working? Time for more serious measures
If the iPhone touch screen is still not working at all, you may want to try backing up the device and then restoring it via iTunes. Just be sure to backup the iPhone to iCloud and/or iTunes beforehand. If you contact an official support channel they will likely have you restore the device as part of their troubleshooting process anyway.
If the iPhone is unresponsive because it's stuck on an Apple logo screen, that's a different problem and it's not related to the touch screen at all – you can usually remedy it with a restore or DFU restore.
Related: How to Downgrade iOS 10 to iOS 9.3.5 Seamlessly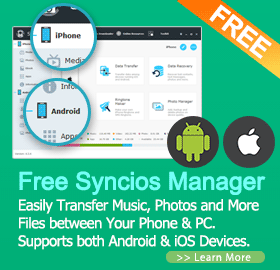 Support to transfer, edit, backup, manage, view iOS & Android mobile data: Music, videos, photos, apps, ebooks, contacts, messages and more.
Download videos from 100+ video sharing sites up to 4K HD video quality and transfer to iPad/iPhone/iPod/Android.
Handy toolkit: Audio converter, video converter, ringtone maker, etc.
Free
You can follow Syncios onTwitter,Facebookfor more tips and tricks.