Poor iPhone 7—we're only halfway through its first year and it's already totally overshadowed by whatever is coming next. After all, 2017 marks the iPhone's 10th birthday, so Apple is reportedly gearing up to make its anniversary edition extra special.
We'll keep track of the latest rumors and how plausible they are, and we'll put them in one spot (this one!) so you can pop on over whenever you want to read the latest.
If you passed on the iPhone 7 to wait for the iPhone 8—or the iPhone 7s or whatever name Apple decides to use—it sounds like the next phone could be the design refresh you were waiting for. Just don't expect the headphone jack to return.
What's the latest?
The rumor: The iPhone 8 will feature both waterproof capabilities and wireless charging, according to a new report in Nikkei Asian Review. The information comes from Wistron, one of Apple's assembly companies, which told shareholders on Wednesday that the new features will "alter the assembly process a bit." Apple made last year's iPhone 7 the first to be considered water-resistant, and we've heard previously that Apple is seriously considering wireless charging. It's unclear, though, whether the all new 2017 iPhone will sport these new capabilities.
Plausible? It makes sense that Apple would want to take the iPhone 8 one step further in terms of water-resistance, so making it technically waterproof is the next logical step. Apple is notoriously cautious in designating its products waterproof or even water-resistant, though, so we'll see if the company makes this claim in the upcoming iPhones.
As for wireless charging, all things point to this actually happening. Apple joined the Wireless Power Consortium last year, and previous rumors have even indicated that all new iPhone models being released this year will feature wireless charging. So if you're going to bet on an all-new feature, wireless charging is as close to a safe bet as we'll get before launch date.
Facial recognition instead of Touch ID?
The rumor: Apple first tried to integrate a fingerprint sensor in the iPhone 8's virtual Home button, but it wasn't working out. So, according to a "FoxconnInsider" on Reddit, Apple is now considering using facial recognition instead of Touch ID to unlock the device. The source, who posted on a Reddit AMA, also called rumors of moving the fingerprint sensor to the back of the device "misinformation."
Plausible? Can Reddit be a reliable source? In most cases, we'd venture to say no. However, the source of this Reddit AMA was apparently verified by the moderators of the /apple subreddit. Plus, 9to5Mac points out that FoxconnInsider has been a reliable source of information from Apple's supply chain before. Overall, it sounds like Apple is adamant about not moving the fingerprint sensor to the back of the device, so expect a new solution, whether that's facial recognition, fingerprint sensor working properly via the Home button or a combination of both technologies.
Higher price tag?
The rumor: The iPhone 8 is gearing up to be the most expensive iPhone ever released, but apparently Apple is aiming to still make it less than $1,000. According to Goldman Sachs analyst Simona Jankowski, the iPhone 8 will cost $999 for the 128GB model. The 256GB model, however, will cross the thousand-dollar mark and be sold for $1,099, according to Jankowski's research published on CNBC.
Plausible? We've previously heard that the iPhone 8 would break the $1,000 barrier, and it makes sense that the 256GB model crosses this threshold. And even though the higher price tag might seem astronomical compared to current models, it might be worth it. Jankowski seems confident that sales of the iPhone 8 will actually send Apple's stock soaring because of all the new features. Analysts believe that the all-new OLED display, virtual Home button, and wireless charging will be enough to generate larger-than-usual demand for a new iPhone. Tim Cook actually confirmed that recent sales of the iPhone 7 had stalled because people were anticipating upgrading to the iPhone 8, so we wouldn't be surprised if Apple decided to make the most out of all the hype for the next iPhone and increase the price tag.
Concept video based on CAD schematic?
The rumor: A new concept video has surfaced that renders some of the most prominent rumors about the iPhone 8. The video showcases the iPhone 8's OLED display, as well as the vertically aligned rear camera system. Based on a factory computer-animated design schematic, the video is courtesy of French gadget leaker Steve Hemmerstoffer, known as OnLeaks on Twitter.

Plausible? Hemmerstoffer has a good track record when it comes to iPhone rumors. Last year, he posted a photo of the iPhone 7 case months before the device was unveiled. However, even Hemmerstoffer admits the latest video may not be 100 percent accurate since Apple is testing various prototypes of the iPhone 8. "I can't confirm this is 100% accurate," he tweeted. Watch the video below.
Wireless charging?
The rumor: The new iPhone will come with wireless charging. A note by JPMorgan that was published on CNBC revealed that the next iPhone will include a wireless chip by Broadcom. The note did not specify which wireless charging standard will be supported by the iPhone, although Broadcom makes chips that support both Qi and PMA.
Furthermore, JPMorgan did not reveal which iPhone model will have wireless charging. But an earlier report by KGI Securities analyst Ming-Chi Kuo stated that Apple was expected to add wireless charging to all of its 2017 iPhones, including the special anniversary iPhone 8, as well as the next-generation 7s and 7s Plus.
Plausible? Yes. The addition of wireless charging was one of the first reliable rumors we heard about the forthcoming iPhone 8. In February, Apple joined the Wireless Power Consortium behind the Qi system, but the iPhone's wireless charging could support PMA as well. Samsung, a fellow consortium member, includes both Qi and PMA capabilities in its Galaxy phones.
The addition of wireless charging would also explain Apple's move to using all-glass casing, another previously rumored feature. Even though some metal and plastic smartphones have wireless charging, using glass is faster and there are fewer frequency disruptions. Apple could decide to limit the feature to the iPhone 8, but with the 7s and 7s Plus expected to be remade with all-glass casing, the addition of wireless charging might encourage more people to upgrade. While the iPhone 7s and 7s Plus models might lack OLED due to production constraints, putting wireless charging would go a long way toward making the next iPhone a must-buy.
Touch ID on the front?
The rumor: New renderings show the version of iPhone 8 that everyone seems to want: edge-to-edge OLED display with the Touch ID fingerprint sensor hidden underneath the display, not placed on the back. In addition, the renderings also show that the rear cameras in a vertical alignment.
These iPhone 8 renderings seem to be inspired by a recent leak of internal schematics that surfaced on SlashLeaks. Those schematics also included a facial recognition front-facing camera, an infrared sensor, a stacked mainboard design, and two battery units.
Plausible? Certainly! The iPhone 8 is rumored to have an extensive feature list, so even if not all of them are true, a stacked mainboard design would not only be plausible but necessary. And we're crossing our fingers still for a Touch ID sensor that's not on the back of the device, so these schematics make us happy for that reason, as well.
Touch ID on the back?
The rumor: Apple might move one of its essential features, Touch ID, to the back of the iPhone 8. According to Pacific Crest Securities analyst Andy Hargreaves, Apple is having technical issues integrating the Touch ID sensor right on the display of the new virtual Home button. Apple might forced to delay the production of the iPhone 8 in order to fix the issue. Another possibility, according to Cowen and Company analyst Timothy Arcuri, is that Apple will resort to placing the Touch ID sensors on the back, similar to the new Galaxy S8 and the Pixel phones by Google. According to Bloomberg, Apple has prototyped a version with Touch ID on the back of the device, which leaker Sonny Dickson shared a photo of on Twitter.
Plausible? Although we previously have heard rumblings about a delay, it's very unlikely for Apple not to have all the features set at this point. Touch ID is such an important part for enabling Apple Pay that it's hard to imagine a highly-anticipated iPhone 8 without it. And moving Touch ID to the back of the device is not very intuitive if you want to unlock your iPhone with your thumb or while it's laying down flat. It's a design flaw we hope Apple doesn't succumb to, but if we have to choose between Touch ID on the back or no Touch ID at all…we'll begrudgingly accept the former.
Another potential reason for a fingertip-sized cut-out on the back of the iPhone casing is wireless charging, which is a rumor we've been hearing over and over again. But if Samsung couldn't manage to put a fingerprint sensor in the Galaxy S8 due to technical issues, Apple might have a serious problem.
An overhauled camera?
The rumor: We thought the iPhone 7 Plus had a killer camera, but the iPhone 8 could change the entire game. According to Bloomberg, Apple is testing overhauled cameras on both the front and back of the 10th anniversary iPhone. Unlike the 7 Plus, the iPhone 8's dual cameras will be stacked on top of of each other instead of side by side. That should make for better photos. But more importantly, the front-facing camera may also include two lenses with augmented reality features and a Portrait mode for selfies.

Plausible? Bloomberg's track record for iPhone rumors is pretty solid, although Apple is clearly testing a slew of features and not all of them will make it into the 10th anniversary model. However, given CEO Tim Cook's recent comments about augmented reality and the success of the iPhone 7 Plus and its standout camera, it seems likely that Apple will make the iPhone 8's photography features even better.
100 million OLED displays ordered from Samsung?
The rumor: According to Bloomberg, Apple has placed an order for 100 million OLED displays from Samsung. Furthermore, Samsung is rumored to be the sole supplier of OLED displays for the new iPhone 8, because other manufacturers don't have the capacity to make mass quantities.
Plausible? The rumor that Apple is moving to OLED for the iPhone 8 is pretty solid, with recurring reports that continue to to corroborate that information. The only thing we're still uncertain about is whether these OLED displays will be flat or curved. Originally, it seemed like Apple had come across a few roadblocks finding a supplier that could produce enough curved OLEDs for the iPhone 8, but more recent reports make it sound like Samsung has stepped up to the challenge.
It's still unclear just how curved the screen will be. According to Bloomberg, the latest iPhone 8 prototype features a flat OLED screen with a slightly curved glass front meeting a steel frame with an aluminum back. But Apple is still testing iPhones with glass backs and more dramatic curves, so anything is possible.
True Tone in all models?
The rumor: All new iPhone models this year will feature Apple's True Tone display technology, according to an investor note from Barclays obtained by 9to5Mac. True Tone debuted in the 9.7-inch iPad Pro last year, and the technology uses ambient light sensors so that the display can adopt the surrounding light and color temperature, making it less harsh on the eyes. According to 9to5Mac, True Tone will be incorporated in the premium iPhone 8, as well as in forthcoming iPhone 7s and 7s Plus, which are all expected to be unveiled later this year.
Plausible? Yes, Apple has a tendency to launch new features in one device before expanding it to other products. However, we keep hearing that Apple really wants to make the iPhone 8 standout, so it's interesting to learn that True Tone is expected in all the forthcoming models
Is this what it could look like?
The rumor: We've all heard the rumors of an edge-to-edge OLED display (scroll down if you need to catch up), and now it's easier to imagine what that would look like. Working off a report from Nikkei Asian Review, Benjamin Geskin created new renders for iDrop News. Click through to see more, showing what the phone would look like if the most popular rumors all come true. You'll notice the top "forehead" is shorter, the bottom "chin" is nearly gone, the Home button's fingerprint sensor is now embedded into the screen, and the screen stretches to the very side edges.
Plausible? Renders can be hit or miss, but this seems like a very plausible design, if the edge-to-edge rumor is true. Still, the final look reminds us a little bit of the Samsung Galaxy lineup! What we really can't wait to find out is if Apple uses special materials for a high-end iPhone Edition, like it did with the Apple Watch Edition, and also what colors the new iPhone will sport.
Could it be USB-C?
The rumor: Each new report about the iPhone 8's features reinforces the ones before it, but the latest rumor from the Wall Street Journal is one we haven't heard before. The WSJ says Apple will replace the iPhone Lightning port with a USB-C connector.
This is huge. Apple just did away with the iPhone's headphone jack and included Lightning EarPods in the box instead of the 3.5mm earphones it has shipped with previous generations of iPhones. Now it appears that those Lightning earphones are already being phased out.
Plausible? Certainly. Apple has no qualms about ditching old technology, even its own. Remember the 30-pin connector that it sacrificed for the proprietary Lightning port? A move to USB-C would actually be a positive one, at least in terms of compatibility. USB-C is a standard that tech companies are quickly adopting, so the iPhone would finally play nice with peripherals and accessories that aren't made or licensed by Apple. The new MacBooks are also all-in with USB-C, so it wouldn't be at all surprising if the iPhone made the move.
Curved display or no curved display?
The rumor: Early reports about the iPhone 8's OLED display indicated that Apple was aiming to make a curved screen. The WSJ reports that plan is still in the works, though Chinese research firm TrendForce said earlier in February that early prototypes weren't up to Apple's standards. Apparently that's no longer the case: Apple "has ordered sufficient components to enable mass production," the Journal's sources said.
Apple is getting its curved OLED displays from Samsung, who started producing those displays for its own phones back in 2014 and is the only manufacturer who can make enough of the curved OLED panels to supply Apple.
The iPhone 8 is also reportedly ditching the physical home button, though it's unclear if Apple is ready to make the move to iris recognition for phone unlocking or if the company will find a way to embed the Touch ID sensor in the display itself.
Plausible? A curved OLED display would be a significant departure in design for Apple and a compelling reason to snag the iPhone 8, which is rumored to be priced at north of $1,000. Apple was rumored to be running into constraints finding OLED display suppliers who can make enough panels to build the next-gen iPhone, but the WSJ is reliable when it comes to Apple rumors. Expect a curved OLED screen to set the iPhone 8 apart.
Facial recognition?
The rumor: The iPhone 7 and 7 Plus got a rear-facing camera overhaul, the 7 Plus with an extra lens for telephoto shots. Apple is turning its attention to the front-facing camera in the iPhone 8 with facial recognition, a 3D sensor, and infrared transmitter and receiver. The rumor comes from KGI analyst Ming-Chi Kuo and a research note from investment banking firm Cowen and Company published by Business Insider. Apple purchased the facial recognition startup RealFace earlier in February, making it even more likely that the company is experimenting with alternative biometric tools, including iris recognition. That could replace Touch ID as a phone unlocking mechanism.
The front-facing camera's new features would have big implications for games. Players would no longer need avatars—instead, the new camera system would generate a three-dimensional selfie.
Kuo noted that Apple is planning to put a 3D sensor in the iPhone's rear-facing camera next year, which would negate the need for a dual-lens system.
Plausible? This is the first time we've heard about Apple incorporating new laser technology and facial recognition, but it wouldn't come out of nowhere. Apple acquired Primesense and their infrared sensor technology in 2013, and the company just recently integrated facial recognition software in Photos for iOS 10 and macOS Sierra. So it makes sense that the next evolution of this feature is for Apple to develop a camera with sensors that can perform facial recognition in real-time to create augmented reality experiences, similar to Snapchat's selfie filters.
Stainless steel chassis?
The rumor: Apple is returning to a stainless steel chassis for the next iPhone with two glass panes on the front and the back, according to Digtimes. In addition, Apple is moving to a new forging process for the metal bezel and frame that is expected to reduce manufacturing cost and time. The forging process will reportedly be 30 to 50 percent cheaper than the current unibody machine-precision process. The stainless steel frame will be provided by Foxconn and Jabil, the manufacturers who supplied the same part on the iPhone 4.
Plausible: Yes. This rumor corroborates an earlier report predicting the return of the glass iPhone. Not only that, but we're also under the impression that Apple is looking to launch several models of the iPhone 8 with different prices and using different materials. And it makes sense that the higher-end iPhone 8 would rely on stainless steel to hold the front-and-back glass panels together, while a cheaper version uses aluminum—that's the same pattern we see with the Apple Watch.
Folds like a book?
The rumor: You may be able to bend the next iPhone, similar to how you fold to close a book. Apple has just been granted a patent for a book-like iPhone design that used an OLED display that can fold in half.
Plausible? Just because Apple has the patent for this, doesn't necessarily mean that it will become a real product. Besides, Apple is already running into issues with OLED display supply, so there may not be enough time or resources to incorporate a bendable, foldable display on the iPhone 8
An OLED display at last?
The rumor: So far, Apple has held on to LCD displays, which isn't a bad thing—the LCD display on the iPhone 7 is just as good as the competition's OLED screens. But Apple is reportedly in talks with Sharp to be one of its main suppliers of OLED displays to use in next year's iPhones. According to Bloomberg, Apple wants to diversify its OLED sourcing so it has multiple options. Sharp is investing $566 million in OLED production factories which will start churning out displays by next June.
Plausible? Yep. The future is OLED, because the technology is more flexible than LCD and would allow Apple to make the iPhone bezel razor-thin and move the home button to the display itself. There are other applications made possible by switching to OLED screens, and we're sure Apple is exploring those for a future phone.
Related: How to Backup and Restore iPhone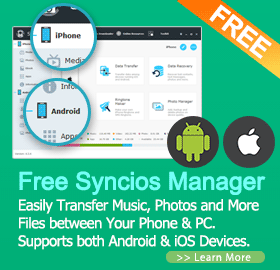 Support to transfer, edit, backup, manage, view iOS & Android mobile data: Music, videos, photos, apps, ebooks, contacts, messages and more.
Download videos from 100+ video sharing sites up to 4K HD video quality and transfer to iPad/iPhone/iPod/Android.
Handy toolkit: Audio converter, video converter, ringtone maker, etc.
Free
You can follow Syncios onTwitter,Facebookfor more tips and tricks.