Stories of people snapping up multiple units of the new iPhone 6 and smuggling them to China where they are sold for huge profits have circulated ever since a video showed people camped out in front of an Apple store in New York days before the phones went on sale.
Because Apple has yet to set a launch date for the new iPhone in China, the phones initially fetched up to $1,500 on the gray market there, according to the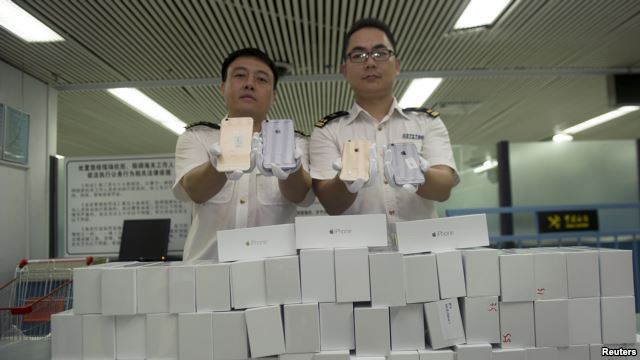 Quartz website. Time magazine said the phones could be worth $3,000.
That's a considerable profit on a phone that sells for $750 without a 2-year contract and much less with a contract.
Nearly everyone camped out at the various Apple stores in New York, where the video was filmed, appear to be Chinese. Many of them are old and don't appear to speak English. Many of them slept in plastic bags on cardboard.
The crowds were so big, the New York Police Department was called. One woman is seen being arrested in the video.
According to the video, most of those who waited to get the new phones bought two. Many of them were later filmed handing them off to others who appeared to be collecting larger quantities.
Those handing over their phones appeared to receive cash. It was unclear how much, but according to Time, those waiting for the new phones in Singapore received $130 for their troubles.
According to Linda Sui, an analyst at Strategy Analytics, the buyers were likely from less affluent areas of inner-city Chinatowns.
"They need money. Most of them are low-income people," Sui told Time.
Some suspected the Chinese mafia could be behind the market, but experts say there is likely little structure to the scheme.
But the easy money would not last, as the price of the phones has been plummeting, according to Quartz. That's because the Chinese gray market has become flooded with an estimated 5 million phones brought in from Hong Kong, Japan and the U.S.
Bringing the phones back to China is illegal, and authorities have intercepted many, including a 600-phone haul heading from Hong Kong to the mainland.
The phones that make it in might not even work.
Carl Howe, an analyst with 451 Research LLC told Time that there are many different models of the iPhone 6, depending on the type of wireless networks available in the country where they were intended to be used.  If the same types of networks aren't available in China, the smuggled phones won't work.
---
Recommend: You can also use Syncios to free backup old iPhone and transfer to new iPhone 6. You can also download and install apps into iPad/iPod/iPhone. There are Huge and growing collection of free games, apps, wallpapers, ringtones for iOS devices. Just simply download and have a try.
---
Reference: voanews
You can follow Syncios on Twitter, Facebook for more tips and tricks.