We have seen dozens of dummy mockups of Apple's next-generation iPhone 6 over the past few months, and the odds are very good that we can expect Apple's actual iPhone 6 to resemble them when it launches sometime this fall. But according to a recent report from Nikkei, which has a very good track record when it comes to Apple's unreleased devices, these iPhone 6 mockups feature a massive design flaw compared to Apple's real next-generation smartphone that will completely change the look of the device.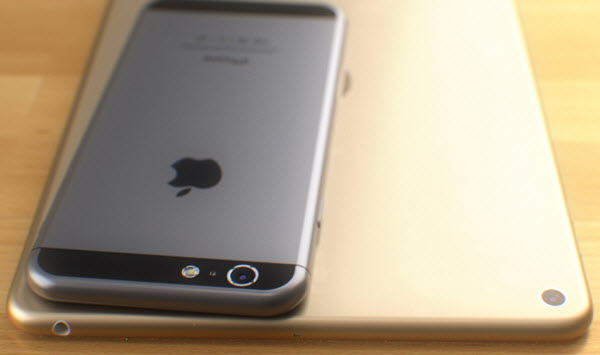 Thankfully, we can now see what Apple's iPhone 6 might look like without that big flaw, courtesy of one of the best in the business.
FROM EARLIER: These gorgeous images could show us what Apple's iPhone 6 actually looks like
Graphic designer Martin Hajek has made quite a name for himself over the past few years. He's certainly not the only designer who has taken it upon himself to imagine what future Apple products might look like, but there's no question that he's among the best there is when it comes to creating beautiful renders of upcoming Apple products.
Now, he has set his sights on the iPhone 6 and Apple's next-generation iPad mini with Retina display.
"Based on rumours and images of the purported iPhone 6 all over the internet I decided to do a concept study of what an iPad mini would look like with this new, soft and round iPhone 6 design 'language' slapped all over it," Hajek wrote on his blog while publishing his most recent work.
In some ways, Hajek's vision of the next iPad mini is likely accurate. For example, a number of reports suggest that the tablet will indeed feature Apple's Touch ID fingerprint scanner beneath the home button. Overall, however, the iPad mini case is not expected to feature any major design changes, so we'll likely have to wait until next year before we see anything that might resemble Hajek's design.
Where the iPhone 6 is concerned, though, this might be the closest anyone has gotten to the real thing.
The iPhone 6 dummies we've seen have all featured thick plastic lines on the back of the case that seemingly provide the handset's antennas with room to breathe. According to the Nikkei's report, however, those lines are from the leaked iPhone 6 schematics and they actually designate areas on the back of the phone that contain glass panels, similar to the ones on the back of the iPhone 5 and iPhone 5s.
How might the new iPhone 6 look with glass panels in place of the plastic? A few of Hajek's renders follow below and the rest can be seen on his site, which is linked down in the source section.