As Apple gets set to launch its third separate iPad line, find out which one is best for you.
Ever since the first iPad was launched back in 2010, Apple has dominated the tablet scene. Now with the release of the iPad Pro, the technology giant look set to make inroads into the personal computer market as well, but with three different iPads available, it can be difficult to know which does what best. And which one is the best for you?
iPad Pro
The iPad Pro was launched to some fanfare last month, offering a range of improvements over previous iPads including higher specs and swifter performance. The new A9X chip has twice the memory bandwidth of the iPad Air 2 and significantly greater storage as well. Apple claims that the new processor means the iPad Pro is more powerful than 80 per cent of portable PCs sold last year. That claim is key to understanding the iPad Pro's target audience – consumers who want the productivity of a laptop but in tablet form.
The high-end specs and larger size – it is 80 percent bigger than the previous model both in terms of screen size and weight – come at a price. The cheapest iPad Pro will go on sale for $799 (£550), but stretch to $1079 depending on size of storage and added accessories – meaning it is likely out of the price range of many new iPad converts.
However according to Digital Trends, the premium price could be worth it: "Aside from portability, there is really no category the iPad Pro doesn't excel at. It is certainly costly, but anyone who can afford it will likely find it to be the best tablet on the market."
Following its release reviewers have expressed a range of views on the iPad Pro, not all of them positive.
Forbes' Patrick Moorhead focusses on the design of the iPad Pro.
"The iPad Pro feels like what you would expect with an iPhone or iPad with its brushed aluminum body, beveled edges, edge to edge glass and a physical home button with Touch ID. It's as thin as an iPhone at 6.5mm and feels lighter than you would expect for a device with a 12.9-inch display. The iPad Pro weighs nearly the same as the original iPad at 1.57 pounds, which means that you can use it easily with two hands, but it could be a challenge with one hand for extended periods of time."
Moorhead praises the tablet's four speakers which, which compare to just one in both of the smaller iPad models. "My audio experience was really good," he says "with a much deeper bass response than I've ever experienced on an Apple iOS product. I really appreciated the new speaker system while playing games and movies."
One of the greatest disappointments for many reviewers though is the iPad Pro's keyboard.
"I was disappointed with Apple's optional keyboard case, says tech reviewer Walt Mossberg on The Verge. "It's essentially a shallow Mac keyboard, with keys like Command that mean something only in Mac OS X, but not a single shortcut key to an iPad function, like Home or Search. It's also not backlit, and it has only one angle in which it holds the screen. Additionally, it's so light and small compared to the screen that I find it difficult to balance properly on my lap for typing."
It is also very expensive, he notes, at It's also really costly, at $169 in the US – so probably around £100 in the UK, making it an expensive addition on top of its already high price compared with the iPad Air 2 and iPad Mini 4.
iPad Air 2
The iPad Air 2 was, until very recently, the newest and brightest of the iPad contingent. Even a year on from its release, the iPad Air 2 is a very impressive piece of kit, beating this year's Samsung tablet offering, the Galaxy Tab S2, in a recent performance comparison by Tablet PC Review.
The iPad Air 2 is also much more portable than the iPad Pro. On its release it was described as "ludicrously thin" by TrustedReviews and critics praised its ergonomic design and "lightweight feel".
With a starting price of £399 the Air 2 also offers much greater value for money for those not looking to replace their laptop or home computer but who still want significant power and functionality from a tablet.
iPad Mini 4
The new iPad Mini 4 is "better in nearly every way" than its predecessor, the Mini 3, says The Verge. "It has the best-looking screen Apple's ever put on a small iPad, which alone is worth the step up from iPad mini 2 or 3."
The iPad Mini 4 offers the same functionality and performance as the iPad Air 2 and repackages it in a smaller form. A much smaller form. The iPad Mini 4 weighs just 298.8g, compared to the 496g iPad Air 2 and the mammoth 713g iPad Pro.
However, the iPad Mini 4 is not actually the smallest iPad Apple has ever produced. It measures 203.2 x 134.8 x 6.1mm so it is actually slightly bigger than the iPad Mini 2, but it is also slimmer and less heavy at just 298.8g.
The iPad Mini 4 offers a fully laminated display which, coupled with its anti-reflective coating, makes it much easier to use when it is sunny.
As Pocket-Lint notes, Touch ID is included on the iPad Mini 4, making it Apple Pay compatible. For anyone hoping to use their tablet as a mobile wallet, the Mini's size means that you can more easily slip it into a handbag or coat pocket – the iPad Pro and iPad Air 2 are more likely to require a larger bag to carry around.
Like its larger siblings, the camera on the iPad Mini 4 features both burst mode and slo-mo video. And again, given that it is much more portable than the other two iPads, these features are more likely to be useful for taking pictures or videos in public. But for making video calls all three tablets have the same front-facing 1.2Mp cameras – so none will edge out the other in terms of their FaceTime abilities alone.
The main difference between the iPad Mini 4 and the iPad Air 2 comes in the detail of the screen resolution. As iDigitalTimes explains: "both iPads have the same screen resolution, but because the iPad Air 2's display is bigger, the iPad Mini 4's screen is more detailed."
The iPad Mini 4 is, however, the cheapest of Apple's tablets, starting at £319 – so if price is your main concern, this is probably the iPad for you.
Conclusion
The choice of which iPad to choose is really down to how much money you're willing to spend and how portable you want your tablet to be. There is a reason why the latest device has Pro in its title, reviewers say. The large-format iPad Pro, while undoubtedly the most powerful of the three devices, is more expensive or may be too big for many users, in which case the iPad Air 2 or the iPad Mini 4 would be appropriate. Still, as Digital Trends concludes, one tablet clearly comes out on top: "The Pro is certainly costly, but anyone who can afford it will likely find it to be the best tablet on the market."
Reference: Theweek
Read More:
Recommend: would like to backup your iPhone, iPad, iPod to PC/Mac and looking for the easiest and safest way to back up your iPhone content on PC/Mac? Syncios Phone Data Transfer must be your first choice.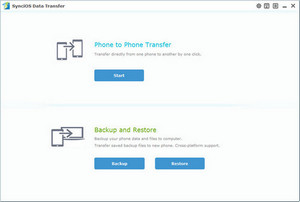 Transfer contents include contacts, messages, call logs, music, photos, videos, apps, notes, bookmarks, ebboks and more.
Backup phone data and restore in lossless quality.
Sync contents from iTunes Library to PC and iDevices.
Multiple OS supported: data shift between multiple phones run Android and iOS.
Multiple brand phones supported: Apple, Samsung, HTC, Sony, MOTOROLA, LG, HUAWEI, ZTE and more
Simply free download this phone data transfer and backup tool to have a try!