Apple recently seeded its most recent beta update for developers – iOS 9.3. If you do not have or want a developer account, you can still sign up for the Public Beta Program to receive the iOS 9.3 update before it's officially released. You may also be able to find free downloads of the Install Certificate online, but be wary of whatever source you are getting it from. And above all, make sure to back up your device before installing anything.
iOS 9.3 brings along a healthy assortment of upgrades and updates to the previous iteration. Some highly regarded additions are Night Shift, password protected Notes, and more personalized News experience. Let's check out some of the new additions.
What's New in iOS 9.3
Night Shift
It looks like Apple has been hard at work recreating the wonders of one of our favorite apps, F.lux. It no wonder that Apple booted them out of the App Store not too long ago. And while that is an unfortunate development for the folks at F.lux, it does me that all iPhone, iPad, and iPod owners can reap the benefits without the need to jailbreak their device.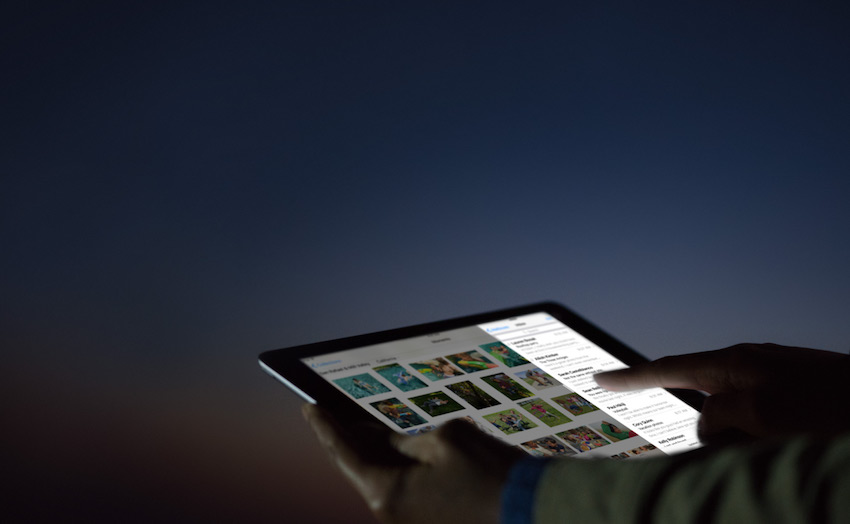 Night Shift alters the lighting of your iDevice when its late at night and generally darker. Apple states that, "Many studies have shown that exposure to bright blue light in the evening can affect your circadian rhythms and make it harder to fall asleep." So, instead of allowing that blue light to emit late at night, your device will now know what time of day it is and alter to a softer, warmer light that is easier on the eyes. You can enable Night Shift in the Settings and choose Schedule if you want the light emission to be based off the time of day.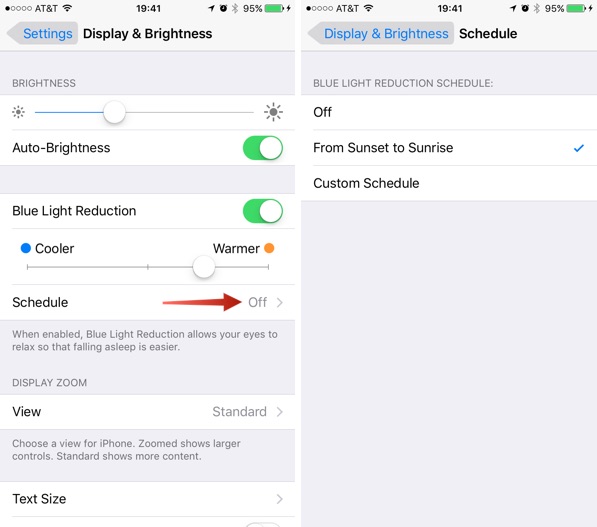 Touch ID for Notes
I use my Notes app all the time. Sometimes I am just writing down a grocery lists, other times I am taking down notes from an important work meeting. But, however you use the Notes app, you may not want other people having easy access to your stored notes. So, in iOS 9.3 you can now password and Touch-ID protect your Notes from prying eyes. Head over to Settings -> Notes -> Password Protection. Enter in a password and enable Touch ID.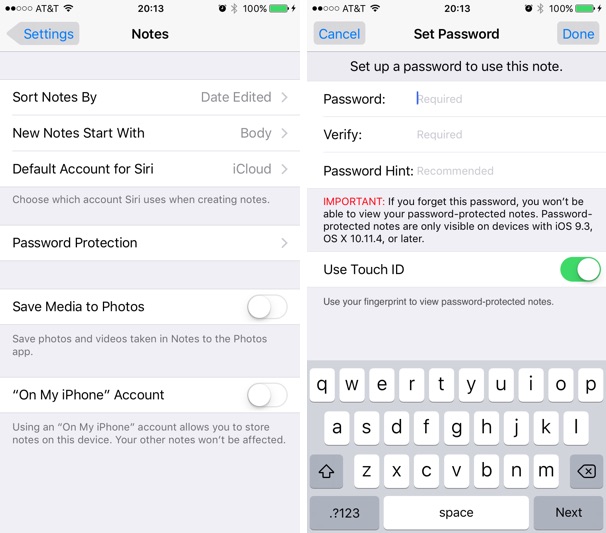 Now, this doesn't password protect the app itself, but only specified Notes that you manually lock. To do so, open a Note, tap the Share icon and tap Pass Protect Note. You'll enter in the password you created and the Note will be locked. Now, whenever that Note is accessed, it will require Touch ID.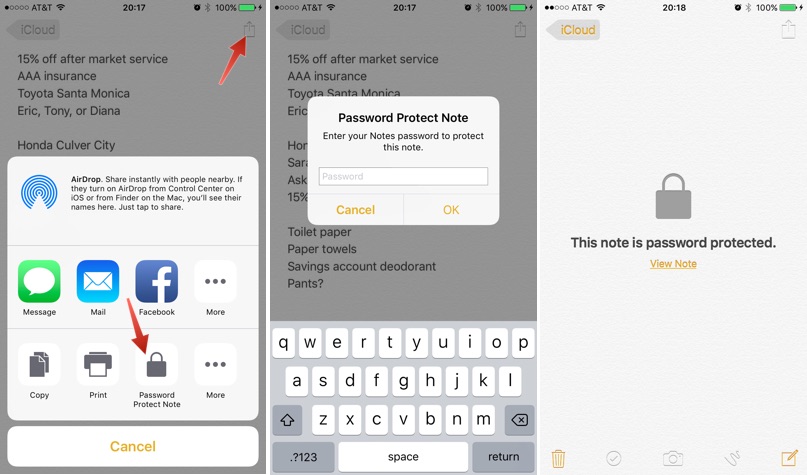 But if only they would add this feature for apps of my choosing… That would be a huge win. You can also sort Notes better now as well.
Revamped News App
The news app has been updated with minor visual and interface tweaks, the real changes are under the hood. Apple has retooled the recommendation engine to suggest articles more tailored to your interests, so you can read what you're interested in with less scrolling. A nifty new inclusion allows you to view article video content directly from the news feed, without having to click on the article. On the iPhone, you can even view content in landscape mode, letting you check out the article with a bit of a preview before you click.
New Quick Actions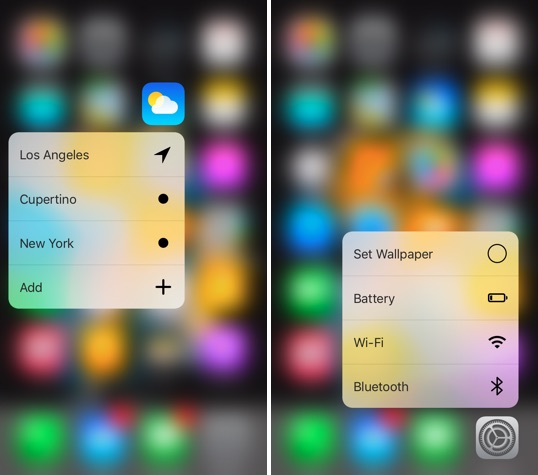 Quick Actions were a handy addition to iOS 9. With the use of 3D Touch, iPhone 6s and 6s Plus owners gained access to a mini menu that provided shortcuts to common actions on a per app basis. That popular feature has now been added to numerous stock apps like, Weather, Settings, and Health.
Live Photos
We have discussed Live Photos and how awesome or not so awesome they can be. With the additional file and larger size, Live Photos are not the most efficient. But, now on the iPhone 6s and 6s Plus there is a new option to duplicate a Live Photo and save it as a still image. All you need to do, is find a Live Photo and open up the Share Sheet. There will be a new icon titled, Duplicate. Click on this and chose either to simply duplicate the Live Photo, or duplicate it as a still image instead.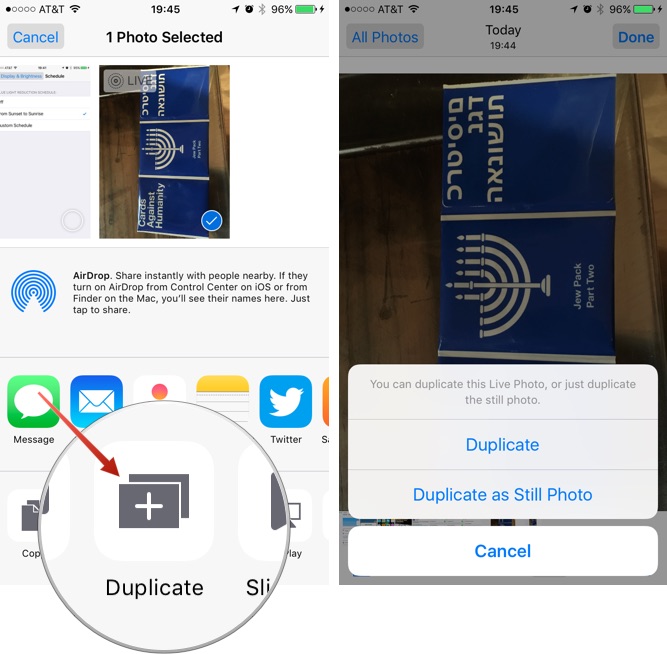 Previously you needed to edit the photo to a still image from a Live Photo, but this is much more intuitive and easy to manage. Over time, Live Photos will surely continue to improve how it is implemented.
Added help to Health App
In my opinion the Health app was one of the thinnest apps released when iOS 8 debuted. There were Reddit threads, articles, and support pages filled with people not knowing what they could even do with the app. In this latest update, iOS 9.3 makes an effort to clear up the confusion by providing a built-in list of apps that will work with the Health app.
Now there are categories like, Sleep, Weight, and Workouts that each have a list of third-party apps that are compatible. It also works better with those of you that have an Apple Watch and simply improves the ease in which you can consume all your health-based information in one convenient place.
CarPlay
With rumors stirring about of upcoming Apple vehicle, it's no surprise Apple has further decked out its CarPlay features. The new CarPlay + Apple Music integration allows you to play personally recommended tracks and playlists based on your listening history. Now you can find the right jam for the drive at the touch of a button, and the more you use it, the better the suggestions will be. Also new on the block are Apple Maps nearby location suggestions, making finding the right restaurant to stop at or the closest gas station easy, all without having to pick up your phone. Keep your eyes peeled, as CarPlay becomes implemented in more and more new vehicles, we are sure to see even better features on the horizon.
Apple Gets Serious About Education
In a further step to flesh out its educational offerings, Apple has introduced in this update a new Classroom App which gives teachers a variety of ways to utilize iOS devices in school settings. A key feature is the ability to manage multiple Apple ID logins for iOS devices, allowing multiple students to utilize the same device with individualized profiles.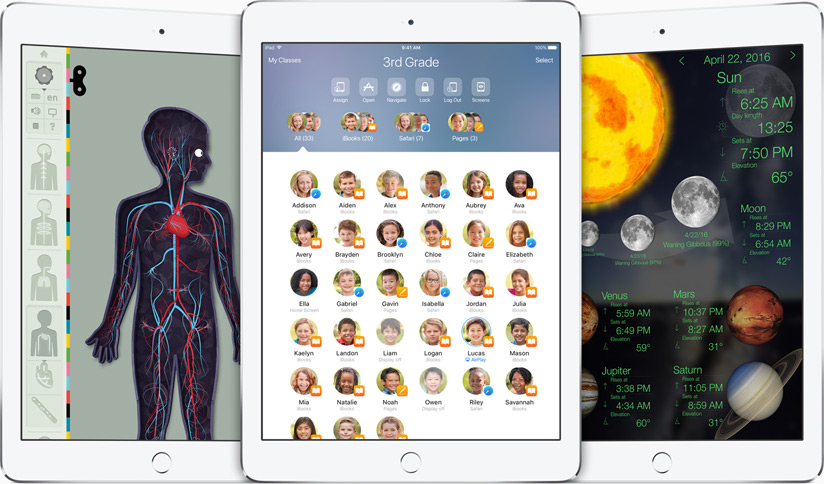 Each profile will have all their Books, Apps, and other content synced to their login. Teachers can use a Screen View feature to see the current screens of classroom devices, and can even open apps on all the devices on the same time. Administrator profiles can purchase apps and books for all devices and they will be placed on all devices automatically. Apple is surely seeking to be the go-to name in education technology, and this seems to be a big leap forward.
Other Additions
There are also a few other additions that you may notice when using iOS 9.3
Siri now has support for Finnish, Hebrew, and Malay.
If you have iOS 9.3 and watchOS 2.2 your iPhone will be able to pair with more than one Apple Watch. Each Apple Watch and iPhone must have 2.2 and 9.3 respectively.
App switcher has haptic feedback similar to Peek and Pop.
While using Apple Pay, there's now a small icon that will open the associated app linked to the card or pass.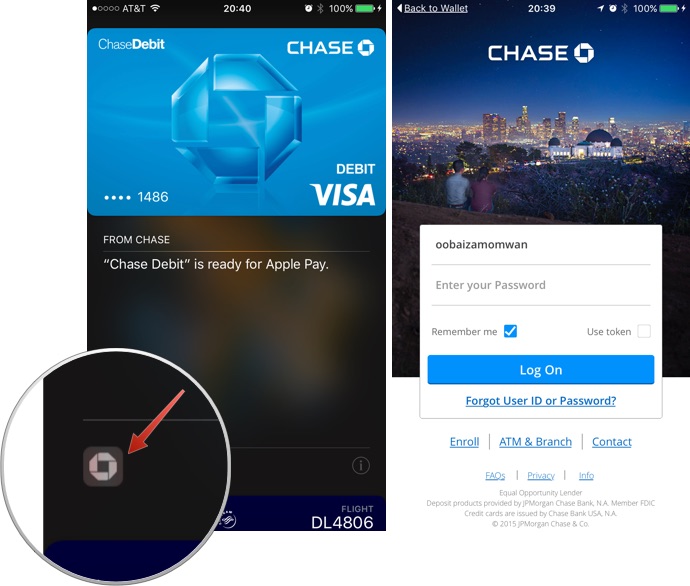 Reference: iPhonehacks
Read more:
You can follow Syncios on Twitter, Facebook for more tips and tricks.