iOS 12 and, more specifically today, iOS 12.2 problems will never really go away, at least until iOS 13 comes around. Even though Apple keeps tight control on its platform, making both the operating system and the hardware that it runs on, there will always be issues here and there.
It only becomes more likely as you consider iOS 12 supports a wide range of iPhones, iPads, and iPods new and old. Within those groups there are even variations. And, while each update to iOS attempts to add features and remove problems, oftentimes issues will persist or new ones will be introduced.
One major glitch with Group Facetime that was found in iOS 12 allowed callers to automatically make the recipient device answer, giving the caller the potential to eavesdrop. And, while the iOS 12.1.4 update was released with security improvements to address that specific issue, other iOS 12 problems aren't addressed.
While there's still good reason for anyone using older versions of iOS to continue upgrading to the latest version, just keep in mind that you may want to create a backup point if your Apple device is running well pre-update. You never know when an iOS update will introduce a new problem for your device, and it's easier to rollback to a version that was stable for you than it is to stick with a problematic iOS release until an update comes out.
If you do update to the latest version of iOS and encounter problems without a backup available, you can also try leaping forward by going with a Beta version.
Cellular and Wi-Fi connectivity issues
These are a doozy. After upgrading to iOS 12.1.1, users reported being cut off from cellular data partially or entirely, varying by location and country per Forbes. The only way they've been able to get online is using WiFi.
Unfortunately, it's unclear none of the subsequent updates, up to even 12.1.4, have offered a clear addressing of the issue. We've received a Tweet from an iOS 12.1.2 user complaining about a mobile connectivity issue, and the problem has appeared in Apple's forum.
There's no certain 'fix' beyond reverting to an older version of iOS (12.1, essentially). To do so, you may have to connect your device to a computer, navigate through iTunes to device settings and restore from there. Some users have suggested trying to reset network settings by going to Settings > General > Reset > Reset Network Settings.
We've also personally experienced issues with Wi-Fi connectivity that may or may not be related. Sometimes, the device simply cannot connect to a Wi-Fi network, while other times it will appear to connect but actually remain on cellular data. Returning to Wi-Fi settings shows no connection. We've even had no networks show up.
It's also uncertain how widespread these issues are, so upgrade to iOS 12.1.1 and above with caution.
Can't import iCloud Backups
A particular issue for iPads has come from the fact that they didn't get iOS 12.1.2 at the same time as iPhones. With many users phones updating automatically, the iPhones would be on a newer version of iOS than iPads.
For users trying to setup a new iPad from an iCloud backup of their iPhone running iOS 12.1.2, the process simply wouldn't work. We experienced this iPad import problem on three different iPads.
Without the iPad running iOS 12.1.2 or later, the only way to set up the iPad is manually. Fortunately, this problem should be easy enough to avoid if you just updated both devices to the latest version, iOS 12.1.4.
Trouble with eSIM on iPhone XR, XS and XS Max
If you've encountered bugs activating eSIMs in your iPhone XR, XS and XS Max phones, good news: the iOS 12.1.2 update has a fix. Apple didn't release too much detail in its notes for the new version of iOS, so hopefully this fixes the particular eSIM issue you were experiencing.
But the update is pretty new, and may not solve the extant bug mentioned above, so be cautious when updating.
Your iMessages are sent to the wrong people
Here's an odd one: users are reporting that after updating to iOS 12, their iMessages are being sent to the wrong people. There's at least one obvious culprit here, but we don't quite know why: both the intended and actual recipients are all using the same Apple ID. Others are saying everyone with the same Apple ID gets looped into the same group conversation.
Why would multiple users be on the same Apple ID in the first place?
Maybe because they're all family members, as the original poster of one MacRumors forum thread discussing the issue admitted. Another user theorized that Apple did this intentionally (and didn't tell anyone about it) to collapse all identities in your contact list linked to the same Apple ID into one unified entry.
That follows some iOS 12 beta users who saw multiple conversation threads between a single user's plethora of contact options streamlined into a single thread. A Twitter user corroborated this, saying Apple support confirmed to them that this is intentional.
While early solutions to the problem involved switching Apple IDs to Family Sharing or decoupling Apple IDs from iMessage on a per-device basis, as a forum user suggested, those fixes are no longer necessary unless you don't to update. This problem was addressed with the iOS 12.1 update.
Your iPhone XS won't charge
The iPhone XS and XS Max are not charging properly, according to some users, and it's spawned controversy in the last week – and its very own nickname: chargegate.
You may have experienced your iPhone not charger when it's plugged in and asleep when you put the Lightning cable into the phone. The temporary fix is to make sure you plug in your phone when it's lit and you hear the charging chime and see the visual charging cue.
This is likely an iOS 12 problem that can be fixed through a software update. But it's something Apple has yet to officially acknowledge. We'll update this section when we hear about a permanent solution to this problem.
Washed-out screens on iPhone X
Some owners of iPhone X devices have reported on Reddit, Twitter and forums that after upgrading to iOS 12, the colors on their screens look faded or "washed out." While this hasn't been universally experienced, it's unclear why this is happening at all – users have previously reported this issue going back to iOS 12 beta 1.
Reddit user Liamrc posted examples of default wallpapers set to 16-bit color that appeared vibrant in preview, but when set to the home or lock screen, reverted to 8-bit color and looked "desaturated." He allegedly asked Apple why and got a response from Craig Federighi, who said that the phone applies a filter to make text more legible.
Whether this is the true culprit is unclear, so we'll see if Apple has an official response soon. Some users have suggested turning off the Increase Contrast setting, which seems to have been turned on by default in iOS 12.
Increased battery drain
One of the most lauded iOS 12 features was better performance for older devices, but some users are reporting that post-update, their device batteries are draining abnormally quickly.
First, check your device battery's health to ensure that's not causing the drain. If the maximum capacity is below 85%, it may be time for a battery change. In this case, it's a hardware issue.
Second, if it's a software issue, this new iOS 12 problem might actually be caused by an old problem we've seen before in the last grand update to iOS 11. The internal reorganization temporarily taxes iOS devices and drains things faster.
Basically, when so much of the code is changed, parts of the internal storage directory are rearranged and it takes a bit more effort for the device to find apps and stored information. If this is the cause of the battery drain, fret not: it has historically only taken a couple days for phones to re-index themselves. If your device doesn't adjust soon, there's a potential fix originally cooked up to deal with the same issue occurring when updating to iOS 11: reset the device to factory settings, cleanly update to iOS 12, and then restore.
But if that doesn't work, you might try another, more drastic solution that users have suggested: reset the device to factory settings, but don't restore from iCloud or a backup, instead cleanly installing iOS 12 and manually downloading every app. (We said it was drastic!)
Other users are reporting erratic behavior with older devices, like irregular battery percentage jumps and showing different levels after rebooting the device. It's possible that this is a larger issue, so if you're still experiencing abnormal battery drain long after updating to iOS 12, let us know.
Apps not working well with iOS 12
You might find that after updating to iOS 12, some apps don't work as well as they used to. That's pretty normal, especially after leaping into a new full version of a mobile operating system, and apps generally release new versions that are compatible with the updated operating system. Simply go to the App Store and check to see if there's an updated version of the app.
Exactly when every app updates is, well, really up to them. Apps with smaller teams may take longer to release a new iOS 12-calibrated version. But old or abandoned apps may never be updated, which is, as the saying goes, the price of progress. This MacRumors forum post has a list of apps that may still have issues, though there's no guarantee it will be kept up to date. If you're having trouble with an app, go for the tried-and-true method of uninstalling and reinstalling it; but if problems persist, you might just have to wait for it to update.
Hotspot won't turn off
This may or may not prove to be a widespread issue, but it's one that a TechRadar editor saw personally. When directly connecting an iPhone 6S to a laptop that had previously used the phone as a hotspot, it reconnected automatically – and stayed connecting, even after shutting off the phone's Personal Hotspot setting.
This could be a faulty setting on the carrier side (the editor experienced it using Verizon service), or it may only occur in older iOS devices. The editor was able to fix this issue by following instructions that solved the 'missing hotspot' issue present in an earlier iOS 12 beta: go to General > Reset > Reset Network Settings. This should prevent your computer from automatically connecting to your iOS device's hotspot, though there might be other fixes out there for this issue.
Device won't update to iOS 12
Ah yes, the biggest issue of all: if your device fails when trying to update to iOS 12. Several conditions might prevent this from happening, like not having enough space for the install or using an unsupported device (those released in or more recently than 2013, like the iPhone 5S and iPad Air/Mini 2).
If you're confident that your iPhone and iPad should get the new-ish iOS 12 update, try working through Apple's support suggestion page to narrow down the cause. If none of those suggestions work, you might try this more involved method Apple recommends: connect your device to a computer, open iTunes, and hold down the buttons to force-restart your device until the iTunes logo appears. When the prompt appears on your computer, click 'Update.'
---
Recommendation: Manage iPhone/iPad/iPod without using iTunes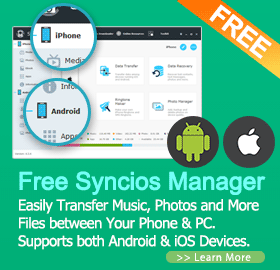 Support to transfer, edit, backup, manage, view iOS & Android mobile data: Music, videos, photos, apps, ebooks, contacts, messages and more.
Download videos from 100+ video sharing sites up to 4K HD video quality and transfer to iPad/iPhone/iPod/Android.
Handy toolkit: Audio converter, video converter, ringtone maker, etc.
Free
You can follow Syncios onTwitter,Facebookfor more tips and tricks.