Apple has a lot of new features to explore in the latest version of iOS 12.
From personalized Animoji to a Siri that can help you do more things at once, there's lots to dig through in the developer beta. Because this is a beta release, features and functionality are subject to change between now and the final version of iOS 12, coming this fall.
Notifications
Your lock screen is about to get a lot cleaner. Rather than showing every single notification in one long stream, iOS 12 groups them together by type. Android also does something similar.
If you have multiple text messages, for example, they'll all appear together in one stack. You can swipe across to open or dismiss them like in iOS 11. But there's a new option called Manage that lets you take control over your notifications.
When you tap Manage, it brings up a dialog where you can choose to deliver these notifications quietly or turn them off altogether. If you select the quiet option, the notification type will bypass the lock screen altogether and won't show a banner when a new notification comes in. Instead, you'll just see them appear in the notification center and a badge will show up on the app icon.
Memoji
Animoji just got a whole lot more personal. Your Memoji is your own virtual avatar where you can personalize facial features from hair color to skin tone or even your age.
You'll find the Memoji living alongside Animoji in the iMessage interface. When you create a Memoji for the first time you are presented with a plain face that you can completely customize to your liking. Just like the regular Animoji, your Memoji uses the FaceID camera to track your facial expressions, but now adds tongue detection (turns out, it's a lot of fun to test).
Once your Memoji is customized to your liking you can send a 30-second clip with audio through iMessage. You can also superimpose your Memoji on top of your real face in a FaceTime call.
Screen Time
Apple wants to help manage your screen time with a new feature aptly named Screen Time. In Settings, you can see a breakdown of how much time you've spent on your phone. It also shows your most-used apps.
If you tap into the breakdown, it shows you how long you spend in individual apps. Then you can tap the hourglass icon to limit time spent in each.
Alternatively, the App Limits section lets you manage how long you spend in certain categories of apps like social networking or entertainment. Downtime locks down the phone so, for kids, notifications for apps won't be shown and parents can choose apps that can or can't be used.
If you're a compulsive phone-checker during the night, Do Not Disturb has a new bedtime mode that stops notifications from appearing on the lock screen during set hours. Instead of a lock screen filled with notifications, it shows a dim display with just the time and date.
Siri shortcuts
In iOS 12, Siri will let you create your own shortcuts to make custom commands. So if you wanted to say something like "Hey Siri, let's go on a bike ride," Siri could bring up the weather, directions on a map, and set a reminder to bring your helmet.
This will all happen from a new Shortcuts app (not yet available on the beta). A simple preview of creating custom phrases exists in the Siri & Search section within Settings. You can choose a suggested action from the list, then set a phrase to trigger that action.
Group FaceTime and new apps
During the WWDC keynote, Apple previewed a way to have up to 32 people on a group FaceTime call — complete with Memojis. While this feature isn't available yet to try in the developer preview, the interface to add multiple people to a call is there.
iOS 12 also has added a new Measuring app that uses the camera to measure real-world objects. Just tap to add points on the object and see the measurement on screen. It works on 2D objects like a piece of paper and 3D objects like a box.
Some existing apps are also getting a visual overhaul, including Stocks, Voice Memos and Books.
---
Recommendation: Manage iPhone/iPad/iPod without using iTunes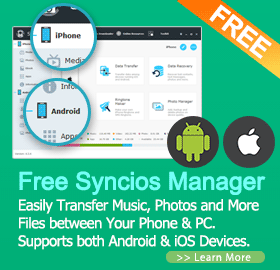 Support to transfer, edit, backup, manage, view iOS & Android mobile data: Music, videos, photos, apps, ebooks, contacts, messages and more.
Download videos from 100+ video sharing sites up to 4K HD video quality and transfer to iPad/iPhone/iPod/Android.
Handy toolkit: Audio converter, video converter, ringtone maker, etc.
Free
You can follow Syncios onTwitter,Facebookfor more tips and tricks.