Apple doesn't tout every new feature in iOS 10. There are the obvious add-ons, like Messages now has its own App Store, and Siri can work with apps, but there's much more to iOS 10 than that. Control Center now has 3D Touch, read receipts can be turned on or off for individual contacts and there's even a button to clear all notifications at once.
Messages has built-in image search
You may want to delete all of your GIF keyboard apps, because you can now search for an animated image directly within the Messages app. When writing a message in Messages, tap on App Store icon, then swipe to the images page. Enter a search term or pick a category from the list.
Send smaller photos to save data
Open Settings > Messages > scroll to bottom > Enable Low Quality Image Mode. It's unclear how scaled down the images are exactly, but when you're on a tiered data plan, every bit helps!
Selective read receipts
You can now decide whether you want to send read receipts on a contact-by-contact basis. Apple will respect your default setting for read receipts, but you can go into any conversation and enable or disable the feature with a couple of taps.
When in a conversation, tap on the i button in the top-right, then turn read receipts on or off. This setting instantly syncs to all devices you use iMessage on, so no need to worry about changing the setting on your Mac, iPad and iPhone.
Mail gains filters
The Mail app can now quickly filter messages with just a tap. When viewing a mailbox, tap on the filter icon in the lower-left corner of the screen. The default filter is set to show you only unread messages. You can change the filter by tapping on Filtered by: Unread and selecting the category (or categories) you want to see.
Tap the filter icon again to turn it off.
Threaded conversations get a new look
Mail has had the ability to thread conversations for awhile now, but iOS 10 brings a new look to it. You can longer have to jump in and out of messages to select a different message within the thread. The feature is enabled by default, but you can go into Settings > Mail > Threading to customize the order the messages are displayed in.
Pro tip: Swipe left on a message in the threaded view to reveal actions (reply, flag, trash, etc.).
Unsubscribe with a single tap
Tired of getting newsletters? Me too. With Mail in iOS 10, you can unsubscribe from these annoying emails by tapping on the Unsubscribe button at the top of the email.
View two Safari tabs at once on iPad
Because browsing the web viewing one tab at a time is for rookies. There's a few different ways of activating the feature, here's what we've found:
Drag a tab to either side of the screen.
Long press on a link, then select "Open in Split View."
Long press the tab view button, then select "Open Split View."
Quickly close all tabs
Not only can you have limitless tabs on mobile Safari now, but for the first time ever Apple now lets you close all tabs at once. On an iPad, long press on the Tab View button the select Close X tabs.
On an iPhone, open Tab View then long press on Done > Close X tabs.
Pause, prioritize app installs
The next time you restore an iOS device, don't sit there for hours waiting for a specific app to download and restore. Using 3D Touch, you can press on an app and select Prioritize Download from the list of options.
The same option exists when downloading multiple apps at the same time, regardless of whether you're restoring a device or installing a lot of app updates at once.
Never forget where you parked again
If you have a car equipped with CarPlay, or a more standard Bluetooth system, you'll notice an alert on your iPhone as soon you turn off and exit your car. The Parked Car alert will plot in Apple Maps where your car is, allowing you to add more details (like lot and row number) should you need to.
Control Center has new panels
The first time you use Control Center in iOS 10, you might get confused at the lack of music controls. Swipe left, and bam, there's your music controls. Swipe left again, and boom, there's shortcuts to control your lights through Apple's Home app.
Recommendation: Manage iOS 10 Devices without using iTunes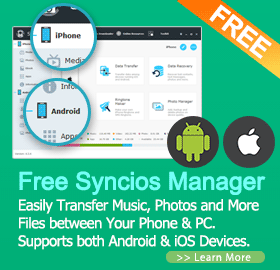 Support to transfer, edit, backup, manage, view iOS & Android mobile data: Music, videos, photos, apps, ebooks, contacts, messages and more.
Download videos from 100+ video sharing sites up to 4K HD video quality and transfer to iPad/iPhone/iPod/Android.
Massive free resources: videos, wallpapers, ringtones
Handy toolkit: Audio converter, video converter, ringtone maker, etc.
Free
You can follow Syncios onTwitter,Facebookfor more tips and tricks.
Source: cent