If you are one of the Apple hardcore fans, you will definitely know that Apple has released iCloud service which offers file storage for many Apple users. This is a great advance to fill up the blank in file backup area for iOS device users.
But as a new release service, it is not without flaws. Users are still facing a series of problem:
System limitation: Need iOS 5 or higher for iPone, iPad and iPod Touch, otherwise, user will not be able to use iCloud on the device.
Storage space limitation: It only provides 5 G space for data storage. User needs to pay for the exceeded part.
Network limitation: Service is unavailable without stable network connection.
File security and risk: All file and data are stored on remote computer server. User may need to face private security problem as well as file lost or broken when transferring data under a remote environment.
With problems and limitations above, users may get stuck when come to backup file from iPhone, iPad, iPod Touch as well as other iOS device. Fortunately, there is alternative solution for backing up iOS device.
In fact, to backup file from iOS device could be pretty convenient with Syncios.
Syncios is a free iPad/iPhone/iPod to PC transfer tool that enables you to backup file from iOS device to any desired PC or laptop. What's more, it allows you to manage file inside deivce. You can manage and backup music, movie, TV show, camera roll, eBook, ringtone, iOS apps and more. With Syncios, you can transfer files between device and PC.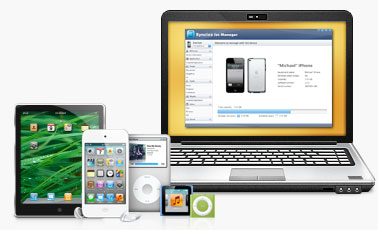 Syncios: Backup & Transfer File Between iOS Device and PC
Syncios has a straightforward interface which makes file backup very simple.  You can easily backup your iPad, iPhone, iPod without struggling on how it works before using. All you need is just a PC with USB cable, Syncios and your device.
Unlike iCloud, Syncios use PC for a more directly storage which makes it possible for you to transfer file between iOS device and PC even without network condition.  Since all the file and data are stored in PC, you can always make sure there is enough space for file backup.
Syncios is fully compatible with iOS 5.1, iOS 5, iOS 4.3, iOS 4.2 and iTunes 10.6. The supported device includes iPad 1, iPad 2, iPad 3, iPod nano (5th Gen), iPod mini, iPod shuffle, iPod classic, iPod touch (incl. iPod touch 4), iPhone 4S, iPhone 4, CDMA iPhone 4, iPhone 3G and iPhone 3GS.  The buit-in virtual file system enables you to access and backup any file in iOS device. So now your iOS device could be used as USB key.
---
Download Best Alternative for Backup iOS Device
Syncios free iPad/iPhone/iPod Manager is such a smart and powerful phone toolkit to manage your iPhone/iPad/iPod easily: create, edit and manage iPad/iPhone/iPod playlists; delete iPhone songs, videos, contacts, apps, ringtones etc; manage photo albums and download photos from icloud photo stream; install, uninstall, backup iPhone apps.