There comes a time when you are actually worried about getting rid of the Apple ID which has been around you on your device or set of devices. It's easy to answer question like "Can I delete an Apple ID " or "How can I delete my Apple ID". But the problem arises when you don't remember your Apple ID password. In this article, you will get the answer no matter you know the Apple ID password or not.
Can I Delete An Apple ID on iPhone
If the question regarding deleting your Apple ID comes into focus then don't panic, follow the same steps to do it. Now talking about the problems associated with removing Apple ID are mostly faced by the ones who are new to the Apple community or those who have never actually deleted their account even once. When a situation like deleting the account for good comes into the spotlight, people often panic and start worrying a lot, they even spend a lot of money trying to fix this simple process.
But now you don't have to worry because things will be good from now on if you follow these steps:
Step 1: Go to Settings and tap your Apple ID at the top.
Step 2: Scroll to the bottom and tap Sign Out.
Step 3: Enter the password of your Apple ID and tap Turn Off.
Step 4: Tap Sign Out and them confirm again to sigh out.
This will do the job, now you don't have to worry about the process involving deleting an ID from your iPhone or any other Apple device.
Can I Delete An Apple ID from A Computer?
It is a common question which comes across every user. Even if there's just an iPhone or an iPad and the access to the Apple ID is also authorized by another platform and device such as a Windows PC, you can still manage to remove your Apple ID once and for all. All you have to do is to follow the given steps and sit back, take a deep breath or even sip a cup of coffee.
Delete your Apple ID from Windows PC
Step 1: Open iTunes.
Step 2: Click on Store > View Account and then enter your password.
Step 3: Click on Manage Devices.
Step 4: Click on Remove next to each device and click Done.
Step 5: Click on Store > Deauthorize This Computer.
Delete your Apple ID from Mac
Step 1: Click on Apple icon and select System Preferences.
Step 2: Click on iCloud and then Sign Out.
Step 3: Open iTunes>store> Deauthorize this Computer.
Step 4: Click Sign Out.
Related Article:
Recommendation: One-Click Backup and Restore Mobile Phone Data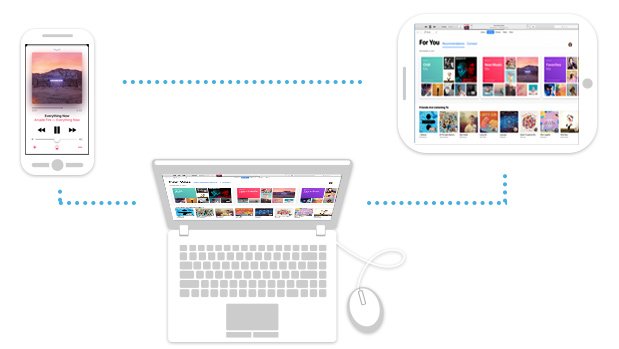 Support to transfer, edit, backup, manage, view iOS & Android mobile data: Music, videos, photos, apps, ebooks, contacts, messages and more.
Download videos from 100+ video sharing sites up to 4K HD video quality and transfer to iPad/iPhone/iPod/Android.
Handy toolkit: Audio converter, video converter, ringtone maker, etc.
Free
You can follow Syncios on Twitter, Facebook for more tips and tricks.