Spotlight, Apple's great search technology. For Mac users, they really benefit from this technology a lot. No longer limited to just your files and apps, OS X's search tool, Spotlight, reaches out to the Internet to let you access more information more quickly. You can search for much more: it can search the web, find information on Wikipedia, convert pounds to grams (or dollars), define words, and more.
First steps with Spotlight: activate Spotlight
To open Spotlight, click the magnifying glass icon in the upper-right corner of the menu bar, or press Command-Space from any app.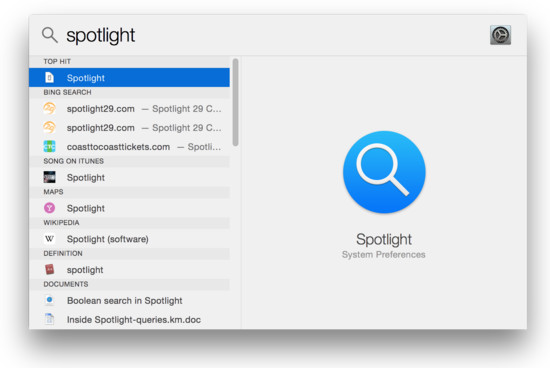 To search for something, type words related to it like an app name, a word contained in a document, or a tag you've attached to a file. You can also search for items like a Wikipedia article, or the location of your nearest Apple Store.
Additional features: Spotlight results also include dictionary definitions, currency conversions, and quick calculations. Type "100 dollars" or "2+2" in the search field to see the result.
Preview Your Results
As you type, Spotlight tries to guess what you're seeking. You might only have to type a few characters before hits begin to appear in the left-hand panel below the search field, divided by category. Select one by using your arrow keys or your pointer.
Previous versions of Spotlight let you preview many different types of search results, scrolling through a PDF or even playing a song before you launched it in its app. However, you had to hover your pointer over a search result for a moment before the preview appeared, which meant many people never realized Spotlight had previews at all.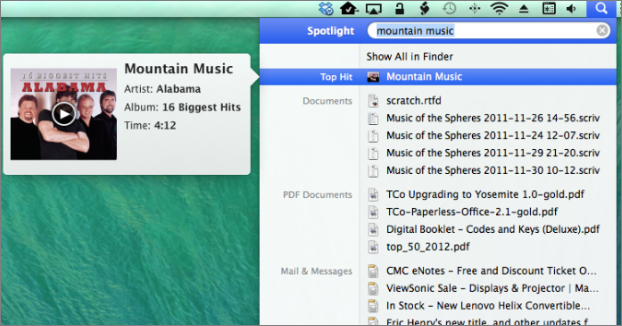 What you can search for
Yosemite's Spotlight greatly increases the types of information you can find without ever opening a browser. Here are some of the highlights:
Applications: Spotlight has always been able to act like a simple application launcher. For instance, start typing disk utility and the app appears as the top hit ④. Press Return to launch it. This saves you from digging around in your Applications folder—especially if the app is nested in a folder, as is Disk Utility and many other tools.
App Store results: What if you don't have the app you're looking for? Spotlight now shows results from the App store, too. Press Return to launch the store and go directly to the app's page.
Bookmarks and history: Bookmarked sites and Web pages that you've looked at recently will also appear in your Spotlight results.
Contacts: Spotlight finds contact information ⑤. You can send an message or email message from the preview, or find the address in Maps.
Currency and unit conversions: For those times when you need to substitute kilometers for miles or liters for quarts, there's no need to head to Google for help any more. Just type into the Spotlight search field—say, 3,000 miles—and Spotlight will show you common conversions
Files of all types: As in the past, Spotlight lets you search for files on your startup drive and any attached drives. The preview pane helps you make sure you have the right file. Once you've found what you want, launch it in its default app by pressing Return.
iTunes and iBooks Store results: Results now include music, movie, and TV shows matching your term in the iTunes Store as well as your iTunes library. Listen to songs right in the preview pane. Matches in the iBooks store appear as well. Press Return to open the store to that entry.
Local businesses: Looking for an Italian restaurant? Sushi? Type in your search term and results from Maps appear for nearby restaurants. Select one to see its location along with Yelp reviews—all without leaving Spotlight. The same thing goes for bookstores, coffee shops, pet stores, you name it.
---
You might be interested:
You can follow Syncios on Twitter, Facebook for more tips and tricks.
Recommend: do you still feel sad about losing iPhone data? Do not worry, you can try this perfect one click iPhone data recovery tool to retrieve photos, messages as well as contacts, reminders, calendars, bookmarks, videos, notes, call history other files on your iPhone, iPad or iPod Touch. Simply download and have a try.