iOS 14 has arrived, and Apple has handily pinched another feature of Android with this latest update.
Picture-in-picture mode, essentially a way of keeping video content playing while you're navigating the rest of your phone, has finally made the jump to the iPhone.
A big caveat though, is that while the usual suspects all support the feature (Prime Video, Netflix, Twitch and, of course, Apple TV), YouTube remains unavailable for picture-in-picture mode.
In fact, despite being able to view YouTube content within a picture-in-picture window when viewing from the web, Google has now shut that access down to all but YouTube Premium subscribers.
With that in mind, here's how to get multi-tasking:
How to enable picture-in-picture in iOS 14
In truth, it's as easy as going home. Once you've found your choice of video content, be that through an app like Netflix or through a browser like Safari or Chrome, just head to your Home Screen.
You can do this by swiping up from the bottom of your phone, or simply pressing the home button if you have one.
Doing so will return you to the Home Screen with your content playing in a small window. Note that in my example, the content itself has been censored to avoid any infringements via screen recording).
With a drag of your finger, you can not only move the video to elsewhere on your screen, but hide it almost entirely (note the small arrow on a tab to the bottom right of my screen).
You can tap that tab to bring the window back, while tapping the window will allow you to pause it, close it, or return to the in-app full-screen view.
Ralated article:
Using Picture in Picture With Apps
Picture in Picture works with apps that play video content, but when it comes to third-party apps, app developers have to implement support for the feature.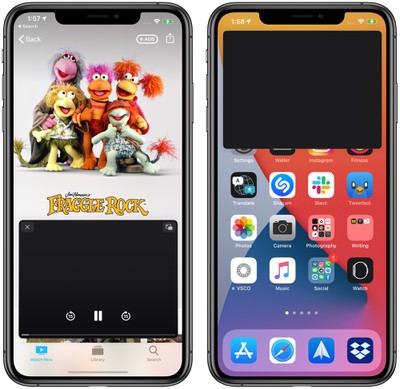 In a compatible app, which includes Apple's apps such as ‌Apple TV‌, you can tap on the Picture in Picture icon available at the top of the app to activate Picture in Picture mode, double tap on the video with two fingers, or swipe upward from the bottom of the ‌iPhone‌'s display to activate Picture in Picture mode.
Exiting out of Picture in Picture Mode and returning to full screen mode with the app reopened can be done by tapping on the same icon in the upper right corner of the Picture in Picture window or double tapping with two fingers. Closing the Picture in Picture window and existing out of the app can be done by tapping on the X in the left corner.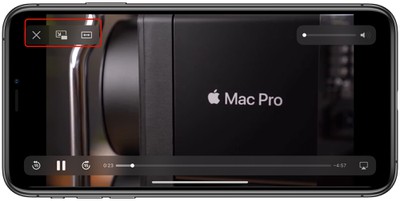 Picture in Picture mode controls for apps that play television and movie content include play/pause and an option to tap to skip 15 seconds forward and 15 seconds back.
Apple's apps that work with Picture in Picture include anything with a video feed, such as ‌Apple TV‌+ or video footage from HomeKit-enabled cameras in the Home app.
YouTube Picture in Picture
Picture in Picture requires support by the application developer. Not all video apps can be used with Picture in Picture out of the box. As Picture in Picture has existed on the iPad for a while, many iPhone versions of apps already support the appropriate system feature and will use iOS 14 Picture in Picture out of the box, like Twitch.
If your favorite video player app doesn't support PIP right now, then you will need to wait for the developer to update the app. The inclusion of Picture in Picture in iOS 14 will put more pressure on developers to support this form of multitasking.
One of the most popular requests is for Picture in Picture support for YouTube videos. Unfortunately, the YouTube app does not support operating system PIP feature on iPhone or iPad. It is unclear if their plans have changed in the wake of iOS 14. One workaround you can do is to use Safari.
Go to youtube.com in Safari, play a video, and make it full screen. This will reveal the standard system video player controls. Here you can select the newly-added PIP button on an iPhone running iOS 14, and the video will pop out from the page. You can change tabs or navigate to different apps, and the video will keep running in the PIP.
Hopefully, the YouTube app developers add the feature to the native app but the Safari solution is a decent workaround in the meantime.
Using Picture in Picture on the Web
Picture in Picture with the Safari app works with almost any video and website developers don't need to implement support. On a site with a video, tap to play the video and then tap the Picture in Picture icon or do a two finger double tap on the video. You can also swipe upwards from the bottom of the ‌iPhone‌ to activate Picture in Picture.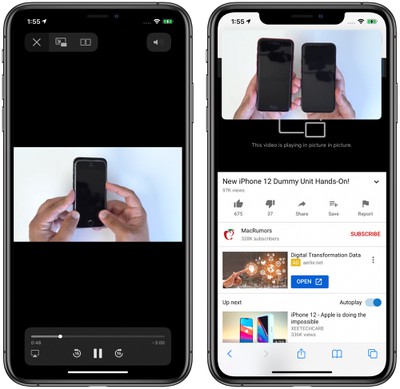 There are some video types that don't work, such as the videos that some sites embed in webpages, so there may need to be some tweaks to some websites before those kinds of videos can be used in Picture in Picture mode. It is compatible with videos from sites like YouTube and Vimeo, however, so websites that use these embeds will have content compatible with Picture in Picture.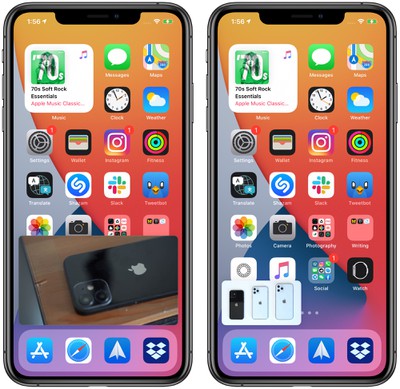 Note that to use Picture in Picture mode with Safari, if you want to continue browsing another website while a video plays, you need to open a new Safari tab.
Using Picture in Picture with FaceTime
Picture in Picture works with ‌FaceTime‌ in ‌iOS 14‌, and that's perhaps the most useful way to take advantage of it. In iOS 13, if you need to do something on your phone, you have to swipe out of the ‌FaceTime‌ window, which pauses your video for the person you're speaking with.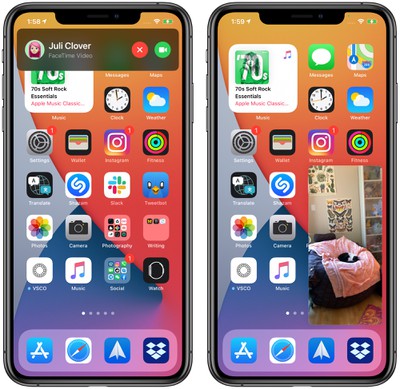 In ‌iOS 14‌, if you swipe out of a ‌FaceTime‌ call it automatically minimizes into a Picture in Picture window that continues to be visible even while you access other apps so you and the other person you're talking to can continue your conversation without the ‌iPhone‌ being otherwise unusable.
You can double tap on the ‌FaceTime‌ window to change its size from large to medium or small and then back again, and if you just single tap the Picture in Picture window expands back to the full size of the ‌iPhone‌'s display. You can also move the Picture in Picture window to the optimal spot on the screen.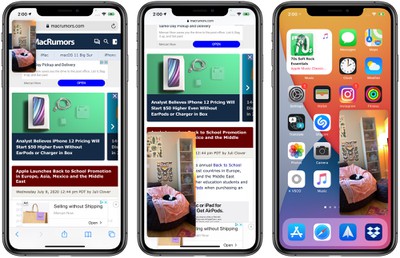 Customizing Picture in Picture Window Size and Position
You can double tap on any Picture in Picture window or use pinch gestures to change the Picture in Picture window size. There are three sizes to choose from: small, medium, and large.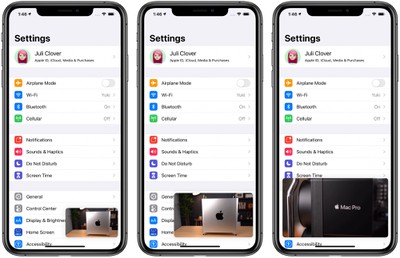 The small window is about the size of two app icons, the medium is as wide as about three app icons and as tall as one and a half, while the largest window is the size of eight app icons.
All of the windows are shown in a landscape orientation on the ‌iPhone‌'s Home Screen with the exception of ‌FaceTime‌, which is shown in portrait mode.
Picture in Picture windows can be used with almost any app or while on the ‌Home Screen‌. The small and medium windows can be moved to any corner of the ‌iPhone‌'s display, while the large Picture in Picture window can be placed at the top or the bottom of the screen.
Moving the Picture in Picture Window Off Screen
You can pull a Picture in Picture window of any size over to the side of the ‌iPhone‌ with drag and drop gestures, moving it off of the screen.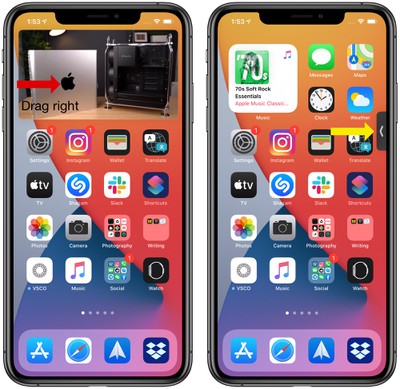 With the Picture in Picture window off screen, you will continue to hear the audio from the video or ‌FaceTime‌ call, but it won't be visible on the ‌iPhone‌'s display.
——————————————————————————————-


 Transfer contacts, message, call log, WhatsApp, music, photo, video, apps, safari history, bookmark, Notes, calendar, ebook and more.


1 click transfer data between iOS and Android.


 Selectively backup and restore phone data in lossless quality.


 Recover iTunes/iCloud backup to iOS or Android devices selectively.


 Fully compatible with the latest Android OS and iOS system.
You can follow Syncios on Twitter,Facebook for more tips and tricks.