The Apple Watch can do a lot of things. It can be used to communicate with others, view notifications from your smartphone, and even pay for items. That's right: you can use Apple Pay on the Apple Watch.
To set up Apple Pay on your Apple Watch, you'll use the Apple Watch app for iPhone. In the My Watch tab, scroll down to Passbook & Apple Pay. In that section, you can mirror the alerts that show on your iPhone, or choose Custom and elect to have alerts come to your watch or not.
How to setup up Apple Pay with the Apple Watch
1. Head to your Apple Watch app on your iPhone.
2. Select "Passbook & Apple Pay."
3. Choose "Add credit or debit card." This is when your phone will prompt you to setup a 4-digit passcode for you Watch if you haven't done so already. You'll also have to sign into your iCloud account here as well. You can choose to have your Watch unlock once you unlock your iPhone.
After setting up the passcode, you can finally enter your credit card information. Apple will automatically have the card you use for the App Store entered so you'll just need to punch in the 3-digit security code and agree to the Terms and Conditions.
Adding a credit or debit card
Even if you are already using Apple Pay on your iPhone 6 or 6 Plus, you'll need to add your cards again to your Apple Watch. The watch has its own Secure Element to store the device ID needed to create single-use tokens: your actual credit card information isn't stored on the watch or on your iPhone, nor is it passed to the merchant when you make a purchase.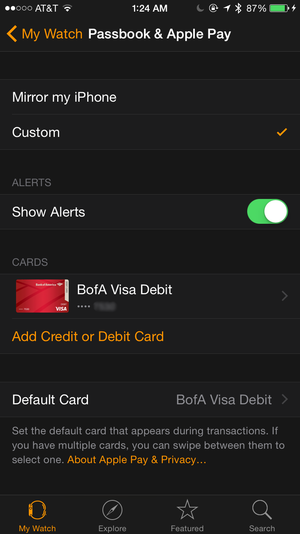 Using Apple Pay
Apple Pay on the Watch is incredibly simple to use. All you have to do is double-tap the side button, select the credit or debit card you would like to use, and hold the face of the watch to the payment terminal. The watch will vibrate, and a check mark will appear on the screen to confirm the payment has gone through. It's as easy as that. You don't need additional passwords or Touch ID. The watch asks for a password when it's taken off your wrist, but as long as it stays attached, you can make payments with that double-click.
If you ever lost your watch, you can de-authorize Apple Pay for that device remotely through iCloud or on your iPhone, and the watch will no longer be able to buy anything. Since the virtual credit card number is de-authorized, the Apple Watch can even be offline and still be cut off from making payments. Obviously, if this were to happen to you, we'd still advise keeping an eye on your credit card statements to be safe.
---
You might be interested:
You can follow Syncios on Twitter, Facebook for more tips and tricks.