Transfer Old WhatsApp Messages Between iPhones via Syncios Data Transfer
If both your old phone and the new one are iOS devices, the easiest for you to migrate old WhatsApp chats from iPhone to iPhone is to use Syncios Data Transfer. Syncios Data Transfer is the safest and most effective cross-platform data transfer tool, which make it possible to transfer multiple phone files, like WhatsApp data, contacts, messages, photos, videos, music, apps and more between unlimited mobile phones, just in one click without any hassle. We've tried several this kind of 3rd party iOS WhatsApp data transfer tool, it's the best one that we can easy-to-handle even you don't have any technical background. Rely on high reputation, Syncios Data Transfer has more than 1,000,000 loyal users now. Let's see the detailed steps:
First of all, go to 'Transfer' module.
[Transfer module supports direct phone to phone transfer of types of data, such as media files, personal information and etc. ]
Run Syncios Data Transfer on your computer and connect your iPhones. Thing you should do is to unlock your iPhone screen and click "Trust This Computer" when you plug it to computer. What's more, to connect smoothly, install iTunes on your computer, and if iTunes has already existed but is the old version, please update it.
[If your iPhone still can't be detected, Find answer here>> ]
As soon as being detected, two iPhone icons will appear on the interface, you should confirm the position is correct or not according to the devices' names. The source phone should be put on the left.
[If the position is incorrect, tap on the 'Flip' icon to reserve. Then, click on 'Next' button.]
Transfer Old WhatsApp Messages via Google Drive
Besides, you can choose to transfer old WhatsApp chats via Google Drive, can you need to have (suitable for iPhones and Androids):
A Google account activated on your phone.
Google Play services installed on your phone.
Enough free space on your phone.
Stable Internet connection when you do the operation.
Newer WhatsApp version will be more convenient
And then you can begin the process:
Firstly, create a Google Drive backup on old phone, open WhatsApp on your phone,  go to 'More options' > 'Settings' > 'C
hats' > 'Chat backup'.  Tap 'BACK UP' (or set it to automatically backup).
When WhatsApp is reinstalled, it will prompt you to recover your chats from Google Drive.
Chats and contacts will appear in the app instantly, while media will begin downloading in the background.
Manually Move Old WhatsApp Messages
If you don't like the methods above, just like do things the old-school way, you can:
Open the Settings menu of WhatsApp, tap on Chats and calls and then tap Chat backup.
If both your old and new phones are Android and have SD cards, you can just switch the card out of your old phone, and put it into your new one.
If not, you're supposed to:
Install Syncios Manager on your computer, after launching it and connect your phone to computer, go to 'File System' module to look inside of your phone, find 'WhatsApp' > 'Database'.  Install WhatsApp on your new device but do not start the app!! 
Stay in Syncios program, disconnect your old phone and coonnect your new phone, go to 'File System' again and Drag & drop or click on 'Import' button to put in the WhatsApp conversation backup file into the WhatsApp folder.
Now runWhatsApp on your new phone and verify your phone number. You should now receive a notification. Just tap on 'Restore' option.
---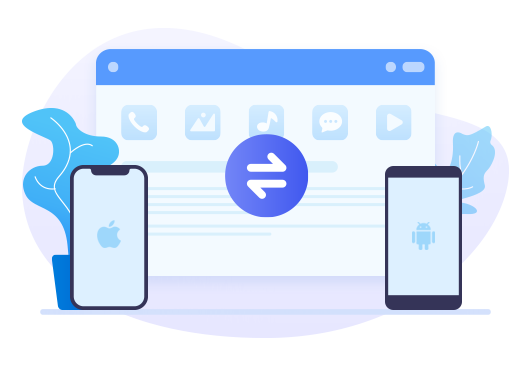 Transfer phone contents from iPhone to Android, Android to iPhone, Android to Android and iPhone to iPhone in 1 Click.

 Backup all phone contents to computer in 1 Click, including contacts, SMS, call logs, photos, videos, music and apps.

 4 different Restore modes: to restore data from iPhone/Android/iTunes/iCloud backup to iOS devices or Android phones.

 Transfer songs or playlists from iTunes Library to an Android phone, iPhone, iPad and iPod touch.

 Fully compatible with the latest Android OS and iOS system.

You can follow Syncios on Twitter, Facebook for more tips and tricks.