"I have enjoyed my Kindle for a couple years. I have several books. Recently I received a new iPad. I'd like to transfer those books to my iPad. Is this possible? " Recently we can see many questions in Amazon forum. Get the new iPad and woinder whether it is possible to transfer books from Kindle to iPad? I know how depressing it could be if you cannot read these bought kindle eBooks on iPad. Here in this article, we're going to introduce How to transfer books from kindle to iPad Air, iPad mini and the new iPad.
Generally speaking, kindle supports 3 kinds of eBooks: .azw, .mobi and .PDF. So with different format, we have different way to transfer. Our tutorial will cover three solutions:
Solution 1: Transfer Ebooks from Kindle to iPad via SynciOS Ebook Manager
To move PDF ebooks from Kindle to iPad/ iPad mini/ iPad Air, you have to save these PDF to your computer first.
Step 1: Download and install Syncios Ebook Manager on your computer.
Please be sure that iTunes is already installed on your computer for running this free Syncios Ebooks Manager correctly. But you do not have to run iTunes.
Step 2: Connect your iPad to computer with USB and launch Syncios Ebooks Manager.

Step 3: Go to the left panel of Syncios iPad Air Transfer and Choose Media Photo Tab. Click "Import" button. Choose ebooks in your computer and import to your iPod/iPhone/iPad.

Tips: PDF is compatible with iPad. However, it is not as friendly as EPUB for iPad. To enhance the reading experience, we recommend you to conver PDF to EPUB for iPad.Both PDF Converter and PDF Mate are very good choices for you.
Solution 2: Transfer Ebooks to iPad via "Manage My Kindle".
You can move the books from one device to another via "Manage My Kindle" on amazon.com using a web browser.
Step 1 Go to amazon.com and sign into your account.
Step 2 Select Manage My Kindle.
Step 3 Next to the Digital Content Column on the left, find the book that you want to move to the iPad and select action on the right. You can move the content from device to device there.
Solution 3: Transfer Ebooks to iPad via "Kindle" App.
Developed by Amazon,.azw is the default eBook format for Amazon devices, Kindle 3, Kindle Touch and Kindle fire. Almost all the ebooks you have bought from Amazon for Kindle are in .azw format which is not supported by iPad at all. If you need to read .azw ebooks on iPad, you should install kindle app for iPad. Only in this way, these books will be readable on iPad. To transfer these .azw kindle ebooks to ipad, all you need is log in Amazon account on Kindle for iPad and download these eBooks you have bought from Amazon in your archives.
Step 1 Download Kindle app on iPad.You can find this application in the APP Store on your iPad. Just type in "Kindle for iPad" in the APP store search box and the free "Kindle" APP will usually be the first APP that appears.
Step 2 Log in to your Amazon account.
Step 3 Sync books you have bought from Amazon to iPad.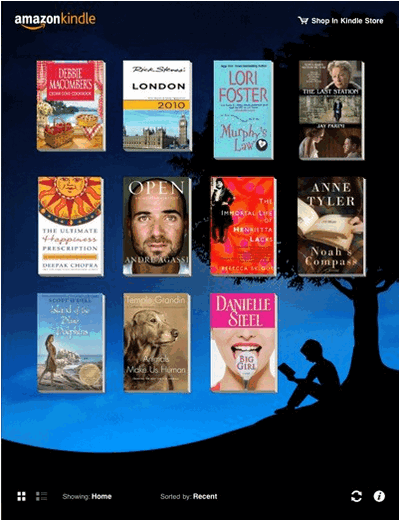 Source: Syncios
You can follow Syncios onTwitter,Facebookfor more tips and tricks.
Recommend: if you would like to contacts from Android Phone to iPhone , transfer ebooks between iPhone and iPad or between Android phone and Android tablet, you can try this perfect one click data transfer tool, not only ebooks, but also SMS, Contacts, Videos, Photos, Call logs, Notes and more from phone to phone. Simply download and have a try.



Related Article: