-I am new to winamp. I currently have in excess of 3000 folders in mp3 format in my itunes library. Is there a way to import the entire library as adding via the add media to library one at a time method could monopolise the rest of my life especially since I add music daily. If there is a way I would be most grateful to anyone who could advise me.
If you have already installed Winamp on your system, you need do it manually by clicking on: Media Library > Local Media > "Watch Folders" tab.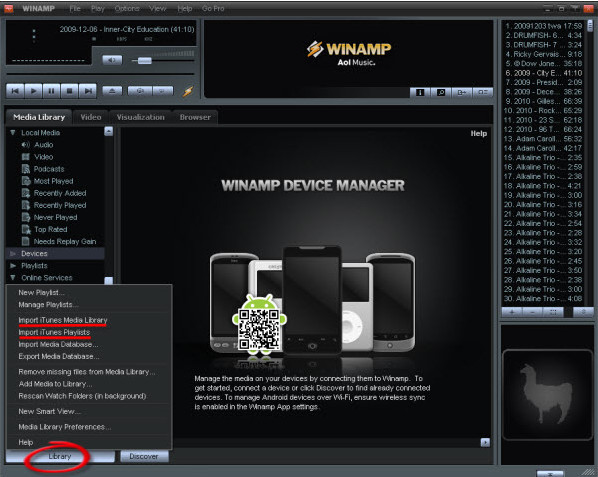 Once you've gotten there, click the "Add Folder" button, and navigate to your My Music folder, in which the iTunes Music folder is normally located. After that's done, click the "Rescan Now" button, and Winamp will start adding your iTunes library to the Winamp library.
Unfortunately, Winamp won't be able to import or play the .m4p (iTunes Protected) files that you bought from the iTunes store. You would most likely have to burn these tracks/albums to CD using iTunes (preferrably burn to CD-RW so you can re-use the CD over and over again), and then re-rip as regular MP3 or AAC files. Making sure that they are in a DRM-free format will also ensure there won't be any problems when Winamp tries to sync to your ipod.
If you want to sync your Winamp media library to Winamp on your library device, just use the USB connection or Wi-Fi network. I will choose Wi-Fi because it's simple to sync Winamp media library between computer and phone wirelessly. The steps are easy: first install Winamp for Android and enable wireless sync in Menu/Settings; then pair your device with computer; in the running Winamp, mouse over the device icon and click the "Sync" button.
Recommend:  One-Click Share iTunes Playlist
You can also use third-party app to export or share your iTunes playlists.  Syncios iOS Manager is the very iTunes alternative tool that you should give a try.
Under Toolkit, go to Common Functions and click the iTunes Library icon. Then Syncios would display iTunes library in the local iTunes. Choose operation from Transfer to device and Export to PC. You can simmply import files in iTunes library to any connected iPad/iPhone/iPod, or export files from iTunes library to computer.