In the past, transferring photos from an iPhone to a Windows-based PC proved to be a real pain. These days, whoever wants to transfer photos from the iPhone to the PC has several options. It is no longer necessary to download iTunes for Windows, which is a welcome addition. Also, an iCloud subscription is not considered compulsory, but another possible option.
We will show you three methods of transferring photos from your iPhone to the Windows PC in this article.
Transfer iPhone photos to Windows Computer using Free Mobile Manager
Transfer iPhone photos to your PC using Windows Explorer
Transfer photos to your Windows PC via iCloud
Bonus: Install iTunes on Windows to transfer photos from PC to iPhone
By Syncios Mobile Manager Free, you can back up the photos to your PC. Anytime you need it, you can recover them to any iPad, iPod or even an Android phone. That's to say, any backups created by Syncios Manager can be easily recovered to phones as it backed up before.
Backup iPhone 11 or iPad Photos to PC:
Step 1: Connect your iPhone 11 or iPad that you want the photos to backup. When successfully connected, you can see the devices icon on the main page. (In this case, we back up iPhone 11 photos to PC.)
Step 2: Navigate to the function panel on the left where items are manageable including Music, Video (YouTube Videos), Photos, Ebooks, Apps, Contacts, Notes, Bookmarks, Call history, Messages, WhatsApp, Safari History, Voicemail. Here we are talijng about Photos option to preview and manage.
Step 3: All the photos existing on the iPhone 11 or iPad are presented and now manageable on Syncios. Tick on the box in front of the pictures and tap Export button to back them up to PC. You can follow the instructions to create a backup path on PC.
Step 4:Not a while, Syncios will sync the selected the pictures to the path you created on PC.
Recover Photos on PC to iPhone 11 or iPad:
Now, everything comes easier when you do a photo transfer between PC and iPhone or iPad. Still with Syncios Manager to recover the photos to any iOS or Android device. Following is the step to recover photos from PC to iOS devices.
Step 1:Initiate Syncios Manager on your PC and connect your iPhone or iPad. Keep the screen unlocked when connected. ( Connect iPad and recover photos on PC to iPad. )
Step 2: Still, jump to Photos section for management. This time, tap on Import button to reach the path of the backup. And you now are able to choose the photos to import into Syncios Manager. When the photos appear in Syncios, it means that they are also synced int oyour iPad.
How do I transfer photos from the iPhone to the PC?
If you want to save your iPhone photos or simply browse through the photo albums on a larger screen, you can transfer pictures from your iPhone to your Windows-powered PC. In the past, this was done most easily with iTunes for Windows. While Apple's media center is discontinued for Mac since the end of 2019, Windows users are still able to use iTunes to synchronise their content.
Transfer iPhone photos to PC using Windows Explorer
Any iPhone can be connected to a Windows-based PC like a USB device. From there, the photo files can be easily displayed and downloaded. This is how it works:
Step 1:  Connect your iPhone to the PC via a USB cable, where the iPhone will then display the message "Trust this computer?" Go ahead and confirm this message followed by performing a two-factor authentication if necessary. The iPhone now appears like a USB flash drive in Windows Explorer:
Step 2: To transfer the images from the iPhone to the PC via Windows Explorer, you can either directly select the drop-down menu (in the left bar) or (double) click on the iPhone in Windows Explorer in order to open the file structure in main window: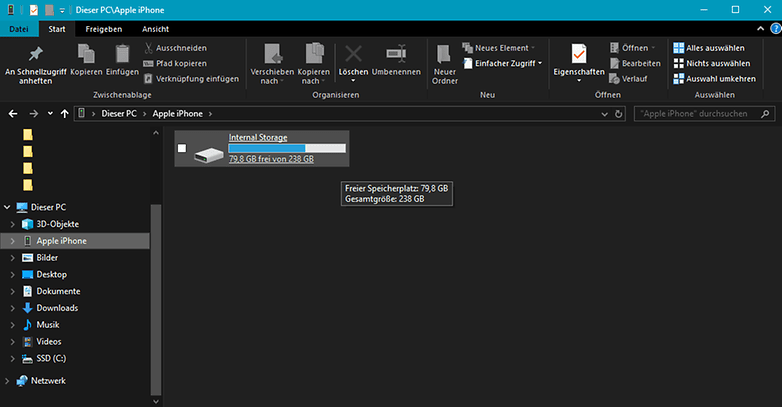 Step 3:  Another click will reveal the DCIM folder on the iPhone. This folder contains photos taken with the device or, for example, pictures backed up from WhatsApp:
Step 4: As you can see in the example below, there are now more folders to deal with. Depending on how many folders have been created on the iPhone, all of the available images are already sorted. From here, you are able to select whole folders or single photos and either copy and paste them to your computer or right-click and select "Copy to PC".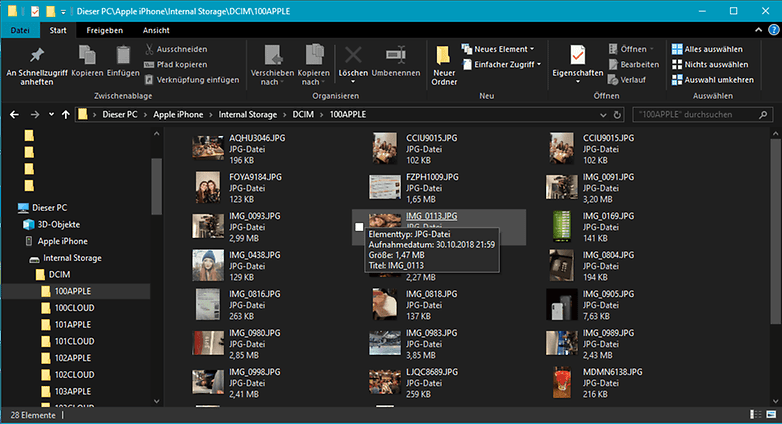 Transfer photos to your Windows PC via iCloud
If you backed up your photos on the iPhone to iCloud, you can easily access them via your browser.
If you are more likely to recover your deleted photos on iCloud, you can refer to :How to Restore Deleted Files in  iTunes/iCloud to iPhone SE 2020?
Step 1: At www.icloud.com every user of Apple iCloud can login with his/her Apple ID and access their respective files. Open the iCloud website and enter your Apple ID and password:
Step 2: If you have two-factor authentication enabled, you need to use another Apple device to generate the required code at this point. After that, familiar Apple icons will appear in the browser. The photos are located in the folder with the familiar icon: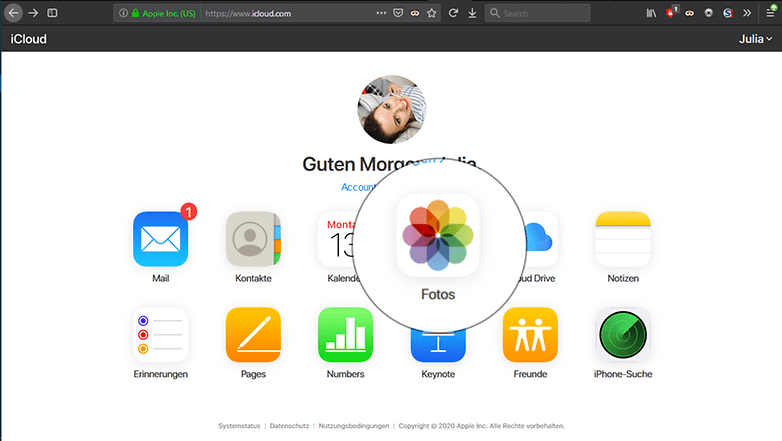 Step 3: By clicking on the photo app in the browser, the images can be transferred from the iPhone to the PC. In addition, recently deleted items and favourites can also be displayed. Photo folders can also be quickly found and downloaded from the drop-down menu on the left.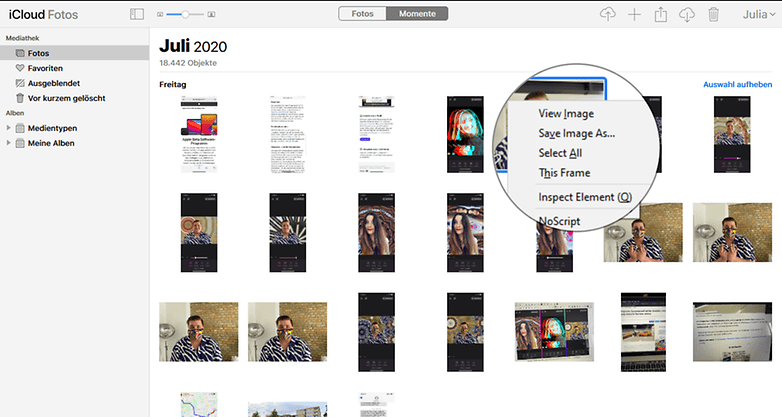 Bonus: Install iTunes on Windows to transfer photos from a PC to iPhone
As mentioned at the beginning, users of a Windows computer will still be able to use the good old iTunes to synchronise photos to the PC in 2020. Mac users, on the other hand, will have to perform all file management in their Finder. This is also where the iPhone backup is created. Music and streaming content can be found in new, separate apps. If you want to use iTunes on Windows, you can only synchronise your photos between an iPhone and the PC, but not access specific photo folders for export elsewhere.
If you are more likely to recover your deleted photos on iCloud, you can refer to :How to Restore Deleted Files in  iTunes/iCloud to iPhone SE 2020?
Sync photos on iPhone and PC – that's how it works:
Step 1: To transfer photos from PC to iPhone and sync the files, you mus
t first download Apple's application. We link directly to Apple's download servers here:
How do I find out if I'm using the 32- or 64-bit version of Windows?
It's easy. Usually, systems nowadays only use 64-bit architecture. In order to find out which version of Windows is installed on your computer, follow these steps:
Click on Start (Windows icon)
Enter "System" in the search field
Click on "System Information"
Click on "System Summary"
Under "System Type" you will be able to see whether it is 64-bit or 32-bit
Step 2:  After downloading iTunes, begin the installation process. After that, you can log in using your Apple ID. Connect the iPhone to the PC via a USB cable. The iPhone will then appear as a device in the column on the left. Under "Photos" there is a checkmark that provides an option to "Sync photos". Here, you are able to select which photos should be synchronised between PC and iPhone.
iOS & Android Mobile Manager on Window/Mac Computer

Transfer, edit, backup, manage, view iOS & Android mobile data.
Music, videos, photos, apps, ebooks, contacts, messages and more are supported.
Download videos from 100+ video sharing sites and transfer to devices.
Massive free resources: videos, wallpapers, ringtones
Free Trial
You can follow Syncios on Twitter, Facebook for more tips and tricks.  Source.