Contacts are very important to a person nowadays. They decide whether you can access to your family, friends, colleagues, even customers very important to your work. Therefore, the best way to not stay at a loss when your phone has broken or you mindlessly delete them is to backup these contacts to your computer. If you have a Sony Xperia Z and want to transfer your contacts to PC for backup, have a look at the step by step instruction below.
Step one: Turn on Android USB Debugging
Before connecting your Android Phone to the PC, please make sure the [USB debugging] option has been turned on. The steps of turning on the [USB debugging] option may various from different devices. Since Sony Xperia Z is based on Android 4.1, you can find the option in Settings > Application manager >Developer options.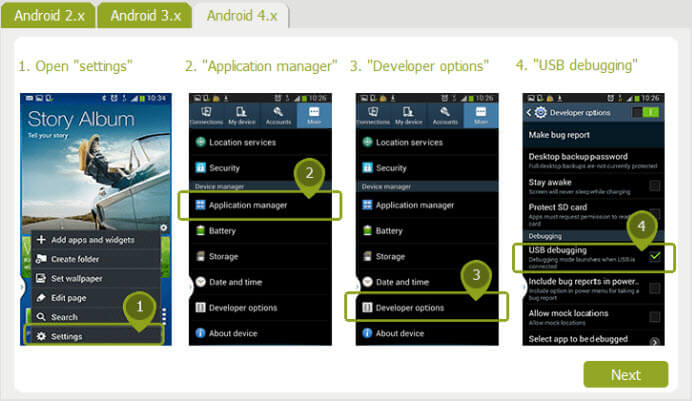 Step two: Download and install SyncDroid and then connect Sony Xperia Z to SyncDroid on PC
First, download and install SyncDroid from www.sync-droid.com/ on your computer. After you connect Sony Xperia Z to PC, you need to click the [OK] button on the phone to allow the Android device to connect to the PC. Then Android-Sync connection manager will help you install the proper USB driver for the phone. And SyncDroid App will be installed on to your android phone automatically.
Step three: Ready for Transfer and Backup
After following the above steps, SyncDroid is ready for transferring you contacts on your phone to PC. Please do not unplug USB during the whole process.
1)Click Backup tab
2)Choose the information you want to backup: SMS, Contacts, Call Logs, Bookmark, Audio, Video and Photos. Here you can just choose contacts.
3)Manuallly create backup name and write note of the backup file for restoring data in future
4)Click "Backup" button
The backup process is finished. Backup of the contacts of Sony Xperia Z is created on computer. Please remember the name of the backup file in case that someday in future you need to restore them to your phone.
---
Alternative Method: Backup Sony Xperia Z to PC with one mouse click
With Syncios Data Transfer, you are able to one-click to backup everthing from your Sony Xperia phone to your computer safely and without any data loss, including contacts, text messages, calendar, Call logs, music, apps, photos, Ebooks and videos etc. Of course, you can restore those backup data back to your Sony mobile phone or new Android device and iOS devices, whenever you want. And the Free trial version supports backing up unlimited Contacts on your Sony Xperia Z phone with only one click.
Step 1. Launch Syncios Program and Connect Your Sony Xperia  phone to PC.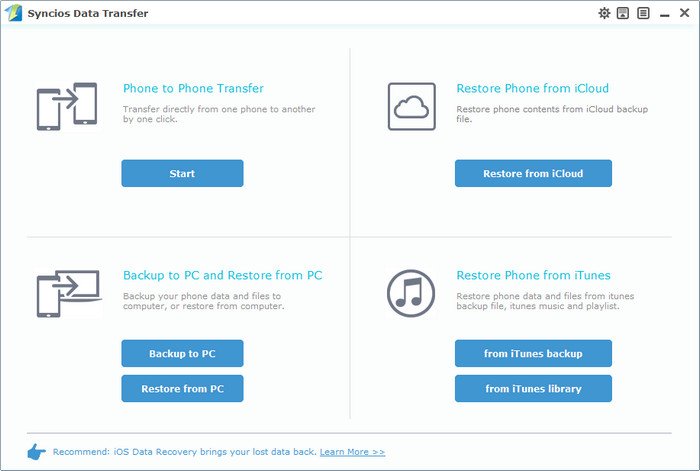 Step 2. Select contacts to backup.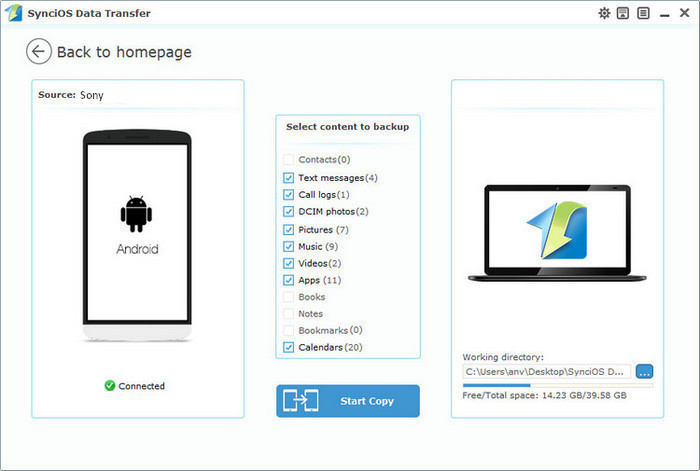 On the right side of the panel, you will also have the option to change or choose the location of the backup data. Select the […] button that appears beneath the computer icon and select the location where you would like all data to be saved. After making sure your data are chosen, click Start Copy button in the middle bottom. During this time, make sure your Sony Xperia Z3 phone is not disconnected from the computer.
That's it! let's download and check it out.