Now that Apple has announced the shiny new iPhone 6 and 6 Plus, available for preorder on Friday and shipping Sept. 19, it's time to start weighing your options. Should you stick with your trusty yet suddenly obsolete iPhone model, or is it worth ditching for better battery life and some Retina HD action?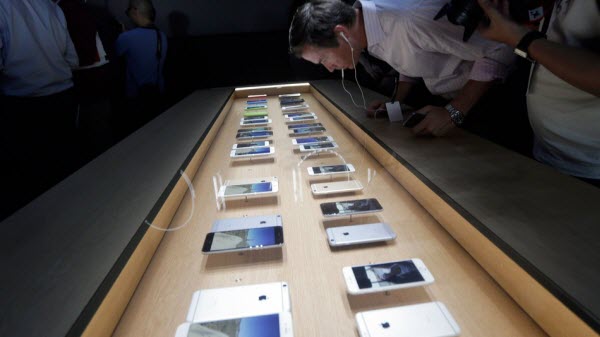 If you've decided it's time for an upgrade, retailers and mobile carriers alike are scrambling to offer you the best trade-in. In fact, in an unusual move, U.S. carriers are cutting pretty amazing deals on the iPhone 6, in fear of you taking your business elsewhere. In previous years, as WSJnotes, Verizon, AT&T, Sprint and T-Mobile have waited until later in the selling cycle to offer competitive pricing plans.
Here's a quick rundown of some of the best ways to break up with your old iPhone, and get your hands on the sleekest, sexiest model yet. Note that most of these deals are only available in the U.S. The iPhone 6 itself will first be available Sept. 19 in 10 countries (originally 11, but the China release is delayed).
1. Your mobile carrier
Verizon announced Tuesday it will offer a free 16GB iPhone 6 in exchange for your old iPhone 4, 4S, 5, 5S or 5C in good condition — as long as you re-up your contract for another two years. That's a $199 value.
Sprint will offer up to $300 for eligible devices. You can also get unlimited data, talk and text for $50 per month, or get a free iPhone 6 or 6 Plus up front and lease it "for life" for $20 per month.
T-Mobile will match any competitor's trade-in value and add $50 on top of that.
AT&T hasn't announced specific trade-in deals or pricing yet, but it has set up a landing page here.
2. Amazon
Amazon's Electronics Trade-in program is one of your best bets to earn some cash for your old iPhone. For example, a 16GB iPhone 5S could get you between $300 and $400.
3. Best Buy
Between Friday, Sept. 19 and Saturday, Sept. 27, you can trade in your working iPhone 5S at Best Buy for $300 and your 4S for $125. Your iPhone 5 will get you "standard trade-in value" — up to $300 for a 16GB model in good condition.
4. Target
Target announced its trade-in program this week, too, allowing customers to get deals before Sept. 18 (and guaranteed before Oct. 18). Trade in your old phone either in-store or online.
You can get up to $200 for the iPhone 5S, $100 for the 5 or 5C, $75 for the 4S and $50 for the iPhone 4.
5. RadioShack
RadioShack's Trade & Save Program lets you trade in an older iPhone model in working condition for a minimum of $100 and up to $300, depending on the model.
6. Gazelle and Glyde
For 16GB models, Gazelle is offering up to $285 for the iPhone 5S, $165 for the iPhone 5C, $170 for the iPhone 5 and $65 for the iPhone 4S.
A similar service is Glyde, which has a handy pricing tool for you to plan your upgrade. According to a Glyde spokesperson, the site offers up to $356 for the iPhone 5S, up to $282 for the iPhone 5C, up to $259 for the iPhone 5, up to $174 for the iPhone 4S and up to $65 for the iPhone 4.
7. Apple
Apple's own trade-in program offers a gift card in exchange for your old device. You can bring your old iPhone to an Apple retail store near you, and an employee will determine its value.
While this is a quick and safe way to trade in your old iPhone, don't expect the best deal.
8. eBay
According to an eBay spokesperson, average selling prices for a 32GB iPhone 5S were $510 during the week of Sept. 1 (as of this writing, the eBay website says the same phone is trending at $461).
A 16GB iPhone 5C can earn you up to an estimated $239, a 16GB iPhone 5 can get up to $232 and a 16GB iPhone 4S can get you up to $134.
If you're worried no one will bid on your phone, eBay's looking to give you peace of mind by offering a $100 coupon if it doesn't sell by Oct. 24.
9. Walmart
Walmart offers gift cards in exchange for traded-in devices. Using a working Verizon model as a benchmark to give you an idea of what you can get, Walmart currently offers:
$275 for a 16GB iPhone 5S
$128.25 for a 16GB iPhone 5C
$166.25 for a 16GB iPhone 5
$74.40 for a 16GB iPhone 4S
$38.40 for a 16GB iPhone 4
10. GameStop
GameStop and its subsidiaries (Simply Mac, Spring Mobile, GameStop-owned Cricket Wireless locations and BuyMyTronics) offer store credit or cash for your old iPhones.
For example, you can get $265 in store credit for your AT&T 16GB iPhone 5S in good condition, or $150 cash for your AT&T 16GB iPhone 5.
Recommend: You can use Syncios to free backup old iPhone and transfer to new iPhone 6. You can also download and install apps into iPad/iPod/iPhone. There are Huge and growing collection of free games, apps, wallpapers, ringtones for iOS devices. Just simply download and have a try.
---
You can follow Syncios on Twitter, Facebook for more tips and tricks.