Portraits are one of the most powerful kinds of photographs. A great portrait can last for decades, memorializing a person's entire life, or just a single instant. The difference between a snapshot and a good portrait is more narrow than you'd think. It just requires a little bit of thought.
What Makes a Good Portrait
Portraits are about one thing: the person in them. It doesn't matter whether you're shooting a tight head shot or an environmental portrait; it's all about the subject.
So with that in mind, what makes a good portrait?
First, a good portrait draws attention to the subject. This is normally achieved through some combination of a shallow depth of field, composition, color, and lighting. When it's done right, as soon as a viewer looks at the portrait, their eyes instantly settle on the subject.
Second, a good portrait tells you something about the subject. It shows some element of their personality or their life. You should be able to look at a good portrait and know something about them. The best portrait artists can tell a whole story in a single image.
Outside of these two things, there is very little rhyme or reason to what makes a good portrait—you have a lot of room to be creative.
The Technical Stuff
You don't need a dedicated lens for portrait photos, but there are dedicated portrait lenses which take flattering images of people. They have a wide aperture of at least f/2.0 and tend to have a focal length between 50mm and 100mm. The wide aperture gives you a really shallow depth of field which makes it easy to pull attention to the subject, while the focal length is long enough to minimize distortion without being so long that you have to stand 50 metres away to keep the person in frame.
A perfect portrait lens is the 50mm f/1.8 "Nifty Fifty". Canon's version is available for $125 while Nikon's costs a little more at $215. If you have a DSLR and want to take great portraits, they're well worth picking up. I shot the image below with one.
When it comes time to shoot the photo, you want to put your camera in aperture priority mode. Set the aperture to a value of between f/1.8 and f/2.8. If your lens doesn't go that wide, just use its widest aperture. You need a shutter speed of around 1/100th of a second. Faster is okay, but it's better to have a lower ISO.
If you get the technical details right, you're a long way towards capturing a good portrait. When you have a shallow depth of field, it's hard to look anywhere but the subject.
Other Tips and Tricks
For portraits, you want the camera to be level, or slightly above, the model's eyeline. No one looks good when shot from a low angle!
The two easiest portrait compositions to get right are the head shot (a close up of the model's head and shoulders) and a waist-up shot. If you stand so that the subject fills the frame in either of these compositions, your portraits will look good.
When you're framing your shot, be careful not to cut off any of the model's limbs. You want to crop at major joints like the waist, rather than at their fingers.
One way to take your portraits to the next level is to use really good lighting. Don't just shoot a portrait anywhere. Instead, find somewhere with nice, flat, even lighting. A great place to shoot a portrait is somewhere shady, like under a tree or in an alley, on a sunny day or in a room lit by a single large window.
And,  the best portraits happen at the in-between moments. When the model poses, you say something, and their pose cracks into a smile. Press the shutter button then, and you'll have a great shot.
Read also: How to Transfer Photos from iPhone 7/ 7 Plus to Computer?
---
Recommendation: Manage iPhone/iPad/iPod without using iTunes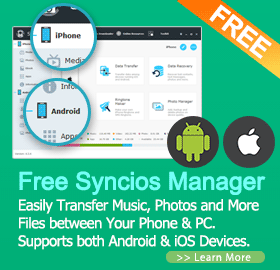 Support to transfer, edit, backup, manage, view iOS & Android mobile data: Music, videos, photos, apps, ebooks, contacts, messages and more.
Download videos from 100+ video sharing sites up to 4K HD video quality and transfer to iPad/iPhone/iPod/Android.
Massive free resources: videos, wallpapers, ringtones
Handy toolkit: Audio converter, video converter, ringtone maker, etc.
Free
You can follow Syncios onTwitter,Facebookfor more tips and tricks.
Source: howtogeek