If you upgraded to Windows 10, you can finally test out the Windows 10 Phone Companion app that Microsoft announced back in March. It is installed along with Windows 10 by default. This app, it seems to me, reflects the "new Microsoft" that embraces the non-Microsoft mobile platforms dominating the market — Google's Android and Apple's iOS — in addition to Microsoft's own Windows Phone.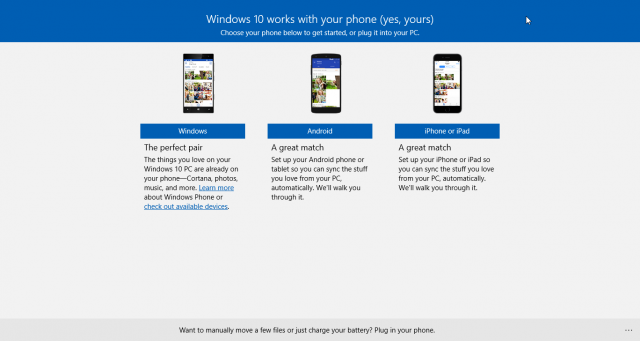 The Phone Companion app is, for the most part, simply a tool that identifies Microsoft's mobile apps and helps you install and configure this apps and services. These services are:
OneDrive's automatic photo backup from mobile devices
OneNote Mobile
Skype
Office Mobile: Word, Excel, and PowerPoint
Outlook for mobile devices
Two products that will be released in the near future are grayed out and labeled "coming soon." These are the Cortana personal assistant for Android and iOS, and the ability to stream songs stored in OneDrive.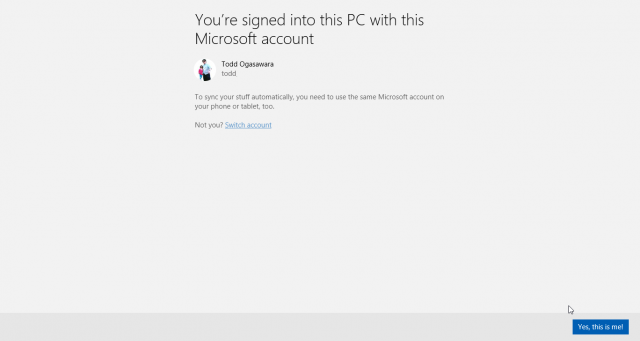 During the Phone Companion photo syncing process, the app checks if you are signed in to a Microsoft account of some kind (Hotmail, Outlook.com, etc.).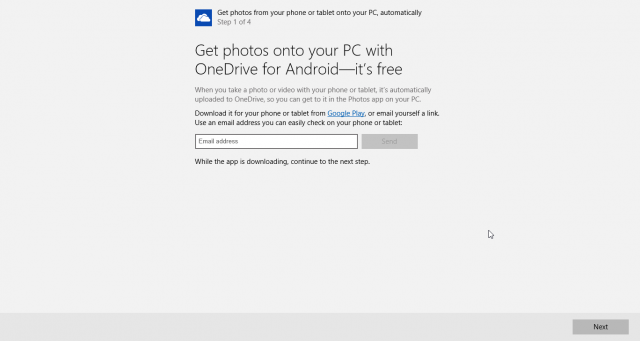 It then asks you to download and install the OneDrive app for your mobile device. If you already have it installed like I did, you can skip this step.
If you choose to automatically upload photos to OneDrive, you will be able to find it by clicking on the Photos link in the left sidebar of the OneDrive.com web page. If you have more than one device backing up to OneDrive, all the photos will be stored in one place. Like Google Photos, OneDrive automatically tags your photos using image recognition technology.
In testing, I found dozens of tags associated with my photos. Some of these tags are: Animal, Beach, Group photo, Outdoor, People, Screenshot, and Sky. And, like Google Photo, OneDrive's image recognition sometimes makes some interesting mistakes.
If you plug an Android phone or tablet into your Windows 10 PC using a USB cable, the Phone Companion app identifies the device by model name, shows the battery charge status, and links to help you manually move files using either Windows' Photos app or File Explorer. You don't need the app to move files. However, it could be a very useful set of information and prompts to help non-power users.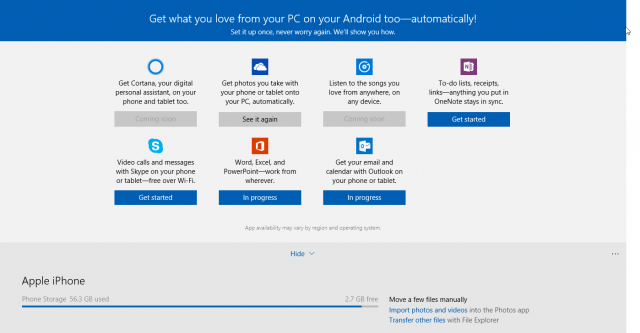 If you use a USB cable to plug an iPhone into your PC, the Phone Companion app shows less information than it does for Android devices. It just shows the storage status for the iPhone. It does not show phone model information or the battery charge level. It does, however, provide the same Photos and File Explorer links to help the iPhone user to copy files to the PC.
When I read about the Phone Companion app back in March, I didn't think much of it, since it merely presents information about existing apps and services. However, I've reconsidered my opinion since then. If you have smartphone using non-power user family members and friends who use Microsoft products and services, consider pointing out the Phone Companion app to them after they upgrade to Windows 10. While you can always use existing services like Dropbox and Google Drive across multiple devices, it's nice to finally see some real Windows-specific integration on other mobile platforms.
How to sync your iPhone/iPad/iPod to PC with SynciOS Free iOS Manager
With the help of the free iPhone to PC Transfer, you are allowed to sync iPhone music, video, photo, apps, notes, bookmarks, contacts and call history to PC with a few clicks. Here's how:


Step 1: Connect your iPhone/iPad Mini/iPod to the computer
To get started, connect your iPhone/iPad Mini/iPod to computer via a USB cable. The iPhone/iPad Mini/iPod file transfer is fully compatible with the newest iPhone 6/iPhone 6 Plus, iPad Air/iPad mini etc.
Launch Syncios iPad Mini to PC Transfer on your computer. After this program detects your device, you will get the primary window below.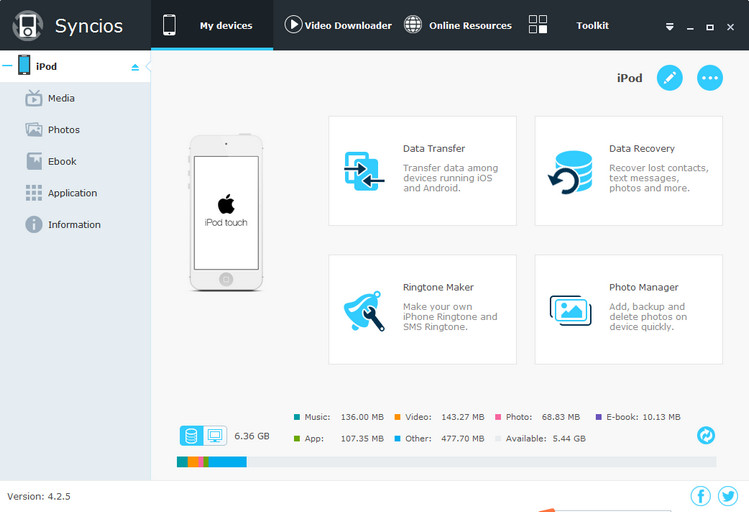 Step 2: Transfer files from iPhone/iPad Mini/iPod to computer 
Now, we will show you how to sync music, videos and photos and more to your PC one by one.
<Music> Click Media in the left directory tree and you can get different media types on the right. To export music, you can click Music. Then, click Export button to import music from iPad Mini to PC . Choose your wanted music files and export them to your PC.

<Video> To import videos, you can click Videos on the right panel. Likewise, click the Export button to export video to PC.

Note: With Syncios iPad Mini to PC Transfer, you can also export podcast, iTunes U, music videos and more to your PC.
<Playlist> If you have saved many playlists on your iPhone/iPad/iPod, you can transfer music from the related to your computer too. Go to the top line of Syncios, click New Playlist. Then input the playlist name. Choose the playlist you just created from the right panel, then all music will be displayed, just click Export button, now you can  export music form the desired playlist to PC.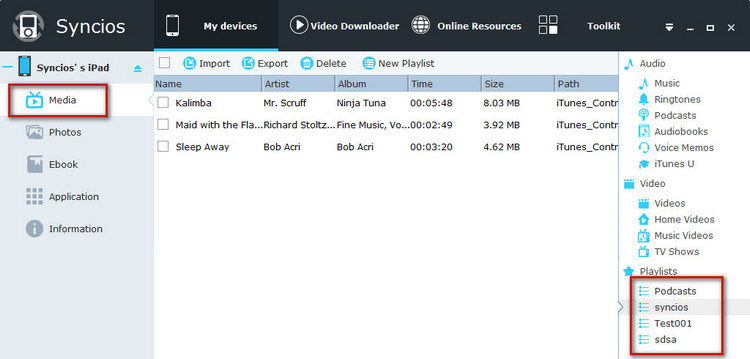 <Photo> Besides music and videos, this iPad Mini to PC transfer without iTunes tool empowers you to export photos as well. Click Photos in the left directory tree. Then, all albums are displayed on the main window.
If you want to export an album, click the Export button and find the album folder in your iPhone/iPad Mini/iPod and export it to your PC.

<Contacts> This iPad Mini to PC transfer tool enables you to recover contacts to your iPad Mini from the Syncios backup, or your can manage your contacts directly from Syncios iPad Mini Manager.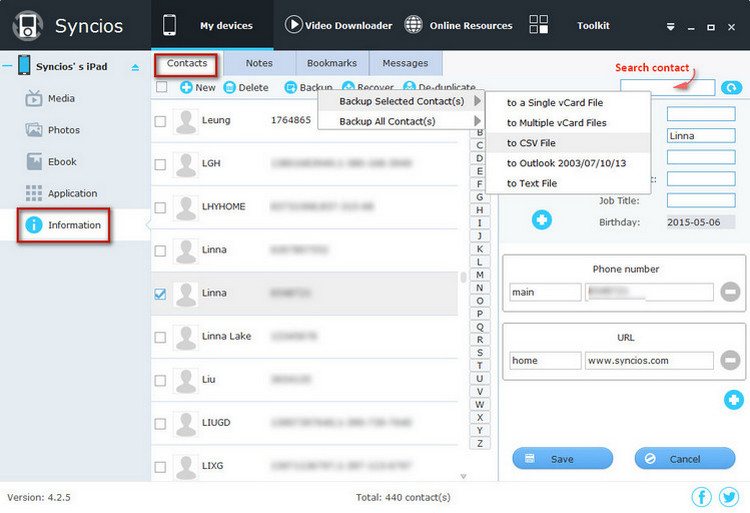 It's easy to transfer files from iPhone/iPad/iPod to PC with Syncios iPad Mini Transfer, isn't it? Thus, why not download it to try it on your own?


Reference: Extremetech
You can follow Syncios on Twitter, Facebook for more tips and tricks.