One of the primary reasons for me to get a smartwatch was for music. Not to listen from it, per se, but to control music from it. Being able to leave the phone inside while I walk my laps is still a somewhat tantalizing idea, and sometimes necessary, as workout clothes (or any other kind of clothes for that matter) for ladies like me often don't have the luxury of sizable pockets. So, with the recent updates to Play Music and Android Wear bringing this welcome change, let's see about getting these jams from our phones to our wrists — and why it doesn't work as well as we would've hoped.
When you update Play Music, a new app shows up on your Android Wear device. However, opening it up proves to be a bit of a bummer, as the app tells you it's empty, and that it needs to be loaded from your connected phone first. There's even a convenient button that will take us into the settings in the Play Music app on our phones so we can start loading it up.
This is where hearts start to sink: "Store my downloaded music on Wear for offline playback."
Syncing music
After you've got your watch paired with your phone, you'll need to make a quick trip into the Play Music settings to enable Wear syncing. Since you have to use Play Music to sync music with your Android Wear watch anyway, this might be a good excuse to upload your music library to Google if you haven't already. You'll find the setting for Wear syncing toward the bottom of the main settings page.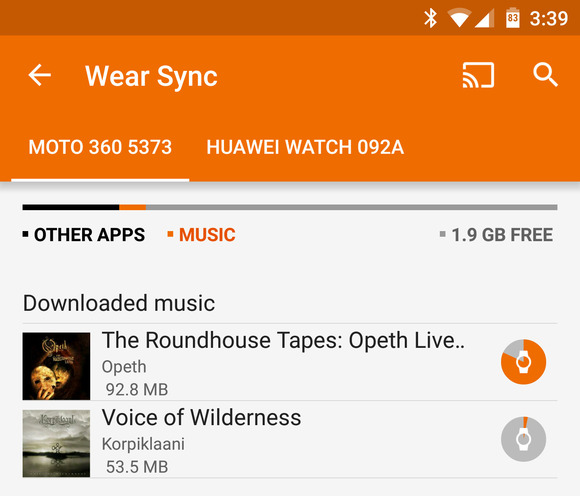 Any music you keep offline on the phone can be synced over to the watch, so go ahead and find something you want to sync and tap the download button. It can be an album or a custom playlist. Oddly, Play Music instantly starts syncing everything you select for offline caching on the phone over to the watch. Keep that in mind if you only want a subset of your offline music on the watch.
To control what goes on the watch, had back into the settings and open the Manage Wear downloads menu, which is right below the toggle you used to enable Wear syncing. From here, you can see each item that's synced or in the process of syncing. Tap the watch button on the right of each line to toggle sync on and off for each of them. Also note the storage meter at the top that tells you how much more space you have for music on the watch.
You can also open the Play Music app on your watch and choose what to sync based on the list of offline music from the phone. This is a bit clumsier, though.
Pairing headphones
A few Android Wear watches have speakers inside, but they aren't enabled by the software yet. Even when they are, it's doubtful your music would sound any good coming out of them. That means to listen to music from the watch, you need to pair it with a Bluetooth device. That can be either headphones or a Bluetooth speaker.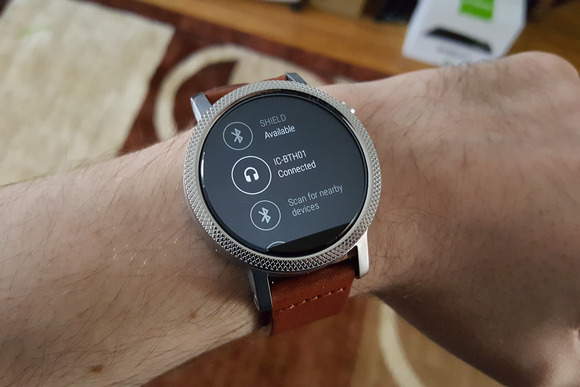 For this, you will move over to the watch and open the main system settings and scroll to Bluetooth devices. If your speaker or headphones are in pairing mode, they'll pop up in the list. Just tap and your watch should connect. Note, trying to play music on the watch without a Bluetooth device will result in an error message that routes you to this menu. You can disconnect from an audio device by tapping Unpair devices at the bottom of the Bluetooth menu.
Playing music
In order to listen to the music you've synced to the watch, open the Play Music app on your wearable. It will ask if you want to play on the phone or watch, and you want to select watch. What you get is a vertically scrollable list of the playlists and albums you've synced over. Tap any of them to listen and tap again to pause.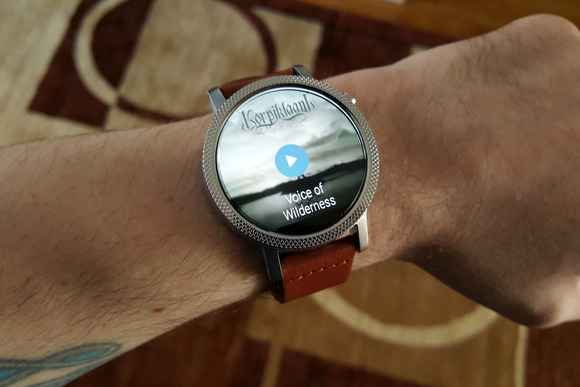 You can swipe over to the right to access playback controls. These are the same ones that you get when controlling music on the phone. Since this is all self-contained in the watch, you can leave the phone at home and listen on the watch. Be warned, this will drain your watch's battery pretty quickly. At most, you'll get a few hours of playback out of it before a recharge is needed.
---
More tips: how to sync music from computer to Android phone
Syncios PC to Android Transfer will be highly recommended, with which you are able to transfer all or selected contacts, including Music, Videos, Photos, etc to your Android phone including HTC, Samsung, Google, LG, Sony, Motorola,HUAWEI, Acer, and more >>.
Let's go through following guide to learn how it works.
Please free download and install this Syncios PC to Android Transfer before transferring music from computer to Android Phone.
To sync music from computer to Android phone, Simply press Media,Photos tab on the left panel of Syncios. Then click Import to browse your PC for the files you want to import to your Android device. After finding them, click Open to transfer selected music, photos, videos to your Android phone.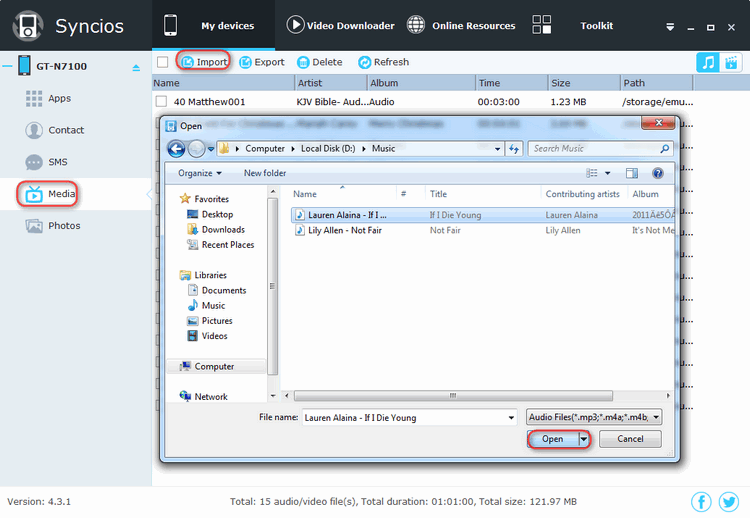 You can follow Syncios on Twitter, Facebook for more tips and tricks.