Let's all agree that Apple continues to be cruel by equipping its entry-level iPhones with only 16GB of storage. Surely the company could afford to make 32GB the baseline without negatively impacting its bottom line.
That said, we can also agree that, for a variety of reasons, you might be among the countless users who end up with a 16GB iPhone. Maybe it was all you could afford, or there was a deal that was too good to pass up. Perhaps you simply misjudged how much storage you'd need once you started shooting HD video or downloading YouTube vids for offline viewing.
Whatever the case, it's possible to lead a normal and productive iPhone life even with such a paltry amount of space. You'll just need to make a few adjustments, and maybe throw a few bucks at the problem.
1. Know your space hogs
With space at a premium, it's crucial you learn what's consuming the most of it so you can act accordingly. Here are the biggest offenders:
Photos and videos
Music and podcasts
Games
Needless to say, the more unnecessary apps and media you can delete, the more space you'll have for the stuff you do want. To get a precise snapshot of your iPhone's space hogs, tap the Settings app and then choose General > Storage & iCloud Usage > Manage Storage. In a moment you'll see the likes of this: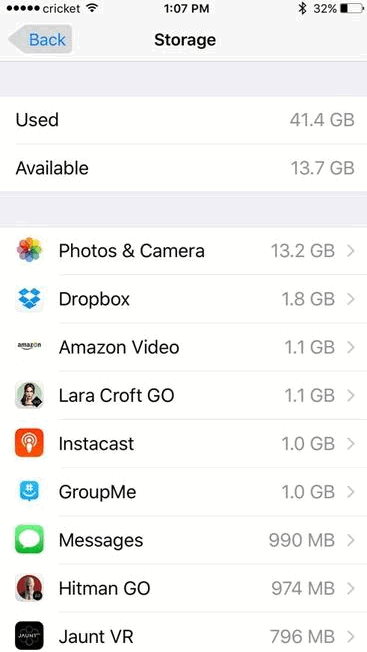 Lara Croft Go takes 1.1GB?! And I hardly ever play it? Sorry, Lara, you gotta go. I can always download you again when the mood strikes. And that's a good thing to remember: You can install games and other apps on as-needed basis; not everything requires permanent residence.
What's more, consider Web-based alternatives to space-hogging apps. On my iPhone, for example, Facebook puts me in the hole a whopping 660MB. It's also a battery hog, so deleting the app in favor of the browser version will help me on two fronts.
2. Consider your pixels
With every new iPhone, Apple touts higher-resolution sensors for capturing photos and videos. That's good news for quality, bad news for storage: More pixels means larger files.
The irony is that most of our photos get viewed on our phones or shared via Facebook or Instagram, where mammoth megapixel counts aren't necessary. Heck, even 1080p video is overkill for viewing on a phone or tablet; your mini-movies would look nearly as good (and consume less space) at 720p.
To that end, consider venturing into Settings > Photos & Camera, scrolling down to the Camera section and tapping the Record Video option. If you were shooting at 4K or 1080p/60fps, try downshifting to 1080p/30fps or even 720p. Chances are good you won't notice much difference — you will save a lot of storage.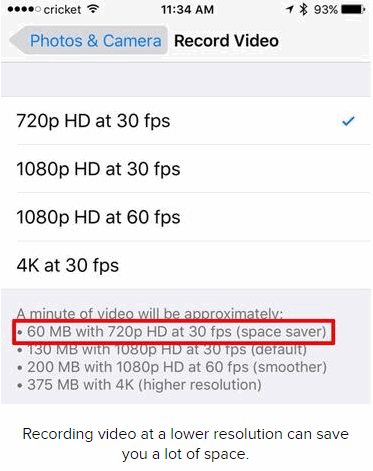 Unfortunately, Apple's Camera app doesn't let you take lower-resolution photos. For that, look to third-party camera apps like perennial favorite Camera+.
3. Put the cloud to work
As noted above, photos and videos will fill up your 16GB faster than Taylor Swift can fill up a stadium. Fortunately, iOS can help: its Optimize iPhone Storage feature offloads your photos to your iCloud account, keeping "optimized" (read: low-resolution) versions on your phone while storing the full-resolution originals online.
To enable this feature (which, in slightly vague terms, kicks in only "if your iPhone is low on space"), tap the Settings app and then choose iCloud > Photos. Make sure your iCloud Photo Library is toggled on, then tap Optimize iPhone Storage. It may take some time before this optimization is complete, and it's hard to say what it'll net you, space-wise, but this is a helpful feature when you're out of room and desperately need to snap some photos.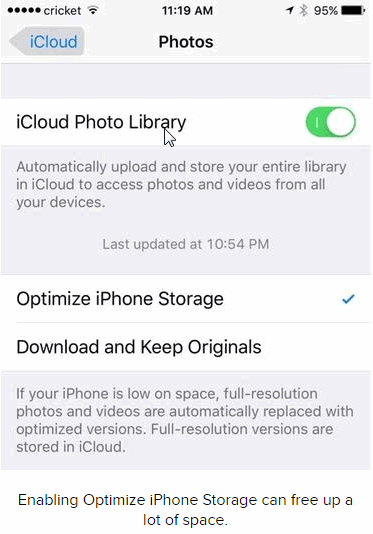 One consideration, though: The free 5GB iCloud account Apple gives you will probably prove insufficient to house all your media. Fortunately, it's not expensive to expand that storage, with Apple charging 99 cents, 79p or AU$1.49 monthly for a tenfold increase (50GB).
Of course, if you're already paying for cloud storage elsewhere, apps such as Dropbox, Google Drive and Microsoft OneDrive can sync your photos to your cloud account, allowing you to delete them outright from your iPhone. In fact, Flickr gives you a whopping 1TB of free storage for your iPhone Camera Roll.
When you deploy one of these apps, however, make sure you enable the "background upload" setting (which is usually disabled by default) so that photos get synced even when you're doing other things. Unfortunately, this option may require location services to be enabled for that app, which can impact battery life.
4. Try a magic trick
If you're so low on space you can barely even snap a photo, let alone install a new app or update iOS, there's a weird trick that might help you reclaim hundreds of megabytes, or even a few gigabytes.
In a nutshell, it works like this: You're going to try renting (and downloading) a movie that your phone doesn't have space for. Then you're going to try it again, and perhaps even a few more times. As evidenced by the reader comments in my original post, to say nothing of my own experience, this really works.
Why? Call it an oddity of iOS. A space oddity, if you will. (See what I did there?)
5. Add external storage
As we've already established, Apple is cruel — which helps explain why iPhones don't have memory-card slots. That means if you want to offload photos and videos or carry around a large library of music and/or movies, you're sunk. Right?
Wrong. You can indeed add extra storage to an iPhone (or iPad) — it just has to be external. This can take the form of a plug-in drive (not unlike a USB flash drive) or a wireless media hub. Each has its own pros and cons.
Take the Leef iAccess, a $50, AU$65 or £38 microSD card reader that plugs into your iPhone's Lightning port and wraps around the rear (to better accommodate cases). It can read and write to cards as large as 128GB, a considerable amount of extra space for any iDevice. And it lets you capture photos and videos directly to a card, bypassing your storage-strapped phone altogether. (Another option, the slightly less versatile Leef iBridge, comes with a fixed amount of storage. It starts at $60 or £40 for 16GB.)
Similar solutions include the HooToo iPhone Flash Drive ($50, AU$90 for 32GB), which includes a USB 3.0 plug at the opposite end for easy media transfers from your PC, and the SanDisk iExpand. These drives offer two key benefits: They're plug-and-play simple and they don't need to be charged.
However, they leave a plug sticking out of your phone. If you don't want that added bulk, consider a wireless media hub. Same idea (onboard or memory-card storage), but with a Wi-Fi rather than Lightning connection.
For example, the Western Digital MyPassport Wireless comes in 1TB and 2TB flavors. It can back up your iPhone photos and lets you access music, videos and other media. But prices start at around $150, AU$200 or £130, and it's a bit too bulky to carry in a pocket.
If you want a more mobile-friendly solution, check out something like the Ravpower Filehub, a wireless SD-card and USB-drive reader that sells for $30-$40, AU$90 or £30. As an added bonus, it's also a Wi-Fi hotspot and mobile charger.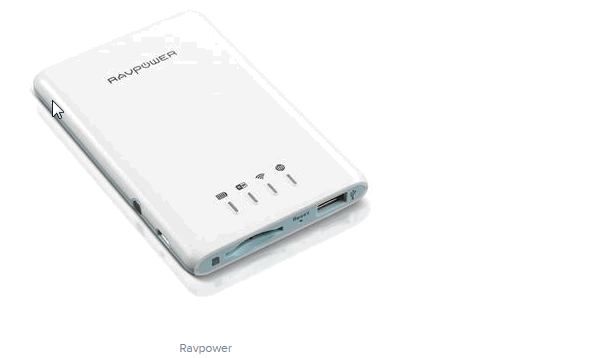 Just take note of a key limitation with all these options: You can't play DRM-protected music or videos, of the kind you might purchase from iTunes or download from Spotify. External storage works only with your own media.
6. Fly to China
Hey, hackers, makers and everyone else who's handy with a soldering iron: Why can't you pry open an iPhone and replace the memory chips with higher-capacity versions?
Apparently there's at least one shop in China offering to do exactly that. A couple months ago, a story made the rounds about a 16GB-to-128GB upgrade that cost only about $60. Just one problem: The exact location of this shop wasn't identified, and there doesn't seem to be a way to get this service without actually going to China.
I suspect if this process worked reliably and was truly affordable, we'd see it in iPhone repair shops closer to home. But I've found no evidence of any service anywhere that will let you drop off (or ship) an iPhone and get more internal storage. Which is too bad, because I suspect any enterprising tinkerer could make a small fortune off that.
If you've found any other ways to survive a 16GB iPhone, share them in the comments!
Related articles:
How To Backup iPhone on Mac without iTunes Safely?
Guide on How to Restore iPhone Safely and Quikly
Recommendation: Manage iPhone/iPad/iPod without using iTunes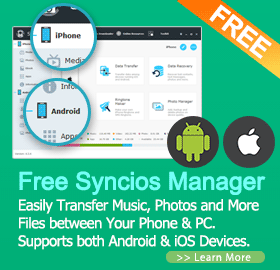 Support to transfer, edit, backup, manage, view iOS & Android mobile data: Music, videos, photos, apps, ebooks, contacts, messages and more.
Download videos from 100+ video sharing sites up to 4K HD video quality and transfer to iPad/iPhone/iPod/Android.
Massive free resources: videos, wallpapers, ringtones
Handy toolkit: Audio converter, video converter, ringtone maker, etc.
Free
You can follow Syncios onTwitter,Facebookfor more tips and tricks.
source:cnet