If you've been using WhatsApp on your iPhone for a while, you know that it saves auto-downloaded images and videos to the camera roll. This particular feature can turn out to be messy because it clutters the Camera Roll and at times, you've got some really nasty photos on WhatsApp that end up in your camera roll – fully public for anyone who's browsing through your camera roll album to see. Now that's a bit of a trouble. However, it is pretty simple and straight-forward to disable WhatsApp to auto-download photos and videos to your iPhone camera roll.
In order to do this:
Go to Settings
Scroll down and tap on Privacy
Tap on Photos
Now turn off the switch for WhatsApp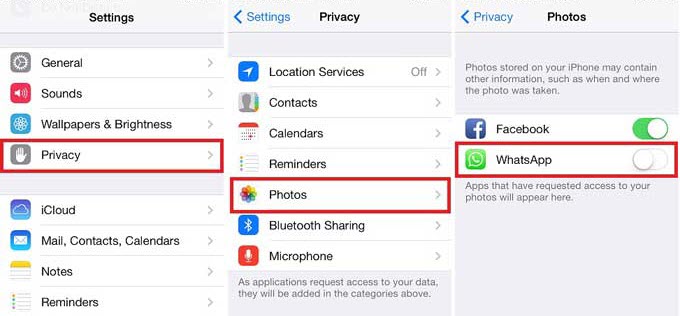 Hitherto, whenever someone sends you an image or a video, it stays within WhatsApp. You can still have them in WhatsApp and view them but it won't show up in your camera roll album. Basically, it doesn't get transferred there saving you a lot of clutter and occasionally, some embarrassment. When you install WhatsApp, it asks for permission to access your Photos. If you turn it down here, you won't have to worry about WhatsApp images and videos getting copied to your camera roll. You can still see the images/videos sent by a person by tapping on the Info button (on top-right of a chat screen) -> View all media. WhatsApp basically downloads images automatically (no luck turning this feature off) but lets you choose to download videos. Once they get downloaded, they reside inside WhatsApp. If the app has permission to access Photos, it saves them to the camera roll too. Turn that permission down and you are in the clear. Turning off the Privacy for Photos for WhatsApp specifically helps in keeping your camera roll less cluttered but also helps in reducing the size of your camera roll.
How To Backup And Restore WhatsApp Messages On iPhone (iPhone 6 included)
You can follow Syncios on Twitter, Facebook for more tips and tricks.
Recommendation: If you you could like to recover your lost WhatsApp Chats, you can try this iPhone Data Recovery software.