1. Speed Up Animations
Maybe your iPhone just feels slow. Especially on a brand new iPhone 7, the animations can feel like they just drag on, making the phone seem slower than it is. If you're hypersensitive to issues like this, you can turn off UI animations.
Go to Settings -> General -> Accessibility -> Reduce Motion. Now, you'll find that animations for opening apps, folders and so on are gone. Apps will now open instantly.
2. Update To Latest Software
If you haven't updated the iPhone's software since you got it, now's a good time to do just that. You might believe that updating to the latest OS will slow your phone down but that's just an urban myth. It used to be the case with older iPhones, that didn't have fast enough hardware to always support new features.
Now, though, things are different. Apple themselves are more aware of the issue and they optimize software update for a wide range of iPhones, not just the latest. Plus, the hardware for iPhones even 1-2 years old is still pretty fast.
If you're having performance issues, it might be because of software bugs or issues that Apple might have fixed with a software update. Plus, running the latest software is recommended even just from a security standpoint.
So go to Settings -> General -> Software Update and update your software for the latest release.
3. Soft Reset iPhone
A simple solution to a slow iPhone is to do a soft reset. Just press and hold the
Sleep
and
Home
button together till the iPhone reboots. For iPhone 7 and iPhone 7 Plus, the process is a bit different as they don't have a moving home button. Here you'll have to press and hold the
Sleep
and
Volume Down
keys.
This won't wipe your phone's data or settings. It will just do a bit of reshuffling behind the scenes. If your phone was slow because of an app or a rogue software issue, this should take care of it.
4. Check on Background Processes
iOS is usually really good at managing background processes but sometimes apps can go rogue. Or in the case of apps like Facebook, they can use shady practices to always run in the background. One way to take care of this is to revoke background access to apps that don't really need it.
Open Settings -> General -> Background App Refresh and disable access to apps like Facebook and so on.
5. Clear App Catches
App caches can build up, slowing down your phone, taking up space. But clearing out app caches isn't quite as obvious. iOS doesn't provide an easy way to clear them out (plus not all apps have this feature) so you'll have to take an app-by-app approach. For productivity apps like Dropbox and Chrome, you'll usually find this option in Settings.
One app that usually builds up cache is Safari. To clear it out, go to Settings -> Safari and select Clear History and Data.
To see how much space apps are taking, go to Settings -> General -> Storage & iCloud Storage. The only way to clear out cache is to delete the app and re-download the app again from the App Store.
6. Reset iPhone
The last resort is to reset your iPhone. If nothing from the above list works, it's possible that there's something wrong with the software itself. And because iOS is a closed system, the only way to fix a major problem like that is to reset the iPhone to a new stage.
Before doing this, take a backup using iTunes or iCloud. For best results, we recommend that you don't restore from an iTunes backup after resetting. Set it up as a new phone and only download necessary apps.
To reset your iPhone, go to Settings -> General -> Reset. Then select Erase All Content & Settings.
Related:How to Transfer Data from iPhone to Samsung?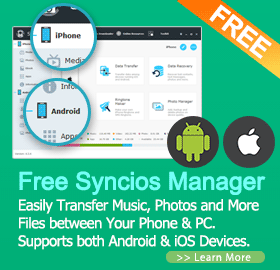 Support to transfer, edit, backup, manage, view iOS & Android mobile data: Music, videos, photos, apps, ebooks, contacts, messages and more.
Download videos from 100+ video sharing sites up to 4K HD video quality and transfer to iPad/iPhone/iPod/Android.
Handy toolkit: Audio converter, video converter, ringtone maker, etc.
Free
You can follow Syncios onTwitter,Facebookfor more tips and tricks.