Snapchat is a hugely popular photo-sharing service that allows users to send pictures and videos to friends and family that expire after a maximum of 10 seconds. Try and screenshot those videos or pictures and Snapchat will alert the sender to your social faux-pas. Here, we show you how to screenshot a snapchat without the sender knowing.
Snapchat is a hugely popular photo-sharing service that allows users to send pictures and videos to friends and family that expire after a maximum of 10 seconds. While this means that users could send ugly/funny/sometimes inappropriate photos without any ramification (or so they thought), Snapchat can't stop people from screenshotting photos on their smartphones. However, it seems that the developers planned for that eventuality and built a system that notifies the sender whenever their snaps have been screenshotted.
How to screenshot on Snapchat without them knowing: Standard screenshots
So, how can you screenshot a snapchat without the sender knowing you've done so? While Snapchat alerts the sender whenever a snap is screenshotted (with good reason!) there is one lesser-known way to do so without the app figuring out what you've done, although it has its issues. The main issue is that, although it doesn't notify the recipient of the screenshot (which is what we want), it doesn't notify them that the Snapchat has been opened at all, which may look slightly suspicious if done repeatedly. With that being said, here's how you can screenshot any Snapchat without the recipient finding out:
1) Load the Snapchat (but don't open it!).
The first step is to open Snapchat and swipe right to access the list of sent and received Snapchats. The received Snapchat should automatically load and display 'Tap to open' in the list view, but if it displays 'Tap to load' then tap it, but be sure not to open it.
2) Airplane mode.
Once you've loaded the Snapchat, simply toggle Airplane mode on. This can usually be done via the Notification window on Android devices, the Control Centre on iOS devices, or in the Settings menu.
3) Screenshot time!
Once you've activated Airplane mode, simply tap the Snapchat to open it and screenshot in the same way you usually would.
4) Quit the app.
Now comes the important part – you have to close the app and make sure it isn't running in the background. iOS users should double click the home button and swipe the app to close it, and Android users should access the multitasking window and close it from there.
5) De-activate Airplane mode.
Once you're sure that you've completely closed Snapchat, you're free to de-activate Airplane mode and re-open the Snapchat app to carry on your conversation. As mentioned earlier, the recipient may get wise after a while as their sent snaps will never be displayed as 'Opened', so that's something to consider before screenshotting.
How to screenshot on Snapchat without them knowing: Third-party apps
If the above process isn't ideal for you, there is another way to save Snapchats without the recipient knowing. When Snapchat first became popular, the App Store was flooded with third-party Snapchat apps that would save all incoming images and videos automatically without the senders' knowledge. Some even had options to not mark the snaps as read. However, after Snapchat's hack back in October 2014 which exposed 200,000 photos from the service, Snapchat made the decision to up the security of its API and as a result, killed many third-party Snapchat apps.
However, there is still one that appears to work, in the UK at least. It's a free app called Sneakaboo (formally Snap-Hack) which is free to download for iOS users, but works on a coin system. You get a bunch of coins when you first get the app which are spent on saving photos and videos, and once they're gone, you have to pay (with real money) for more. It seems to be working still, although it could stop working at any time – something to keep in mind before parting with your money for more coins.
---
Recommendation: Manage iPhone/iPad/iPod without using iTunes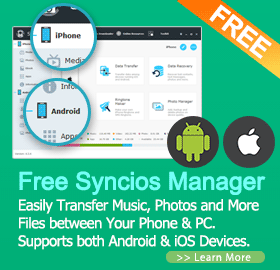 Support to transfer, edit, backup, manage, view iOS & Android mobile data: Music, videos, photos, apps, ebooks, contacts, messages and more.
Download videos from 100+ video sharing sites up to 4K HD video quality and transfer to iPad/iPhone/iPod/Android.
Handy toolkit: Audio converter, video converter, ringtone maker, etc.
Free
You can follow Syncios onTwitter,Facebookfor more tips and tricks.