The iPhone 7 and iPhone 7 Plus are great phones that are said to get even better battery life than predecessors. But not everyone notices that increase in battery life, and some users may feel like their iPhone 7 battery is draining a little faster than it should. Additionally, many iPhone owners may already be satisfied with how long the iPhone 7 battery lasts, but they'd like it to sustain a charge even longer.
If you want to improve battery life on an iPhone 7 or iPhone 7 Plus, read on
1: Turn Down Screen Brightness
The iPhone 7 and iPhone 7 Plus display is extremely bright, which looks great but powering that bright display can lead to battery life going down faster than you might prefer.
Simply adjusting screen brightness down but leaving auto-brightness enabled is an easy solution to this.
Go to Settings > Display & Brightness and adjust the brightness slider so that it's at a much lower level, I tend to leave it around 1/3 for most usage but you can go much lower for even better battery life. Be sure the "Auto Brightness" switch is enabled as well so that it will adjust itself up or down as needed in different lighting.
2: Turn Off Raise to Wake
While in the same Display settings, you might want to disable raise to wake.
Go to Settings > Display & Brightness and turn off "Raise to Wake"
This feature is nice in that it makes it so you don't necessary have to press the Home button to see the screen of your iPhone, since it detects the device being raised and then wakes the screen instead. But there is a potential side effect of this behavior in that sometimes the screen wakes up when you don't want it to. I have witnessed this with myself when using the iPhone while walking around, and I've seen it with a friends iPhone too, basically some particularly animated movements, exaggerated arm motions, or otherwise fairly normal motions can wake up the iPhone if it's in your hand at the time. Turning this feature off can potentially offer an improvement to battery life since it prevents the screen from waking up in such scenarios.
3: Turn Off Background App Refresh
Disabling background app refresh is sort of a lynchpin of improving iOS battery life because it's quite effective. The result is that apps don't run in the background, updating or doing whatever they do when not in use, which can result in improvement to battery life.
Go to Settings > General > Background App Refresh and turn it off.
Chances are you won't miss this feature, but if you do you can always turn it back on again and then turn it off for specific apps instead.
4: Use Low Battery Mode
Low Power Mode is intended to preserve battery life when the iPhone reaches below 20%, but you can enable it manually at any time. This will adjust a few features on the iPhone, throttle down the speed of the iPhone and turn off features like mail fetch (meaning you have to manually check email while it's enabled) but the end result is dramatically long lasting battery life.
3D Touch on the "Settings" icon and choose "Battery"
Toggle "Low Power Mode" to the ON position
You can also enable low power mode through Settings app directly, or through Siri. And yes, Low Power Mode turns the battery icon yellow while it is enabled, which should not alarm you.
5: Reboot the iPhone
If you're experiencing unusually rapid battery drain, it's always possible some errant process has gone awry or that some other behavior is going on. Typically these are simple issues that a reboot can fix, so rebooting the iPhone may resolve such an issue.
Remember, restarting iPhone 7 is a bit different, by holding the VOLUME down button with the Power button, rather than the Home button.
Read also: How to Import Music to iPhone 7/ 7 Plus?
---
Recommendation: Manage iPhone/iPad/iPod without using iTunes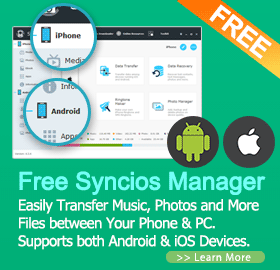 Support to transfer, edit, backup, manage, view iOS & Android mobile data: Music, videos, photos, apps, ebooks, contacts, messages and more.
Download videos from 100+ video sharing sites up to 4K HD video quality and transfer to iPad/iPhone/iPod/Android.
Massive free resources: videos, wallpapers, ringtones
Handy toolkit: Audio converter, video converter, ringtone maker, etc.
Free
You can follow Syncios onTwitter,Facebookfor more tips and tricks.
Source: osxdaily