If you've been using the public beta of OS X 10.11 El Capitan, then you have likely experienced the occasional odd behavior of an app freezing or crashing or otherwise misbehaving. A bug has a greater chance of being fixed if you report it to Apple. And with the El Capitan beta comes an app — Feedback Assistant — to do just that.
The easiest way to find Feedback Assistant is by its purple icon in the Dock. When you first launch the app, you will need to log in with your Apple ID.
To give feedback, click the New Feedback button or go to File > New Feedback. You can also use the keyboard shortcut Command-N. Either will launch a Problem Report Draft window.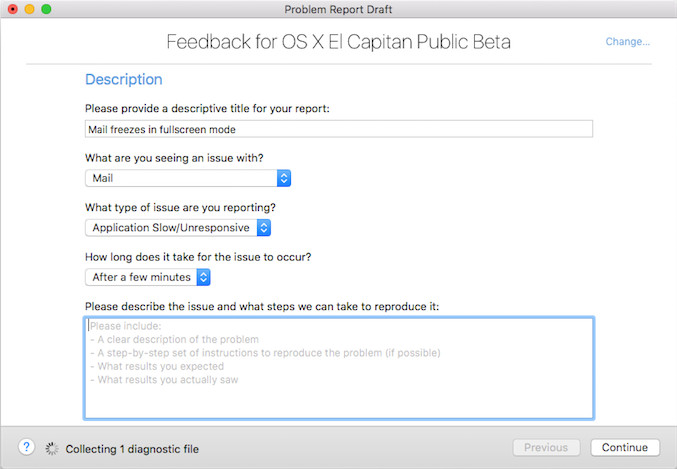 The first step of filing a Problem Report is to fill out the Description field, starting with the app or issue with which you are having problems. You will also need to tell Apple with build of El Capitan you have, which you can find by selecting About This Mac from the Apple menu in the upper-left corner.
After describing the issue, click Continue and you'll then be able to attach a file such as a screenshot. Click Continue again and you'll be able to review your report before hitting Submit.
Reference: Cnet
Read more:
How to remove the El Capitan beta and go back to Yosemite | Revert to OS X 10.10 Yosemite from El Capitan
You can follow Syncios on Twitter, Facebook for more tips and tricks.
Recommend:
If you would like to backup your iPhone/iPad/iPod to Mac before jailbreaking, you can just simply have a try Syncios Data Transfer for Mac. To avoid losing important data, it is very necessary to backup all important files to your Mac so that you can easily get them back whenever you lost them.