The iPhone storage capacity can be a problem for some users especially if you take a lot of photos and videos or like keeping music and other media on the device. The worst part is when you load up your storage overview in iTunes, you see a block of Other taking up a big amount of space.
Certain apps will often times store large temporary files, clogging up the usable space. Or there could be some software issues causing the space to be so big. Fortunately there are ways to eliminate the size of the Other so that it doesn't take a significant impact on your usage of the iPhone.
Here is a guide on how to minimize the amount of Other on your iPhone without immediately losing all your content.
How to Remove Other from iPhone Storage
There are a couple of reasons why the Other size is so large. There are certain files that the iPhone does use that will show up in Other such as voice memos, notes, game data, browser cache and more. However some files end up in Other that are unnecessary and often times just take up precious space you could be using.
Using the iPhone's Storage & iCloud Usage tab in Settings can reveal what is taking up storage on the device. This is a good place to start as things like Messages and App content will show their size here.
Delete iMessage Data or Conversations
Believe it or not, the iMessage app is usually where you can free up space quickly. Due to the growing capabilities in the iPhone camera and the size of photos, our message conversation threads are now becoming very data rich.
When you send an attachment in Messages, the attachment remains with the thread until you manually delete it or the entire thread.
Selectively deleting large file attachments is a good place to start scraping away at the Other portion of storage and bring you down to a manageable capacity again. Tapping Details in the top right corner will reveal all of the attachments you or your contact have sent and you can delete them from the device by tapping and holding until Copy, Delete, More appears.
Deleting these can free up quite a bit of space especially if you have already saved the attachment elsewhere.
Deleting whole threads of unneeded conversations is always a good thing to do, in order to minimize space and remain somewhat organized within the Messages app.
Deleting Clogged App Data
Some data in applications begins to inflate. Sometimes cache or saved data is not dumped consistently by the application. If you are looking in your Storage and Usage tab and see that Instagram or Facebook is taking up a substantial amount of space, it may be contributing to Other.
Deleting and re-downloading the app from the App Store will resolve this issue as the app begins fresh and will let you log back in to get your information back.
Be wary of apps that you don't use often being those with large file sizes. Delete those which aren't frequent uses and retrieve them from your Purchased if need be.
Back Up and Erase All Contents
Worst case, you may have some software corruption on the iPhone and it would be a good idea to erase the contents and reload it fresh. Using iTunes is probably the most seamless way to do this and plugging the device in should begin an automatic backup.
When the backup is complete, go to Settings -> General -> Reset -> Erase All Content and Settings.
This will wipe the iPhone back to factory settings and allow you to attempt to reload your content from iTunesand check the Other figure.
If the Other figure is the same after the restore, you either have already cleared out what you could or the devicemay need to be set up as new.
If the latter is the case, manually backing up data is a good option, ensuring photos are imported and any texts or notes are preserved through screenshot or third party backup app such as Syncios.
Other is a pesky storage problem than can often be the bane of users experience yet with a few steps, you can figure out where the storage is being used and hopefully expunge most of it back into your possession.
Read also: How to Backup iPhone Data Before Upgrading to iOS 10?
---
Recommendation: Manage iPhone/iPad/iPod without using iTunes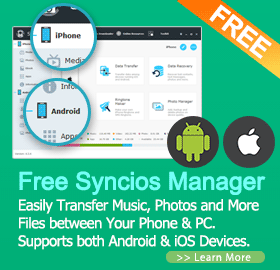 Support to transfer, edit, backup, manage, view iOS & Android mobile data: Music, videos, photos, apps, ebooks, contacts, messages and more.
Download videos from 100+ video sharing sites up to 4K HD video quality and transfer to iPad/iPhone/iPod/Android.
Massive free resources: videos, wallpapers, ringtones
Handy toolkit: Audio converter, video converter, ringtone maker, etc.
Free
You can follow Syncios onTwitter,Facebookfor more tips and tricks.
source: gottabemobile