"Hi guys, A quick scan with the incredibly useful "Disk Inventory X" shows me that my iTunes library is getting a bit big for my new, 300GB computer hard drive. I had a 500GB before on my old device. Is there a simple, one step process that can downgrade the file size from the larger ones."
A good point and concern. We will share 3 methods to reduce your iTunes library size to free up space and speed up your iTunes in this article.
Remove duplicate media files in iTunes
Pruning your media libraries is a great way to shrink iTunes Library size.
To delete duplicates in iTunes, run iTunes and click Music, Movies, TV Shows, Apps, etc. under Library, then choose View> Display Duplicate Items.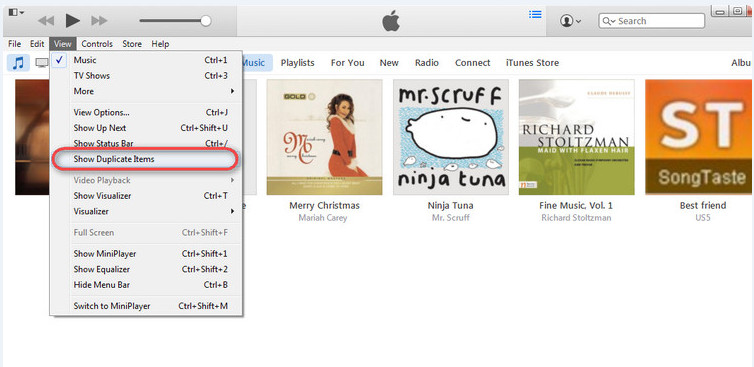 Now, all the duplicates will be listed on the main window. Right-click the duplicates, choose Delete from drop-down list to remove your duplicate songs in iTunes.
Shrink the music size
Reducing the music file size in iTunes is also a good way to save space.
Generally,  192 kbps is perfectly enough for your  music quality. We recommend you to pick those music at 256 or even 320 kbps bit rate and reduce the size of those selected music file.
Now, let's follow below tips on how to reduce the size of music files in iTunes.
Step 1. Go to iTunes, click Preferences > General > Import Settings.
Step 2. Select "MP3 Encoder" from the "Import Using" drop-down menu, set quality to Higher Quality (192 kbps) under "Setting".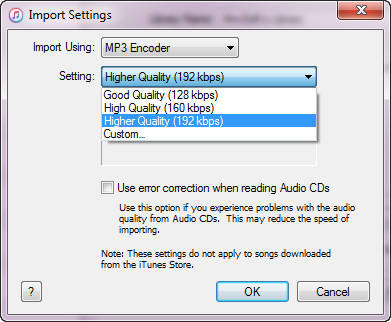 Step 3. Create an "New Smart Playlist" and then set "Bit Rate is greater than 192" as the benchmark to find all matched music.

Step 4. Select all music and then right-click, select "Create MP3 version".
Step 5. Go to iTunes>Music>View> Display Duplicate Items.
Step 6. Go to Songs>Show Columns, tick "Bit Rate" .
After that, you will see the bit rate of songs list on the main window. Now, you can find out how much size is shrunk for each music file – from 256 to 192… just select the larger file and delete it.
Keep multiple iTunes Libraries
Your media files including video, TV shows, music, podcasts etc are saved in the same iTunes library by default, but you can separate them through creating different libraries to store different types of files.
Read More:
You can follow Syncios on Twitter, Facebook for more tips and tricks.