iOS 7 is a significant upgrade to the iPhone series's software and launched with the iPhone 5S and iPhone 5C. But some people have found it drains their iPhone's battery faster than before.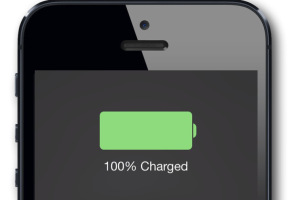 If you're noticing a quickly draining battery, or just want to get more juice out of your battery, make changes to these settings:
Background app refreshing
This welcomed feature finally lets background apps stay active while you multitask. The trouble is that by default all apps are set to refresh, uselessly stealing precious battery life.
To fix that, go to Settings > General > Background App Refresh. Here, you can choose to disable the setting altogether, or just turn it off for the apps that don't need refreshing.
Automatic updates
A time-saver no doubt, iOS's automatic updates keep your apps up-to-date so you don't have to. According to Apple, it's designed to be power-conscious, but if you know you'll be without a charger for a long time, it's best to disable it.
To do so, head to Settings > iTunes and Apple Store, and disable the Updates option. Just don't forget to check the App Store for new app versions.
Frequent Locations (and other location services)
A huge battery hog for any device is the use of location-based apps and services. Usually, that applies to mapping apps, but hidden in your Settings are a slew of location services that could be doing more harm than good.
Head to Settings > Privacy > Location Services. Scroll down and choose System Services. Some of these options are designed to improve your experience, but they come at the cost of your privacy (and battery). Disable any options you don't actually need, like iAds. Then, head to the Frequent Locations feature, and disable that, too.
Spotlight
Being able to search for almost anything in your device is a big productivity-booster, but that means Spotlight is constantly crawling for new data, then indexing it. You guessed it: it's a battery drain.
Those who rely heavily on Spotlight should skip this option, but if you can live with only a partially indexed phone, un-index some items.
Go to Settings > General > Spotlight Search, and uncheck the items you don't absolutely need indexed.
Of course, there is more you can do:
Kill apps you don't need
Apple has a habit of keeping apps running whether you need them or not. It makes all sorts of claims about energy efficiency but there are some apps that do background tasks which will drain the battery. For example, it's great to let Google maps run in the background but if you're not using Google maps and it is running, you may be wasting power.
iOS 7 has a new way to kill apps.
1. Press the Home button twice so you see your running apps in rectangles on the screen
2. Flick to left or right to bring apps into view
3. Flick any unneeded apps up and away to the top of the screen to close them
Dim screen
As always there are other tricks to save power including dimming the screen to the lowest suitable brightness and making sure the screen goes blank fairly soon after you top pressing on any buttons or icons.
Turn off unnecessary radios
The iPhone and other iOS devices have Bluetooth and WiFi. Both are great but both use power so if you're not using them, turn them off.  Controls for Bluetooth and WiFi are at the main settings page.