With iOS 9 set for release on September 16, now's a good time to get your devices ready for the update.
Apple first announced iOS 9, the mobile operating system that runs on the iPhone, iPod touch, and iPad lineups. The update refines Apple's vision of a mobile computing experience, adding features such as running two apps at the same time on the iPad or markup features for signing documents in the Mail app. The list of new features is long.
You can learn the ins and outs of the new OS by visiting our complete guide to iOS 9.
While iOS 9 has been available as a public beta for the past few months, Apple plans on making it publicly available starting Wednesday, September 16. Once available, anyone with a supported iOS device (more on that in a minute) can download and install the OS.
Compatibility
The general rule of thumb here is, if your device is capable of running iOS 8, it'll run iOS 9. You can check the version of iOS your device is currently running by launching the Settings app, then tapping on General followed by About and looking at the number on the Version line.
If you have any lingering doubt, this list should clear it right up. See your device in this chart? It can run iOS 9.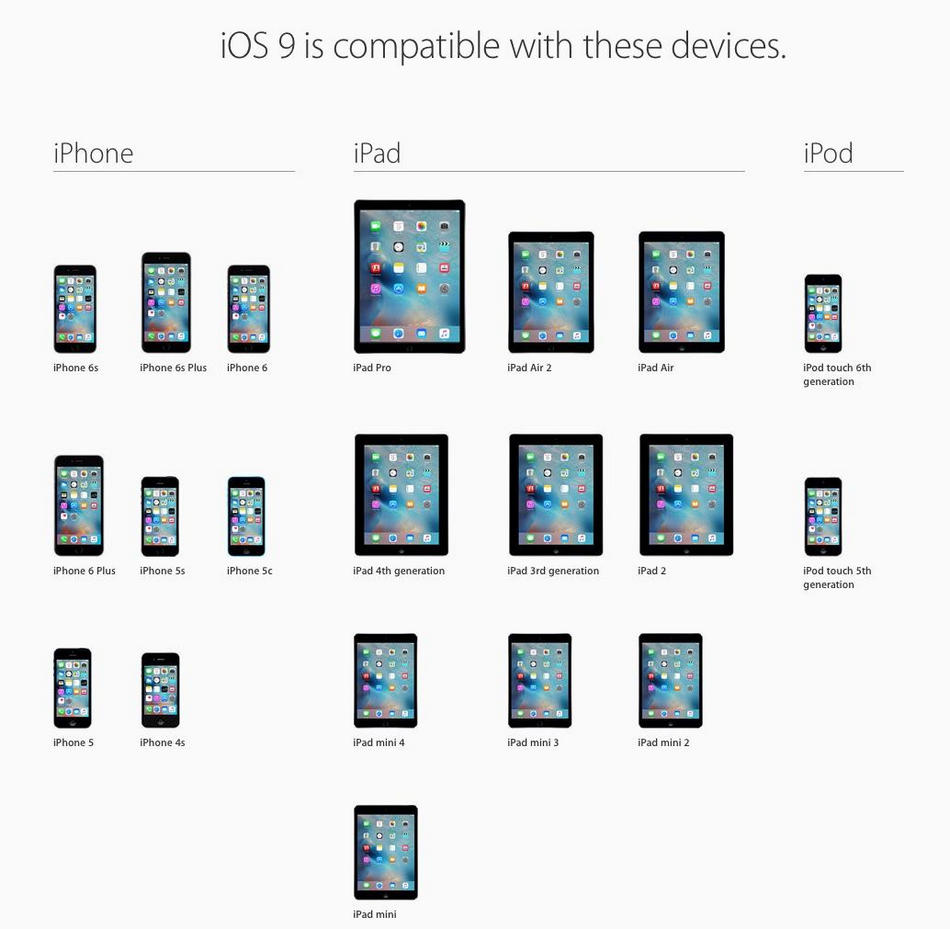 Routine maintenance
With an update incoming, now's a good time to perform a little routine maintenance on your iOS device. Start by taking an inventory of the apps you have installed on your device and uninstalling anything you haven't used in the last couple of months. This both frees up precious storage space and declutters your home screen.
Additionally, it's a good idea to remove any old photos and videos eating up space on your device (You shouldn't be keeping them there anyway.). Rick Broida offers a few services you can use for backing up your phones. And there's always the option of syncing your device to your computer with a cable.
Backups are important
Before updating, you'll want to have a current backup of your device. You have two options, iCloud or iTunes.
Technically, your device should be backing up your device every night while its charging, but it's not a bad idea to have a backup made moments before you hit the update button. Launch the Settings app, tap on iCloud, then scroll down until you find the Backup option and tap on it. A Backup Now button will become active after a brief moment, which you'll want to tap on. Make sure you're connected to Wi-Fi and have your iOS device charging.

Using iTunes to backup your device just as easy, if not a bit more time consuming. Launch iTunes and connect your iOS device via a USB cable. A device icon will appear next to the various category icons along the top of the iTunes window. Select your device, and then from the summary tab select This Computer. Additionally, check the box next to Encrypt backup and enter a password when prompted. By encrypting the backup you can forgo having to re-enter passwords should you need to restore your device.
Time to update
With a current backup, you can update with peace of mind should anything go wrong you can restore your device and not lose everything.
The process for updating to iOS 9 can be done via iTunes, or directly on your device. Either way, you should plan on setting aside about an hour where for your device to run through the update process.
Launch-day jitters
With any new software launch, there's always a chance complications will surface. If you're not the type who wants to spend time troubleshooting issues, it's best to wait a few days after release to update. You're really not going to miss out on anything.
Reference: Cnet
You can follow Syncios on Twitter, Facebook for more tips and tricks.
Read more:
Recommend: if you would like to transfer from old iPad or iPhone 4/5/6 to new the iPad mini 4/iPad Pro/iPhone 6s/Plus, you can try this perfect one click data transfer tool, migrate everything, including SMS, Contacts, Videos, Photos, Call logs and more from phone to phone. Simply download and have a try.