If you get a new phone and simply sign in to your WhatsApp account on it, your old messages don't automatically transfer across. This tutorial explains how to transfer WhatsApp chats to a new device, so you can pick up your exactly where you left off.
Transfer WhatsApp chats the easy way with the cloud
1. Google Drive backup and restore
Newer versions of WhatsApp include automatic Google Drive backups, which makes the process of transferring your WhatsApp chat history between phones even easier than before.
You simply tap the trio of dots at the top left of the screen and go to Settings > Chats > Chat backup.
From here, you can back up manually, or set it to automatically backup as regularly as you like. When WhatsApp is reinstalled, it will prompt you to recover your chats and multimedia from Google Drive.
Chats and contacts will appear in the app instantly, whilst media will begin downloading in the background.
This is the method we use when we switch smartphones for reviews and testing etc.
The ability to make Google Drive backups in the latest version of WhatsApp makes life easier.
2. Manually backing up chats and restoring them with PC
If you've yet to receive the Google Drive WhatsApp update, or just like to do things the old-school way, it's still reasonably easy to create a backup and move it to your new phone. Syncios WhatsApp Transfer enables  you can export the WhatsApp chats on one phone to PC and restore them to another phone at any time. Both iOS and Android phones are sweetly compatible with. Syncios WhatsApp Transfer have all features that you need for a print, like management, backup, restore and transfer. Simply proceed as follows.
Step 1: Download and install Syncios WhatsApp Transfr on your computer (Windows or Mac) and launch it after installation completed.
Step 2: Come to the homepage, you can see 3 modes provided to manage and transfer WhatsApp. They are respectively Backup WhatsApp (Export WhatsApp to Computer), Restore WhatsApp from Local Backup,Restore WhatsApp from iTunes Backup and Transfer WhatsApp between devices (iOS & Android compatible). Here we are aimed to directly export the WhatsApp for a print, so pick up the first mode.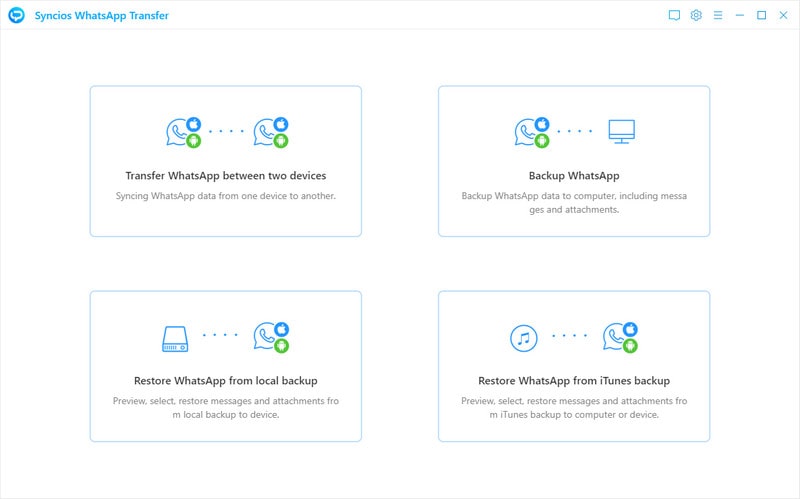 Step 3: Connect your phone to computer when Syncios Transfer will start to make a WhatsApp backup to a temp path on computer as long as your phone is successfully detected.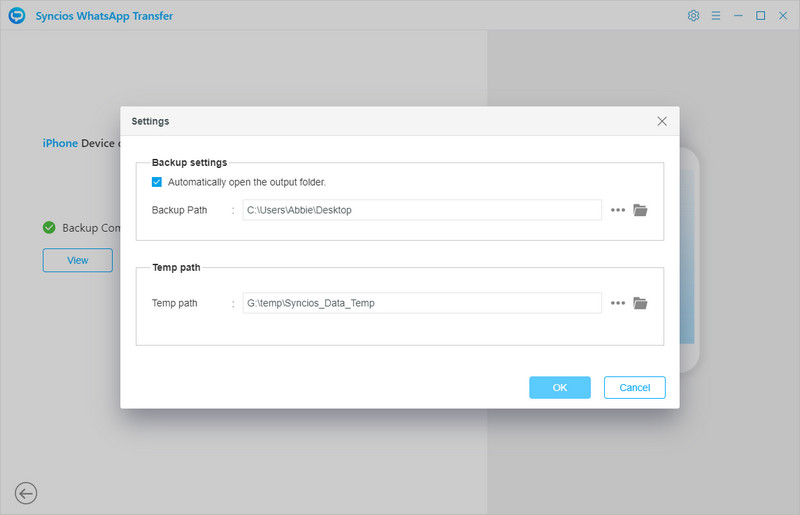 Step 4: Tap on the contact to preview the conversation accordingly. And to export the WhatsApp chats for a print, you can individually click on the box in front of the chats and tap on Recover to Computer.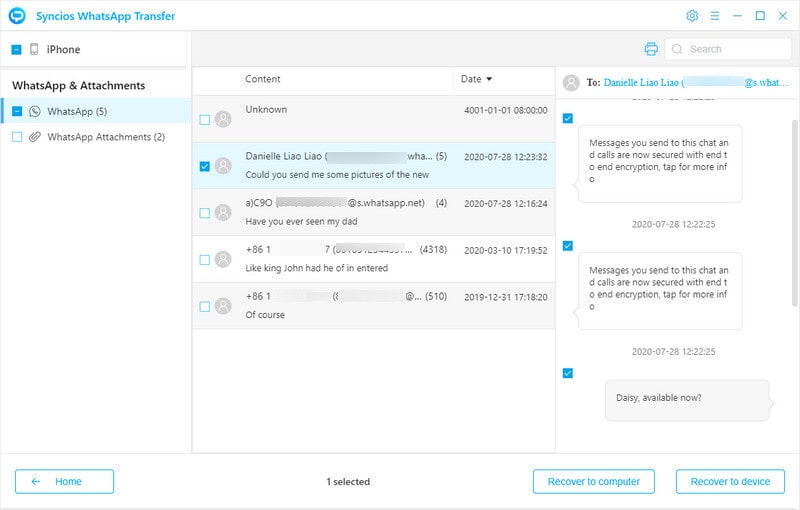 3. Transferring WhatsApp chats from iPhone to Android
Step 1: Download and install Syncios WhatsApp Transfer on your computer. Syncios WhatsApp Data for Mac is as well provided for Apple computer user. On the main interface, you can see 4 modules provided to backup, restore and transfer WhatsApp. They are 'Backup WhatsApp (to PC)', 'Restore WhatsApp from local path', 'Restore WhatsApp from iTunes Backup' and the last 'Transfer WhatsApp between 2 devices'. Here let' go to enter the fourth module 'Transfer WhatsApp between 2 device'.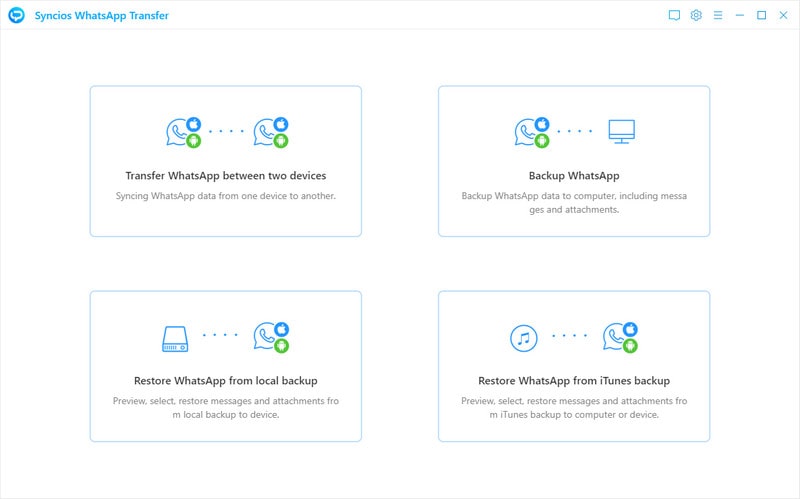 Step 2: Following, there are 3 steps demonstrating on how to complete a WhatsApp Transfer from one phone to another. Please click 'Backup Device' to get started.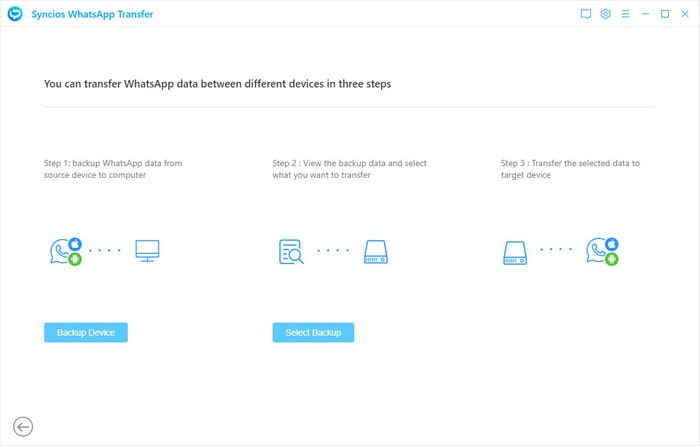 Step 3: Respectively connect your Android and iPhone 12 to Syncios WhatsApp Transfer. For Android phone, USB debugging mode is required, kindly tap here for reference. When both phones are successfully detected, choose to backup Android phone.
Step 4: Wait until your Android WhatsApp backup completed and then tap 'View' (button), pick up the Android backup file to 'Browse' (button) the WhatsApp messages contents in details.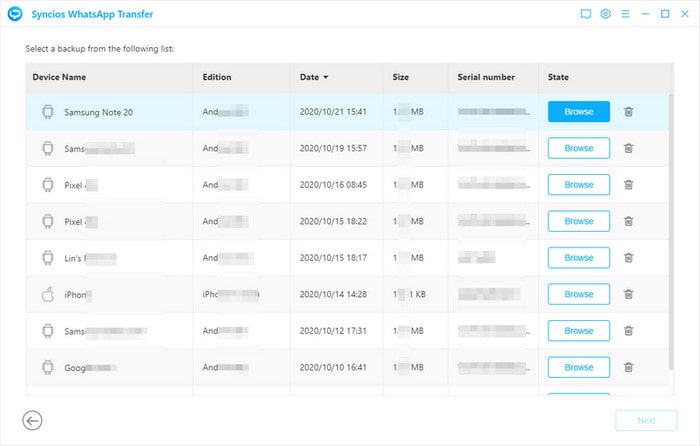 Step 5: As you can see in the program, all your Android WhatsApp is now presented clearly as on your phone. And the WhatsApp contents become easier manageable within Syncios WhatsApp Transfer program. To keep going, select the conversation group by taping the box in front of the contact. By the way, if you need for document, photos, audio, video or others attached in WhatsApp chats, do selections by WhatsApp Attachment tab on the left side menu.
Step 6: Tap 'Restore to Device' button and select to restore data to iPhone 12. (Making sure your iPhone 12 is well connected at this moment). You might be noticed to merge the old and new WhatsApp data. Choose this option we make a full transfer. And wait until the transfer completed.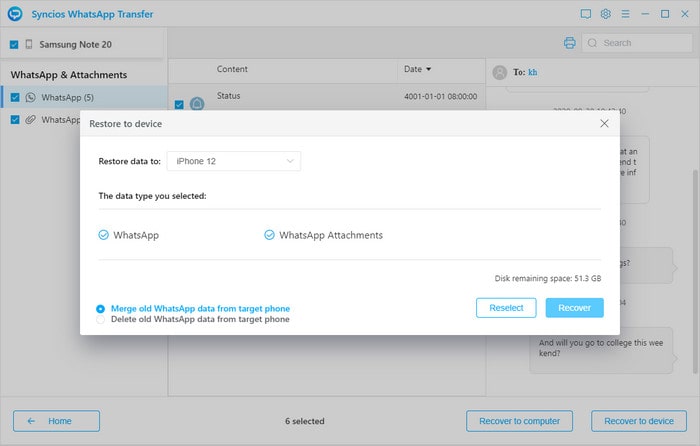 Note: By the way, some people ask for printing need. Syncios WhatsApp Transfer offers to print out your WhatsApp individual or group chats after you export them to computer as a HTML or CSV file. Just tap 'Restore to Computer' after selecting your wanted WhatsApp data, it will pop up a window like this: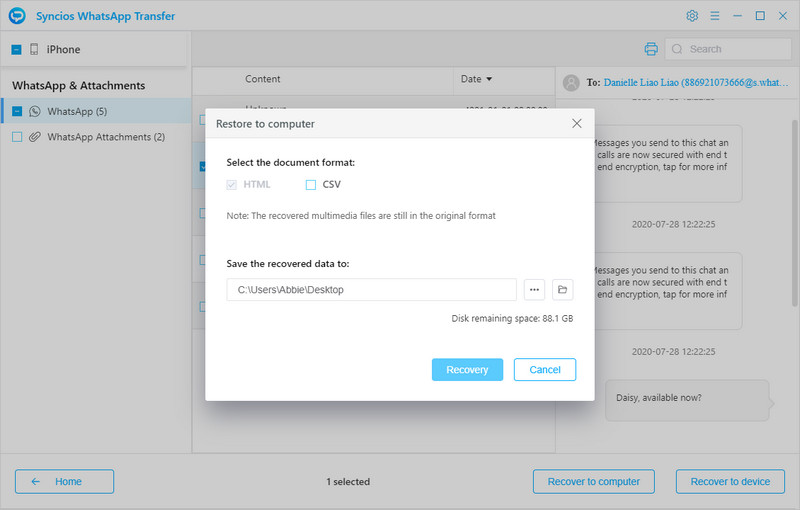 How to Simply Manage and Re-organize WhatsApp Data?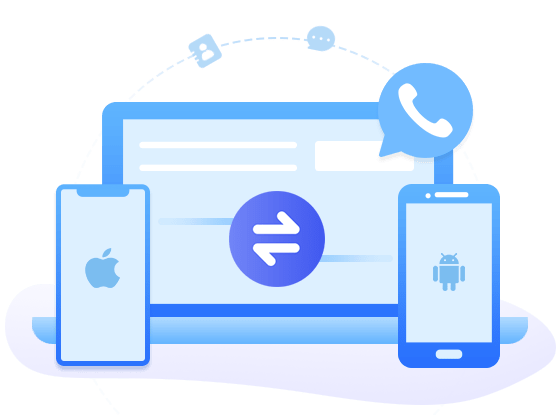 Transfer WhatsApp between iOS devices and Android.


Backup WhatsApp on iPhone/Android to a computer.


Restore WhatsApp backup to iPhone/iPad/Android.


Export WhatsApp backup to HTML and CSV files.


Preview the backup content and restore only the data you want.


You can follow Syncios on Twitter, Facebook for more tips and tricks.