Pangu team just released a new version of their tool to jailbreak iOS 9.1  which is a free iOS jailbreak tool and support to jailbreak iOS 9.1, iOS 9, iOS 9.0.1, iOS 9.0.2.
Please kindly note that this tool currently does not work with iOS 9.2 and iOS 9.2.1.
 Here's how to jailbreak your device running on iOS 9.1 usingPangu jailbreak.
Pangu available for jailbreaking following devices:
iPhone 6s, iPhone 6s Plus, iPhone 6, iPhone 6 Plus, iPhone 5s
iPad Pro, iPad Air 2, iPad Air
iPad mini 4, iPad mini 3, iPad mini 2
iPod touch 6G
What you need:
A computer (Mac or Windows PC) to use the Pangu Jailbreak.
Use the Data Transfer tool to back up any and all personal information that you need to keep safe on your iDevice, such as Apps, contacts, notes, music, videos, photos, bookmarks, etc. The jailbreak has been reported to be working in most cases, but on the off chance something goes wrong, it's a good idea to have an escape plan.
Disable any Anti-virus programs or firewalls that could prevent Pangu from connecting to the internet.
If you're on the fence and not sure if you should jailbreak your device, then check our post on Advantages and risks on jailbreaking.
Follow these steps to jailbreak your iPhone, iPad and iPod touch on iOS 9.1 – iOS 9 using Pangu jailbreak.
Step 1:Download the latest version of Pangu jailbreak for Mac or Windows from our  Download Pangu Jailbreak page. Pangu jailbreak is a free jailbreak tool. It should not prompt you to enter a registration code.
Step 2:Connect your iPhone, iPad or iPod touch to your computer using the USB cable.
Step 3:Take a backup of your device using the latest version of iTunes. After you've taken the backup, close iTunes. Also close Xcode if you've it open.
Step 4: Disable Passcode from Settings > Touch ID & Passcode, turn off Find my iPhone from Settings > iCloud > Find my iPhone, and enable Airplane mode.
Step 5:Launch Pangu Jailbreak you had downloaded in step 1.
Mac users:If you get an error message saying "Pangu9 can't be opened because it is from an unidentified developer", then right click on the Pangu9 icon, and click on Open in the menu options, then click on Open button.
Windows users:Please launch the Pangu application that you had downloaded in step 1 as an Administrator. Right Click on the Pangu exe and select the "Run as Administrator" option.
Step 6:Pangu will take some time to detect your device. Once that is done, click on the blue Start button.
Step 6:Click on Already Backup button to proceed to the jailbreak.
Step 7:At around 55%, it will reboot your device.
Step 8:At around 65%, it will then prompt you to unlock your device, and enable AirPlane mode again.
Step 9:At around 75%, Pangu will prompt you to unlock your device and run the Pangu app. Launch the Pangu app from the Home screen. If you can't find the app the try searching your device for "Pangu". It also installs the WWDC app but you can ignore it. The Pangu and the WWDC app will be removed when your device is successfully jailbroken.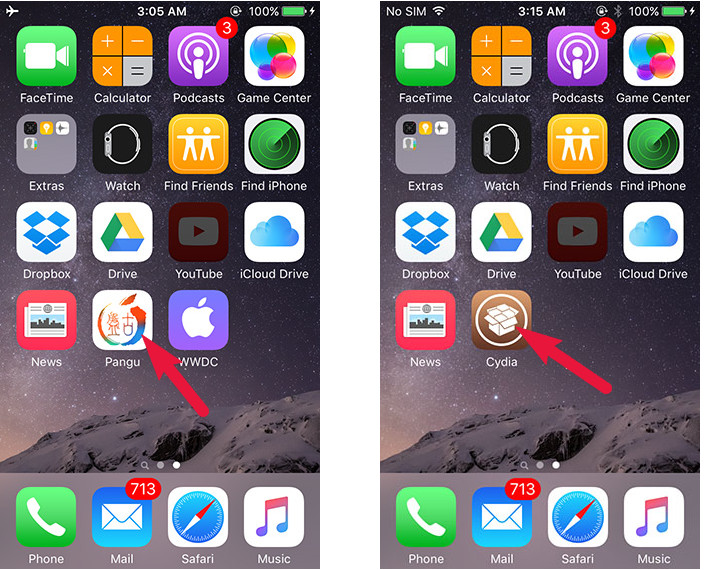 Step 10:Next, it will prompt you to tap on the Accept button on your iOS device, to give access to the Photos app. Then tap on Allow on the popup that follows to allow Pangu to access your Photos.
Step 11: Wait for the progress bar to complete. Your iPhone, iPad or iPod touch will reboot.
Step 12: Once the process completes, the Pangu tool will tell you that your device is "Already Jailbroken". You should see the Cydia icon on the last page of the home screen on your device. Please don't forget to disable AirPlane mode before launching Cydia. Cydia will take some time "Preparing filesystem" when you launch it for the first time. It will exit after it is done, and respring your device.
Tips on How to manager jailbroken iDevice without using iTunes
If you wanna transferring contacts, text messages, imessages, video, music, photos, etc between your jailbroken iPhone, iPad or iPod Touch, you can use the third-party tool – Syncios Mobile Manager. It is an all-in-one tool for managing, converting, and transferring media from their PC to a mobile device. It helps to export music, videos, photos, apps, ebooks, contacts and more from mobile phone to PC or to another device. SynciOS can also perform convert, backup, restore, and even as free mobile phone ringtone maker to customize your own ringtone. It's totally free of charge.