The Android N Developer Preview has been released ahead of Google I/O. Here's how to get Android N now – how to install the Android N Developer Preview on Nexus 6, Nexus 9, Nexus 5X, Nexus 6P, Nexus Player and Google Pixel C.
How to get Android N now: Supported devices
The Android N Developer Preview is compatible with the following devices:
• Nexus 6, Nexus 9, Nexus 5X, Nexus 6P
• Nexus Player
• Google Pixel C
• Android One
How to get Android N now: How to download Android N
Downloading Android N is simple with Google's new Android Beta Program. Any devices enrolled to the programme will receive OTA updates to the latest Android operating systems where available.
• To enroll in the Android Beta Program, open the browser on your compatible Nexus device and head to g.co/androidbeta. You will be asked to sign into your Google account.
• Scroll down the page and you'll find a heading 'Eligible devices' with any compatible Nexus devices that are also signed into your account listed below.
• Find the Nexus device you wish to enroll to the beta programme and click the green 'Enroll device' button beside it.
• Tick the box to agree to the terms and conditions, then tap 'Join beta'.
• A message will pop up to tell you your device has been enrolled and will soon receive an OTA update to the beta version of Android. Click Ok.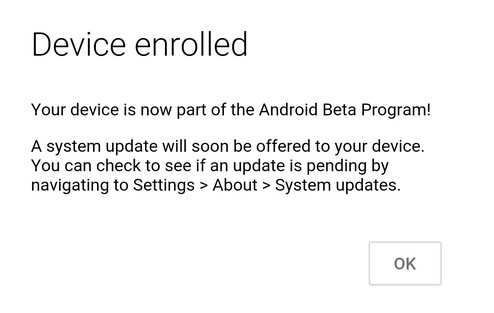 • The update notification arrived on our Nexus 6 instantly, although it can take up to 24 hours. If you don't receive your update notification after that time, check you're connected to the internet then head to Settings, About, System updates and check for updates. You will not receive OTA updates if you previously manually flashed Android Marshmallow on to that device (as we had with our Nexus 6) – you'll get a notification that verification has failed.
• Once you see the update notification, pull down the notification bar and choose Download.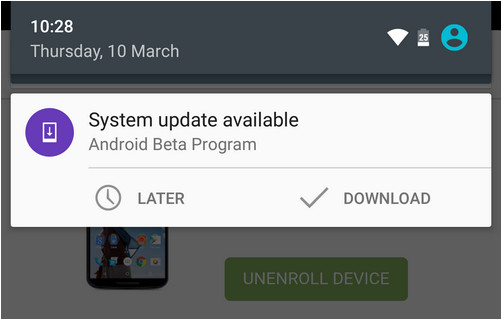 • In the next window you'll be told that this will install a preview version of Android N on to your device, which includes new features such as multi-window support and direct-reply to notifications. The update itself was 850MB on our Nexus 6, and 1126.7MB on our Nexus 6P, so ensure you are connected to Wi-Fi, then tap Download.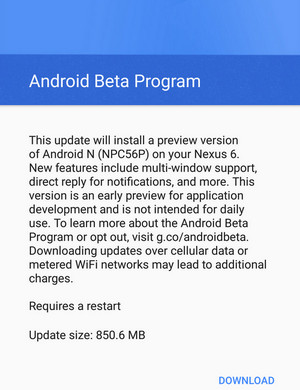 • You can now install the Android N Developer Preview. Tap Restart & install to begin the process.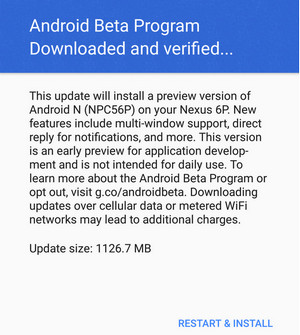 • You'll automatically receive notification of a new Android N update every four- to six weeks until the operating system's final release in Q3 2016.
Preview 1 is the initial release or Alpha version of Android N. Preview 2 and Preview 3 are incremental beta updates. Preview 4 will include the final APIs and official SDK, Play Publishing, while Preview 5 is the near-final system image for last-minute tests. The final release will follow Preview 5.
You can provide feedback at https://developer.android.com/preview/bug for device-specific-, system- and Google App bugs. You can also send feedback through your device using the Android N Quick Settings tile or through Settings, About, Send feedback for this device.
Read Also: How to transfer data from iPhone to Android
What's new in Android N Developer Preview 2
The Android N Developer Preview 2 was rolled out on Wednesday 27 April, and includes several new features and bug fixes. If you've already installed the Android N Developer Preview you should get this as an over-the-air update (unless you manually installed Android N, in which case you'll need to do so again).
New features:
• Platform support for Vulkan, a new 3D rendering API that provides explicit, low-overhead GPU control and offers improved performance for draw-call heavy applications
• New people emoji with support for skin tones, and new Unicode 9 glyphs
• Launcher Shortcuts API: Apps can use ShortcutManager to send shortcuts to starting points within themselves to the launcher
• Multi-Window: You can now specify a separate minimum height and minimum width for an activity, and several API names have been slightly changed
Bug fixes:
• Can't connect to hidden SSID or non-broadcast Wi-Fi
• Microphone mute state persists across activities
• Changing multi-window focus pauses YouTube
• Direct Reply may close open activity
• Various stability fixes
How to downgrade Android N Developer Preview: Uninstall Android N Developer Preview
Removing or uninstalling the Android N Developer Preview is as easy as is installing it. You simply head to the Android Beta Program page at g.co/androidbeta then tap the Unenroll device button next to your Nexus device. Do note, however, that doing so will wipe all data on your device – be sure to back up Android first.
Recommendation: Manage iPhone/iPad/iPod without using iTunes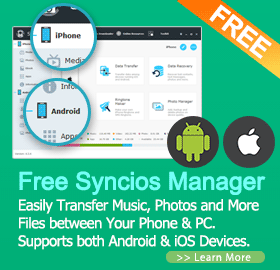 Support to transfer, edit, backup, manage, view iOS & Android mobile data: Music, videos, photos, apps, ebooks, contacts, messages and more.
Download videos from 100+ video sharing sites up to 4K HD video quality and transfer to iPad/iPhone/iPod/Android.
Massive free resources: videos, wallpapers, ringtones
Handy toolkit: Audio converter, video converter, ringtone maker, etc.
Free
You can follow Syncios onTwitter,Facebookfor more tips and tricks.
Source: pcadvisor