Apple File Conduit (AFC2) package for iOS 8.3 devices is now available. As Apple doesn't allow native file system access, AFC2 iOS 8.3 would help you to access or browse through the root file structure. Here is how you can use AFC2 iOS 8.3 tool once you have jailbroken your iPhone, iPad or iPod touch. Remember, TaiG does not automatically add AFC2 support for your device. Once done, you will be able to access root filesystem directly from your Mac or Windows PC.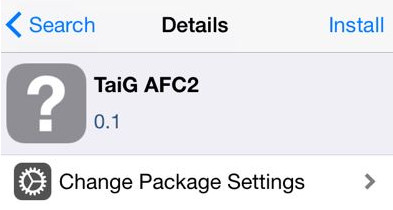 Install AFC2 iOS 8.3 jailbroken devices:
Once you have jailbroken your iOS 8.3 device, here is how to install AFC2 iOS 8.3:
Launch Cydia.
Tap Sources > Edit > Add.
Type: apt.taig.com
Once repositories are refreshed, search for TaiG AFC2.
Tap TaiG AFC2.
Install it.
When done, respring or reboot your iOS 8.3 device.
Once rebooted, connect your iOS device to computer using USB cable.
Use any tool like iExplore or iFunBox to access and navigate through the root filesystem.
Source: wccftech.com
---
Why should you jailbreak your iPhone?
One of the great things about having a jailbroken device is that you can browse the native root file structure directly from your computer. This is done via tools like iFunbox, iExplore and Syncios .
The only catch is that you need a special package installed on your jailbroken device before you're given access to the filesystem. This package, Apple File Conduit, better known as AFC2, allows you to do just that.
The TaiG jailbreak for iOS 8.3 doesn't automatically add AFC2 support to your jailbroken device, but it's easy to add it after your jailbreak. Just follow this simple tutorial as above, and you'll be browsing your root filesystem on your Mac or PC in no time.
Import Photos to iPhone Freely
Since you Apple have changed the security setting on iOS 8.3, users are unable to import pictures to their iOS device with any third-part tool, unless they have jailbreak their iOS 8.3 device and install AFC2 on it.
However, Once you have finished jailbroken and installing AFC2 on iPhone, iPad or iPod Touch ,  just simply follow these steps to transfer photos between iDevice and PC freely, browse or manage app documents as you want.

Step 1: Under My Device, click Photos tab on the left panel of Syncios.
Step 2: Click Photos tab on the left panel, all the albums will be displayed in the main window. Choose album or photos in your device. Hold down Ctrl/Shift key to select multiple albums or photos.
Step 3: Click "Export" button. Browse output location and export selected items to your computer.
Access to App documents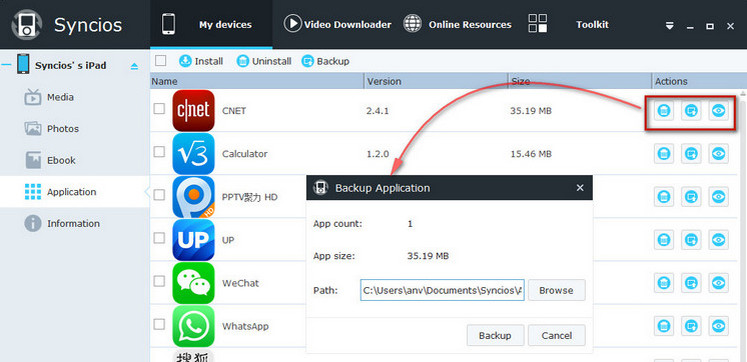 Step 1: Click Apps tab on the left panel and the main window would display all apps installed in your device.
Step 2: Choose the app which documents you would like to manage, then click the Open app documents icon.
Step 3: Choose operation from New Folder, Delete, Import and Export.
---
You can follow Syncios on Twitter, Facebook for more tips and tricks.
Recommend: if you would like to backup your iPhone/iPad/iPod Touch data to the PC, just go here to learn more. Simply download the free version and have a try, it can transfer data between iOS device and PC freely and easily.