I've had my iPhone stolen not once, but twice. Even with Find my iPhone enabled, the chances of you recovering a lost or stolen iPhone is still pretty low. Every now and then, a lost iPhone may find its way into a Good Samaritan's hands. Instead of keeping this lost phone as their own or selling it, this Good Samaritan decides to make sure it finds its way back to its rightful owner. But, that scenario is few and far between. Instead, these stolen iPhones get sold to folks online and once they receive the item they may not even be able to unlock it. In order to avoid getting duped and buying someone's stolen iPhone there is a nice tool that will allow you to identify if that phone is stolen before ever hitting that buy button, and we are going to show you how. 
How to identify a stolen iPhone
Tip: If you are buying an iPhone off of Craigslist make sure to meet in person and test out the device before handing over any money. Even better, make the seller Erase All Content and Settings right in front of you. They will need to enter their passcode in order to do so. If they don't know the passcode, they won't be able to do this. You never want to buy a device that is already linked to another Apple ID either. Besides being extremely annoy to replace with your own, this also could mean that the device was stolen, since most legit sellers won't have any information still left on the device. 
iPhones are one of the world's most popular phones, making it an easy target for thieves and resellers. While Find My iPhone has been a huge help in deterring wanna-be thieves from stealing random strangers iPhones, there are still people out there willing to take the risk for a quick cash payout. Most stolen iPhones will find their way to sites like Craigslist or eBay, where they are resold to unaware buyers at a nice discount.
If you are one of these unlucky buyers of a stolen iPhone or simply want to make sure you aren't buying a stolen device you can check the IMEI (International Mobile Equipment Identity).This IMEI number is unique to every phone, helping identify my iPhone from millions of other devices. Now, if Activation Lock was enabled by someone who lost or had their phone stolen, you'll know immediately by putting the IMEI in at the Activation Lock website. You can find the IMEI number by going to Settings -> General -> About.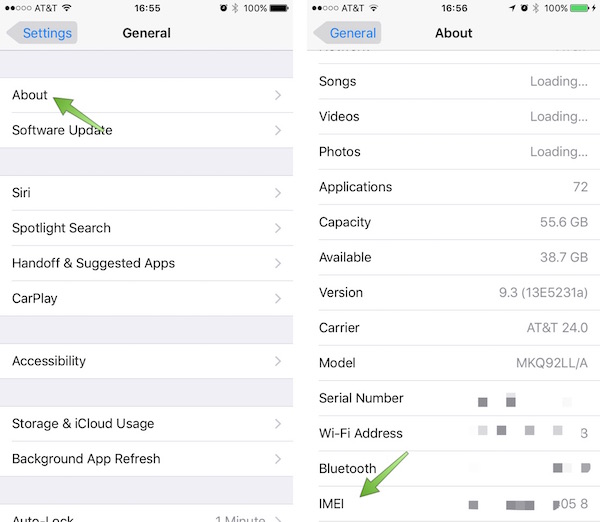 Of course for this method, you actually need the device in-hand to look that up. This won't really help when buying online, but you could ask the seller to send a screenshot of that page.
For different models and generations, Apple has changed where the IMEI number is located on the device. For example, my iPhone 5s has the IMEI number right on the back on the device, whereas my iPhone 6s does not. But for the 6s and 6s Plus you can find the IMEI number on the sim card tray. So, make sure to check out the Apple support page for each devices IMEI location. Once you know where to locate the IMEI number you can go more confidently when buying a device online, since you can check it with Apple.
Whenever you are buying an iPhone online from a third-party make sure to ask for the IMEI number. While this may be annoying for the seller, and legit buyer will do this without any issues and you can verify if the phone is stolen by entering in the information here.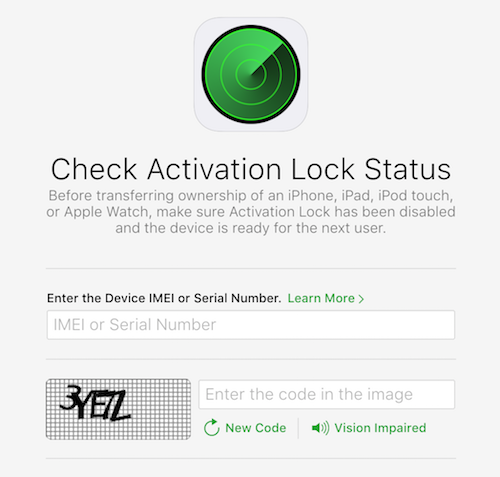 Methods for locating the IMEI number
Dial *#06#
Settings ->General ->About
On the original packaging for the device
In iTunes. Click on the number area when plugged in to reveal the IMEI

On the bar code of the original device box.
The IMEI number is also available for a cellular iPad. You can get the IMEI for your iPad using the methods mention above.
On this topic, always make sure that you have your Find My iPhone enabled on your device. It is an extremely helpful tool and makes the potential recovery and safety of your private information super simple. You can enable it by going to Settings -> iCloud -> Find My iPhone.
Recommendation: Manage iPhone/iPad/iPod without using iTunes
Support to transfer, edit, backup, manage, view iOS & Android mobile data: Music, videos, photos, apps, ebooks, contacts, messages and more.
Download videos from 100+ video sharing sites up to 4K HD video quality and transfer to iPad/iPhone/iPod/Android.
Massive free resources: videos, wallpapers, ringtones
Handy toolkit: Audio converter, video converter, ringtone maker, etc.
Free
Source: iPhonehacks
You can follow Syncios on Twitter,Facebook for more tips and tricks.