iPhones are reliable devices, on the whole, but even the best can experience trouble from time to time. One of the most feared problems is the so called 'white screen of death', which turns the display on your expensive phone into little more than a desk lamp by only emitting white light.
In many cases it's not as terminal as it might seem, and can be fixed with a little effort. We show you some of the ways to resurrect your iPhone, and free it from the cold hands of 'death'.
What causes the white screen of death?
There are two main culprits when it comes to this particular ailment – software or hardware. Now, we know that practically all problems fall into one of those camps, but the white screen of death is known to be caused by either, which can make diagnoses a little more problematic.
On the software side of things, users often experience the WSOD (we'll just keep it short from now on) if they've tried to install an update, or attempted to jailbreak their phone.
A failed installation, due to a corrupt file or something going wrong during the process, can easily result in the condition, but this is actually the best-case scenario, as it's not too difficult to fix yourself.
The other suspect is a hardware problem, one that is normally experienced after the phone has sustained impact damage from being dropped. This can still be fixed by the user in some instances, but if the LCD cable has disconnected inside the unit then you might want to visit the Apple Store and have it repaired professionally.
Resetting your iPhone
The first thing to try is simply resetting your device. To do this you'll need to hold down both the Home button and the On/Off button simultaneously until you see the Apple logo appear.
Now you can let go, and hopefully after the iPhone has rebooted you'll see your normal Home screen once more.
Those sporting an iPhone 7 or 7 Plus, will need to use a different combination, as the Home button uses software rather than mechanical switches.
Instead you'll need to hold down the On/Off button and Volume Down button at the same time, until the Apple logo appears.
Moving onto the iPhone 8, 8 Plus, and the new iPhone X, Apple has changed things again. This time you'll need to do a little finger dance to get things going.
Press the Volume Up briefly, then move to the Volume Down for the same amount of time. Let go and press and hold the On/Off button on the right side of the device. Hold this for about 10 seconds until you see the screen go black. Now you can release the On/Off button and your iPhone should reboot.
Using Recovery mode with iTunes
If resetting your iPhone doesn't solve the problem, you can always try using iTunes to reinstall iOS.
To do this you'll first want to update iTunes on your Mac or PC to the latest version. Then, close iTunes and plug your iPhone into the Mac or PC using its lightning charging cable.
Launch iTunes once more and then use the button combinations listed in the section above to get your iPhone to reboot.
When your iPhone begins to restart you should see a message appear on your Mac or PC stating that there is a problem with the device and that you can either Restore or Update.


Click on Update and iTunes will attempt to reinstall iOS while leaving your user data intact.
Using DFU mode with iTunes
Should neither of the above options give you any joy then you can try entering the Device Firmware Update (DFU) mode. This differs from Recovery mode in that it doesn't allow the iPhone to start its boot loader or iOS, but is still able to communicate with iTunes.
Using this technique you can restore the iPhone to its original settings, then use your iCloud or iTunes backups to reload your data.
Entering DFU mode is quite a palaver, and there's a good chance you might get it wrong. But give it a few goes and eventually you should be able to repair iOS.
If you have an iPhone 8, 8 Plus, or X, then the method is as follows.
First off, connect your iPhone to your PC/Mac using its Lightning charging cable, then launch iTunes.
Now, press the Volume Up button briefly, do the same with the Volume Down button, then press and hold the On/Off button on the right side of the iPhone until the screen goes black.
Keep the On/Off button pressed down, but now press and hold the Volume Down button again. Count to five then release the On/Off button but keep the Volume Down button depressed for a further ten seconds or so. The screen should be black, so if you see the Apple logo appear at any time it means you've accidentally gone into Recovery mode.
On your PC/Mac you should see a message from iTunes saying that it has detected an iPhone in recovery mode, and giving you the option to Restore iPhone. Click this and hopefully you'll have a fully working system when the process completes.
To exit DFU just use the button combination for your device which would normally put it in recovery mode.
Time to take a trip to the Apple store
If, after all these routes, you still can't get the iPhone working again then it looks like you have a hardware issue. While you can find several guides to fixing these online, we'd recommend booking an appointment at the Genius bar, at least to work out what's wrong.
---
Recommendation: Manage iPhone/iPad/iPod without using iTunes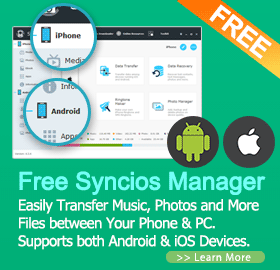 Support to transfer, edit, backup, manage, view iOS & Android mobile data: Music, videos, photos, apps, ebooks, contacts, messages and more.
Download videos from 100+ video sharing sites up to 4K HD video quality and transfer to iPad/iPhone/iPod/Android.
Handy toolkit: Audio converter, video converter, ringtone maker, etc.
Free
You can follow Syncios onTwitter,Facebookfor more tips and tricks.