There are a number of reasons why Google Play Services might be using more power than you'd like. We've seen reports of Google Play Services eating battery life across versions 4.1.32 and 4.2, on devices running Cyanogenmod, on Lollipop and on KitKat. With so much variety there clearly isn't a single solution to solve every problem on every device. But there are some things you can check.
As with any problem, we're assuming you've already tried rebooting and that you have the most up-to-date software and firmware for your phone. If you haven't, do those things first. They solve all kinds of issues.
Play Services' main job is to download things in the background. Those things could be your emails or the app's ads, or notifications or checking your location to see if it needs to trigger a Google Now event. If your device is connected to multiple Google Accounts, for example because you have personal and work accounts or because you're a spy or superhero with multiple identities, then Google Play Services is having to do all that for multiple accounts.
Third party app misusing Google Play Services?
If the battery drain is a recent development the problem might not be with Google Play Services but with one of the apps that uses it. Try booting into Safe Mode; if your battery problem goes away that's a pretty big hint that the Google Play Services battery problem is down to a third party app.
Google encountering Sync errors
Sync errors are when Google tries to synchronise data but can't, for example because it can't connect to a particular server. Problems with your data can also cause sync errors, so for example if something's gone wrong with your contacts, calendar or Gmail that can cause Google to keep trying (and failing) to synchronise your local data with Google's servers. Removing and re-adding accounts can solve persistent sync errors but before you do that, try disabling Mobile Data in Settings for a minute and then turning it back on again.
When an app needs your location, it requests it through Google Play Services, which gets the information by using your GPS hardware. If you weren't aware, using GPS takes up a lot of battery, and since Google Play Services facilitates this process, it can appear to be taking up the battery life when the GPS is really the culprit.
Task killers are supposed to disable unwanted processes, and they do – but sometimes the result of killing a task is that it immediately starts back up again, so you end up making your phone work even harder than before. That's an easy one to check: try disabling your task killer and see what effect it has on battery life.
Security software has an effect on battery life because it's always on. Like Windows, the threat of malware on Android is blown out of proportion: if you don't download from dodgy app stores and don't open unexpected attachments, the risk of infection is very small. As with the task killer, try disabling your security software and see what happens.
Read also: How to Save Your iPhone 7 and iPhone 7 Plus Battery Life
---
Recommendation: Manage iPhone/iPad/iPod without using iTunes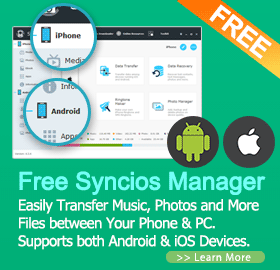 Support to transfer, edit, backup, manage, view iOS & Android mobile data: Music, videos, photos, apps, ebooks, contacts, messages and more.
Download videos from 100+ video sharing sites up to 4K HD video quality and transfer to iPad/iPhone/iPod/Android.
Massive free resources: videos, wallpapers, ringtones
Handy toolkit: Audio converter, video converter, ringtone maker, etc.
Free
You can follow Syncios onTwitter,Facebookfor more tips and tricks.
source: androidpit