Google Play error [RPC:S-5:AEC-0] is an annoying error message Android users see when Google Play apps won't download.
If Google Play won't download app updates or even install new apps, this error message is what most users will see. The Google Play error [RPC:S-5:AEC-0] shows up on Android 4.0 and higher and commonly appears after an update to Android 4.2, though that's not the only reason.
Google offers a way to fix Google Play app download errors, but this multi-step process doesn't work for many users. Thankfully there is a simple fix.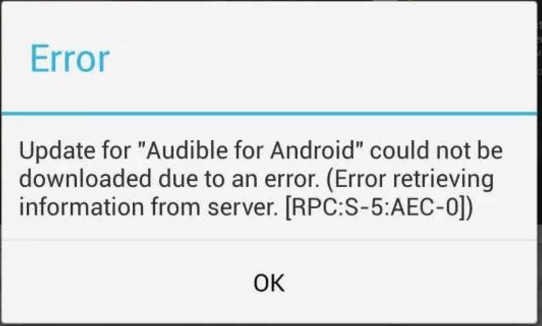 The good news is users don't need to perform a hard reset to fix Google Play download problems.
How to Fix Google Play Error [RPC:S-5:AEC-0]
In order to fix the Google Play error [RPC:S-5:AEC-0] we need to remove the Google account and re-add it. If there are multiple Google accounts, remove them all by repeating the directions below.
To get started, go to Settings. Once in settings look for Accounts. The location varies from device to device, but it is normally near the middle of the main settings page.
Once on accounts, tap on Google Accounts.
In Google Accounts, scroll down and tap Remove. When prompted agree to the pop-up warning that this will remove the account.
Close Settings.
Next tap on Google Play. Agree to the terms and conditions.
When prompted tap on Existing Google Account and sign in to your Google account.
After this is completed, updates should start working immediately. If they don't, try restarting the phone.
Once downloads are working, we need to go

 

turn on syncing for the Google account.
Go to Settings
Accounts
Google accounts
Tap on your account
Put a checkmark next to any service you use, like Gmail, calendar, contacts etc.
This will turn syncing on and get the phone back to where it was before we removed the account.
This should fix the Google Play error RPC:S-5:AEC-0 on phones running Android 4.0 and higher, but if it does not, users may need to perform a hard reset.
Source:  gottabemobile
Read More:
How to install Spotify on Android ?
How to Backup and Restore Android Device on One Click
You can follow Syncios onTwitter,Facebookfor more tips and tricks.
Recommend: if you would like to contacts from old Android Phone to new iPhone or Android, you can try this perfect one click data transfer tool, migrate everything, including SMS, Contacts, Videos, Photos, Call logs and more from phone to phone. Simply download and have a try.