In September, Apple confirmed the iPhone 7 and iPhone 7 Plus, the successors for the iPhone 6s and iPhone 6s Plus. The two devices come loaded with features including improved cameras, a new home button, and more.
The iPhone 7 and iPhone 7 Plus received solid reviews but they're far from perfect. We've already heard about a number of issues plaguing the two flagships. Problems include broken Wi-Fi, busted Bluetooth, and abnormal battery drain.
iPhone 7 and iPhone 7 Plus battery life will vary from person to person but if you're sure your device is draining faster than normal, you'll want to take action. Here are a few things to try if you're experiencing iPhone 7 battery life problems.
Wait A Few Days
If you just opened your iPhone 7 or iPhone 7 Plus or installed a new iOS 10 update, and you start to notice weird battery drain, don't be alarmed. This is normal and it could take a couple of days for your device to settle in. If your iPhone 7 or iPhone 7 Plus is still exhibiting abnormal battery drain after two days it's time to dig into the problem.
Note that this can also happen after you install a new iOS update. Keep that in mind for future iPhone 7 iOS updates.
Use Airplane Mode When You Have Bad Service
When you're in a bad service area your iPhone 7 will extremely hard to pull down a signal. This can destroy your device's battery. To offset this, you can do a few things.
If you're fine with killing off all your services, you'll want to toggle on Airplane Mode. Airplane Mode kills off all of your connections and it will help you conserve battery when you start noticing a huge drop.
To toggle Airplane Mode on, you can head right into your Settings. It's right at the top. You can also access it from the Control Center. To access the Control Center, swipe up from the bottom of your iPhone 7 or iPhone 7 Plus.
Flip off Airplane Mode when you leave the bad service area.
Shut Off Location Services
Location services like GPS can wreck havoc on your iPhone 7's battery life. If you've ever used Google Maps or Waze you know what we're talking about.
To help conserve your device's battery life, you'll want to get a handle on what services are active on your iPhone 7.
To do this, head into Settings > Privacy. You can turn Location Services off completely with a toggle off but we recommend going through your apps to determine what apps should be using your services and when.
If there's an app you barely use working in the background you'll want to limit its capabilities. You can do that with a simple toggle.
Downgrade
If that doesn't work, you could try downgrading to the previous versions of iOS if a downgrade is available.
Dropping down to an older version of iOS 10 won't guarantee success but there's a chance an older version will improve performance.
For more on the downgrade process, take a look at our walkthrough.
Take Your iPhone 7 Into an Apple Store
If you don't want to restore or perform a factory reset, you can also make an appointment to go see an Apple Genius at the Apple Store.
Geniuses will be able to run some diagnostics on your phone and they could help you figure out the problem. A long time ago we took an iPhone 5s in and discovered a bloated battery was responsible for the battery drain.
If you're under warranty, and you are right now, you might be able to get another iPhone 7 or iPhone 7 Plus for free.
Read also: Tips and Tricks on How to Save Your iPhone 7 and iPhone 7 Plus Battery Life
---
Recommendation: Manage iPhone/iPad/iPod without using iTunes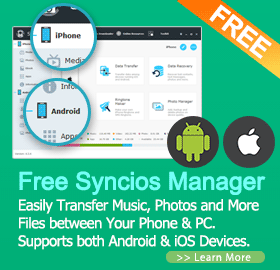 Support to transfer, edit, backup, manage, view iOS & Android mobile data: Music, videos, photos, apps, ebooks, contacts, messages and more.
Download videos from 100+ video sharing sites up to 4K HD video quality and transfer to iPad/iPhone/iPod/Android.
Massive free resources: videos, wallpapers, ringtones
Handy toolkit: Audio converter, video converter, ringtone maker, etc.
Free
You can follow Syncios onTwitter,Facebookfor more tips and tricks.
source:gottabemobile