Apple just released a minor update to iTunes 12, seemingly addressing several issues related to Apple Music's debut in iTunes 12.2. One major problem — automatic switching of certain iTunes Match songs to "Apple Music" status, along with the unwanted addition of Apple's Fairplay DRM — is mentioned in iTunes 12.2.1's release notes. Apple says the update resolves an issue "where iTunes incorrectly changed some songs from Matched to Apple Music," and lets you restore non-DRMed files to your library.
But unless you follow a specific procedure spotlighted in a new Apple support document, the fix could create even bigger problems for your library. Apple notes that if you download 12.2.1, "previously matched songs [that] appear as Apple Music songs" will be fixed, as iTunes will "correct the information automatically." Indeed, you'll see that Matched or Purchased songs that switched to "Apple Music" status now say Matched or Purchased again within the iTunes library. "After you update," says Apple, "you can remove and download again any songs that were incorrectly downloaded as Apple Music." But if you hit the wrong button, you'll find it hard to restore your tracks…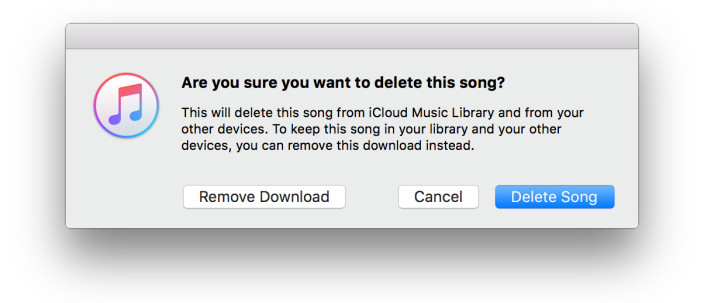 If you want to restore a downloaded, Apple Music DRM'ed track to normal, DON'T just delete the DRM'ed version of the song from your iTunes library. Try to do this, and the dialog box above will pop up. Hitting return or the blue-highlighted button will obliterate the track from both your library and Apple's servers, such that you might not be able to get the track back.
Instead, Apple says, you should control-click and choose "Remove Download" for all tracks that were incorrectly downloaded as Apple Music. Then control-click again and choose "Make Available Offline" to re-download them correctly, without DRM.
This non-intuitive system for fixing tracks could mess up your music library. Even though iTunes 12.2.1 labels them as "Matched" or "Purchased," files you previously downloaded with a status of "Apple Music" are still locked with FairPlay 2 DRM. If you select them and hit the Delete Song button above, the tracks will be removed from your library, and seemingly from iTunes in the Cloud, as well. After deleting a test file that was DRM-locked by Apple Music, we found that iTunes 12.2.1 refused to allow the downloaded file to be returned to the iTunes library, or even to play it at all. The easiest way to avoid this is to follow the support document's procedure carefully to avoid losing some of your Matched and Purchased music.
Thankfully, if you accidentally delete some of your iTunes Store-purchased music from the iCloud Music Library, you can recover it with a workaround. Go into your iTunes Account > Account Info > iTunes in the Cloud > Hidden Purchases > Manage. You should find accidentally deleted songs and albums there. Unhide them… but this doesn't seem to be enough to let you redownload them. In our test, deleted but unhidden tracks didn't re-appear in the iCloud Music Library.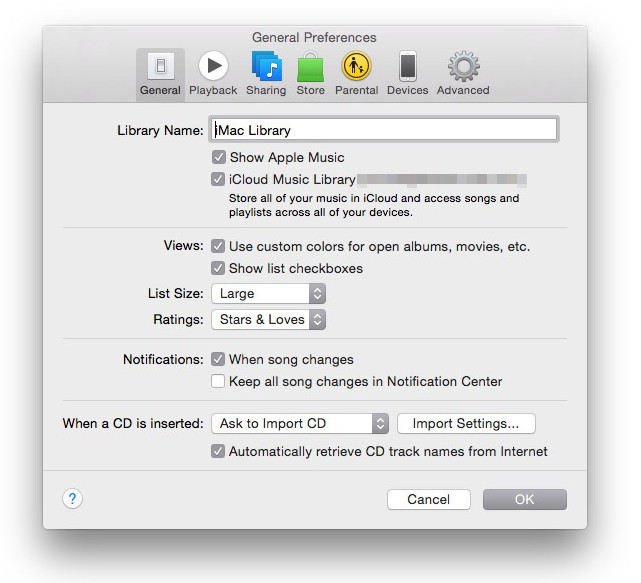 So go into iTunes Preferences, uncheck iCloud Music Library, and hit OK. You'll see your library of on-computer and iTunes purchased content, including files deleted from the iCloud Music Library. Hit the cloud download button to restore your accidentally deleted songs. Then go back into iTunes Preferences, turn iCloud Music Library back on, and hit OK. Your deleted tracks will be reunited with your library, and downloads will be free of iTunes Music's FairPlay DRM.
Source: 9to5mac
Read More:
You can follow Syncios onTwitter,Facebookfor more tips and tricks.
Recommend: if you would like to contacts from old Android Phone to new iPhone, you can try this perfect one click data transfer tool, migrate everything, including SMS, Contacts, Videos, Photos, Call logs and more from phone to phone. Simply download and have a try.