Google Play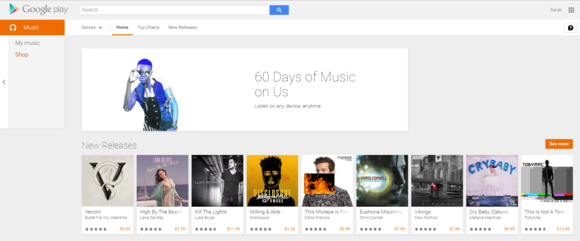 Google Play no longer offers a free daily track, but the Android app store still features free music—usually from up and coming artists—if you know where to look. Google Play now has a section called the Antenna Sampler, where you can find a selection of free songs (updated monthly) from up-and-coming artists in a variety of genres. To find this free music haven, go to the Google Play music page (not to be confused with Google Play Music—Google's paid streaming music service) and either scroll down or hit Ctrl-F on your keyboard, type 'free,' and hit Enter.

Near the bottom of the page you'll see a section called Free Music—click See More to open up the current month's Antenna Sampler. The September Antenna Sampler currently showcases 19 free 320Kbps MP3 files with album art included. In addition to free tracks, Google often gives away entire albums for limited periods of time: Last week it was Sia's 1000 Forms of Fear; this week it's Jason Derulo's Everything is 4.
Downloading free songs from Google Play is a multi-step process. First, you'll need to "purchase" the track and add it to your Google Play library. To do this, click on the track to open the album page. At the top of the page you'll see the price for the entire album (plus a Free Trial button if you haven't yet tried out Google Play Music), but scroll down and you'll see that the price next to the individual track is listed as 'Free.' To add this song to your library, click Free and go through the Google Play checkout process. You can also listen to a 30-second sample of the song before you "buy" it by clicking the play button that appears when you hover over the track.
To actually download the free song to your PC, so you can add it to iTunes or put it on your phone, you'll need to open your Google Play music library. To do this, go to the Google Play music page and click My Music. Under Recent Activity you should see the song or album you just downloaded.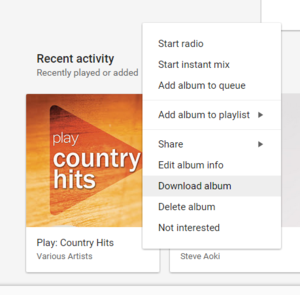 Hover over the album art and click the vertical ellipsis button that appears to open up a menu.
Click Download or Download Album(depending on whether it's a track or an album) and the website will prompt you to either download the Google Play Music browser extension, which lets you download the track multiple times, or download the song directly (which you can do a maximum of two times).
Amazon
Amazon has thousands of tracks available for free: 46,480, to be exact (don't get too excited, for some strange reason, hundreds of those tracks are Bible readings. In Bulgarian). But what's nice about Amazon's free music is that it's easily sortable by genre, artist, release date, and even the average customer review score.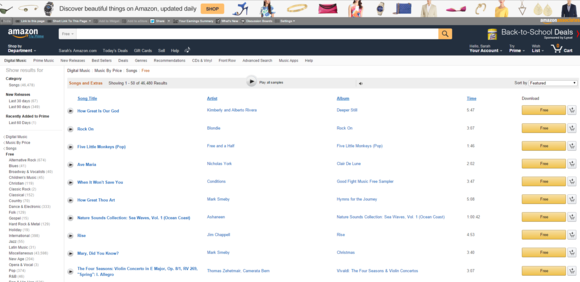 Genres include country, folk, rock, gospel, pop, rap & hip-hop, and soundtracks, though most of the free titles are simply categorized as "Miscellaneous." The tracks you download from Amazon include album art and are of good quality (MP3s with bitrates between 217kbps and 271kbps).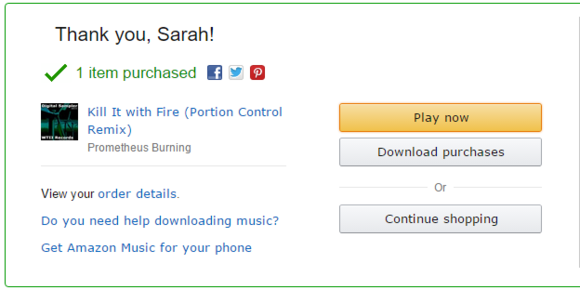 Like Google Play, Amazon first makes you "purchase" free tracks before you can download them. To buy a track, find the song you want to purchase and click the Freebutton to buy it right away, or click the cart button to add it to your shopping cart. Go through the Amazon checkout process and once you've paid (nothing, if you're only buying free tracks), a screen will pop up with the option to download your purchases.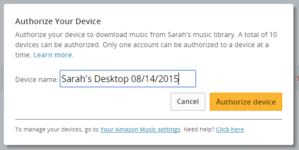 Click Download Purchases and Amazon will ask you if you want to download your songs through the Amazon Music app or if you'd rather just download them directly.
If you choose to download them directly, you will be asked to authorize your device (you can authorize up to 10 devices) before choosing where to download your file. Unlike Google Play, Amazon does not limit how many times you can download each song.
Free Music Archive
As you might expect from the name, all music on the Free Music Archive is free. Some of it is even pre-cleared for derivative work (if you want to use it in an online video, for example) under Creative Commons licenses. Most of the music you find on the FMA is from independent and/or lesser-known artists, but there are a few big names (Nine Inch Nails, for example) floating around. The FMA lets you browse music by curator (curators are mostly public radio stations) and genre, and you can also search for music based on CC license type.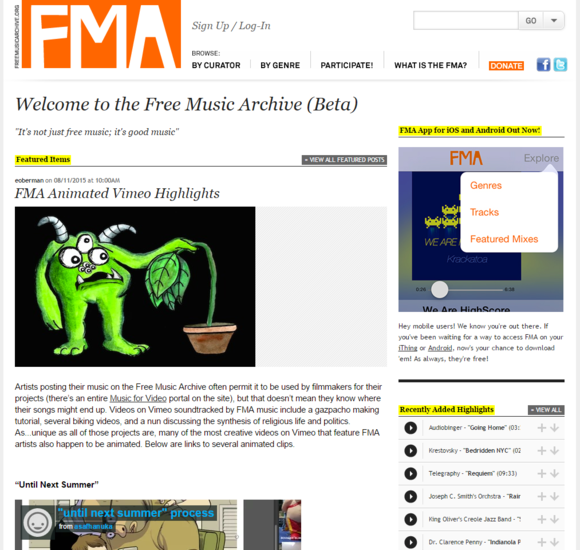 Downloading music from the FMA is ultra-simple: Just find the track you want to download and click the down arrow button to download it. You don't even have to create an account. You can also click the play button next to any track to hear a full streaming version through FMA's website. Tracks are good quality (MP3s with bitrates between 256Kbps and 320Kbps) but do not download with album art.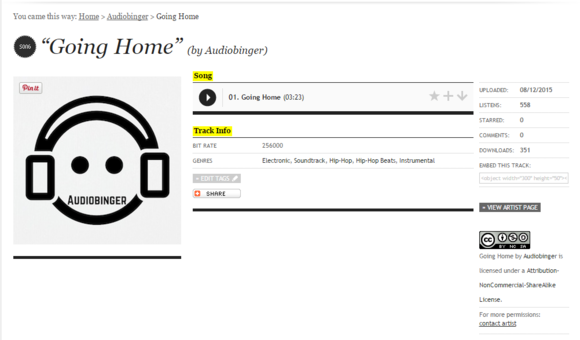 NoiseTrade
NoiseTrade is a platform for artists to connect with fans. Artists offer people free music in exchange for their email address and postal code. You can download all the free music you want, all you have to do is agree to a few promotional emails every now and then. Most of the artists on NoiseTrade are independent and/or lesser-known, and bigger major-label artists will usually not post full albums on the site—just EPs.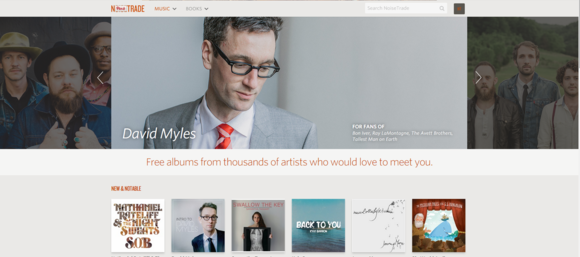 To download music from NoiseTrade, you'll first need to create a free account, which requires you to enter your email address, a password, and your zip code. By downloading music, you also agree to subscribe to periodic emails from NoiseTrade and the artist (though you can unsubscribe from these emails).
Once you have an account, you can browse through NoiseTrade albums by genre to find the songs you want. You can only download albums—not individual tracks—on NoiseTrade. To download an album, click on the Download Music button from the album's main page. You'll need to confirm that you're okay with trading your email address and zip code for the music, and then your album will download as a zipped file.
You'll also have the opportunity to share your selection with social media, or leave a tip for the artist. Before you download an album, you can listen to full versions of the individual tracks from the album's main page. Tracks from NoiseTrade vary in quality, MP3s with bitrates between 192kpbs to 320kbps, but come with album art.
Freegal
While most free music sites specialize in up-and-coming and independent artists, Freegal is a little different. This music archive doesn't have every hot pop song in the top 40, or anything, but it does have newer music from bigger artists. Right now you can find "Cheerleader," by OMI; "Fight Song," by Rachel Platten; and "Shut Up and Dance," (acoustic) by Walk The Moon available for download. Freegal tracks come with album art and are good-quality MP3s with bitrates of 256Kbps.
The difference between Freegal and the other free music sites we've talked about is that it requires a library membership from a participating library. While this might seem like a big hoop to jump through, many public libraries—including my home library, the Los Angeles Public Library—are members. To find out if your library participates, check your library's website or use Freegal's library finder.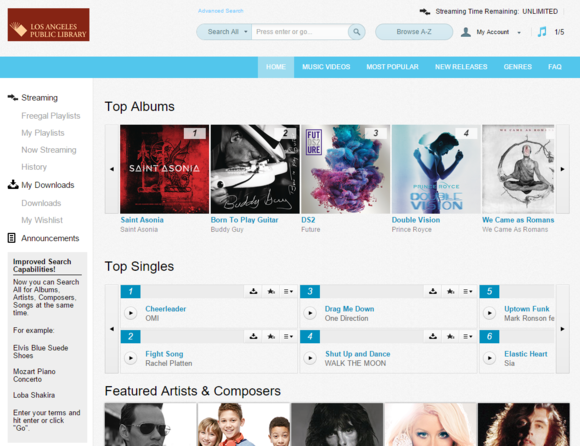 Freegal allows you to download a certain number of songs per week, depending on the agreement your library has with the service. For the LAPL, it's five tracks per week. You can also stream music directly from Freegal's website, though some libraries also have a streaming limit (the LAPL does not).
To download a song from Freegal, login to your library's Freegal page and find the song you want to download. Click on the play button to play a full streaming version of the song, or click the plus button and choose Download Now to download the song.
Once you click the Download Now song, you automatically use up one of your downloads—whether or not you actually save the track to your computer. If something happens and you're unable to save the track right away, you can find your recent downloads in the Downloads section and re-download a song up to two more times.
How to make your favorite songs as iPhone ringtone?
Syncios Free iOS Manager  is such a good iPhone ringtone maker, which not only enables you to easily transfer and backup multimedia data including music, video, photo, Ebook, apps, contacts, notes between iPod/iPhone/iPad and PC/Mac. There are more functions of Syncios to better manage your iDevices, such as online video downloader, iPhone ringtone maker, handy audio & video converter, etc.
Now, let's walk through how to make ringtones for iPhone:
Step 1. Download and install Syncios iPhone Ringtone Maker to your computer.



Step 2. Plug your iPhone into computer and run Syncios.
1. Click Toolkit > Ringtone Maker to start the ringtone maker tool.
2. Choose a music file on your PC or drag and drop file to Syncios directly.
3. Set start and Set end to the ringtone and choose effect from Fade In and Fade Out. If you would like to make SMS tone, just simply check the SMS Ringtone option.
4. Choose Save & Import button Syncios would convert your ringtone and then import to current device shown on the upper right corner automatically. Choose Save to PC button you can simply save the output ringtone to local PC.
5. Go to your iOS device, click Settings > Sounds > Ringtone, where you would find the ringtone.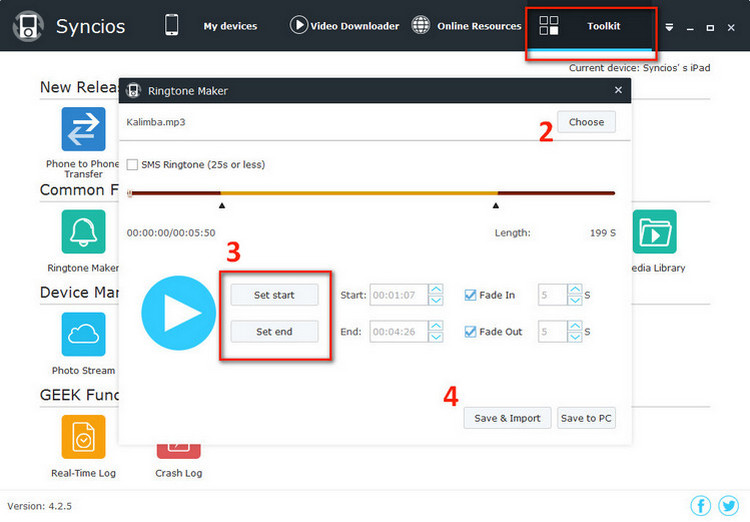 Read More:
How to Copy Everything from Old Android Phones to new iPhone 6S/Plus
How to Copy Everything from Old iPad to new iPad Pro
You can follow Syncios on Twitter, Facebook for more tips and tricks.
Recommend: if you would like to backup your iPhone/iPad/iPod Touch data to the Windows PC or Mac, just go here to learn more. Simply download the free version and have a try, it can transfer data between iOS device and computer freely and easily.