A new feature being tested by Apple is supposed to be easier on your eyes; here's how to enable it.
Apple on Monday announced iOS 9.3. The upcoming operating system is currently available in both developer and public beta form. Apple provided no timing on when the general public would have access to the update.
iOS 9.3 is perhaps the most significant update we've seen during the middle of an OS life cycle. Typically Apple waits to release as many new features in a single OS update until the fall (e.g., going from iOS 8 to iOS 9).
In fact, there are seven big features you can expect in the upcoming update to your iOS device.
One new feature, called Night Shift, aims to help eliminate eye strain when viewing your device after sunset. According to Apple's preview page, the bright blue light emitted by our iOS devices during the evening hours can have an impact on how long it takes you to fall asleep.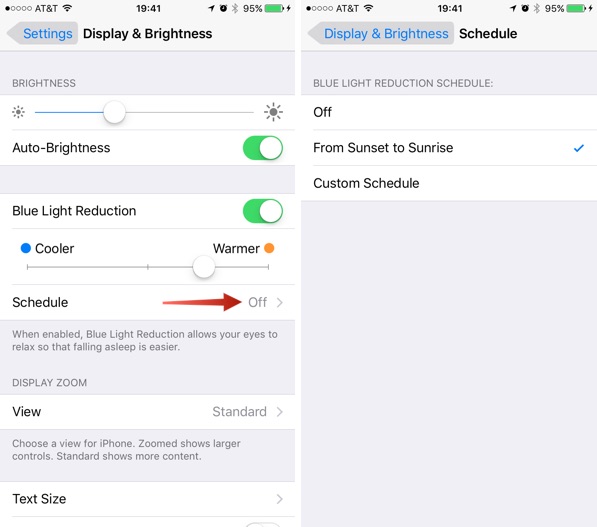 With Night Shift, Apple will detect your location and determine the right time to shift your iOS device's screen from a blue screen to a warmer yellow-toned color.
For those who install the beta, you will need to enable Night Shift in order to take advantage of it. To enable the feature, launch the Settings app then select Display & Brightness.
A new option titled Blue Light Reduction will be present. You can manually enable it by sliding the appropriate switch to the On position, or you can schedule the feature to automatically turn on by tapping on the Schedule option.
When scheduling, you can opt for your iOS device to turn the feature on and off at sunset and sunrise, respectively. Or you can set your own custom schedule, should you want to be more or less aggressive with the feature.
Using the slider, you can adjust how drastic the color change is. As you adjust the color setting, your iOS screen will briefly reflect the color in order to give you an idea of what it will look like. Remember, the idea here is to go with a warmer color, meaning the further you move the slider to the left, the less effective it will be.
The first few days when using the feature will undoubtedly feel unnatural, but as you adjust to the color change you begin to appreciate the subtle difference.
Reference: Cnet
Read more:
You can follow Syncios on Twitter, Facebook for more tips and tricks.