One of the iPhone 6s' tentpole features is its ability to shoot and edit 4K video. Although 4K televisions have yet to become ubiquitous in the home, online video services such as YouTube have been supporting 4K video for a while.
Even though the iPhone 6s can't display 4K resolution on screen, it's capable of shooting it, and users can then upload the video to YouTube. Users can also edit 4K video using iMovie, which comes bundled with every new iPhone 6s.
Interesting, 4K video doesn't come enabled out of the box. If you want shoot 4K video, you'll have to enable it from the iOS Settings app. How do you enable it, and why did Apple make this decision? Check out this post for the details.
How to enable 4K video on the iPhone 6s
Step 1: Open the Settings app
Step 2: Tap Photos & Camera
Step 3: Scroll down to the Camera heading, and tap the Record Video section
Step 4: Tap the 4K option to enable 4K video on your iPhone 6s
Once you launch the Camera app, switch to Video mode, and you'll see a 4K logo next to the shutter button.
Why 4K isn't enabled by default
If 4K video is something Apple touts as a feature, why is it turned off by default? For starters, most people don't have playback devices for 4K video. The Apple TV doesn't support 4K, most Macs don't support 4K, and none of the current iOS devices support 4K. And although it's being heavily pushed now, few people actually own 4K TVs.
That doesn't mean that there aren't those who benefit from 4K, though. Actually, most of us already can derive benefits whether we realize it or not. Computer screens and even iOS devices, while not 4K, are still capable of displaying a higher resolution than 1080P. And let's not forget the people out there who have 5K iMacs like our very own Sebastien Page.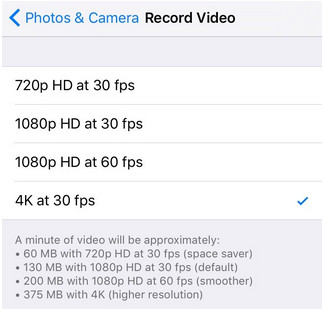 Most importantly, however, 4K video uses a lot of space. A 4K video on an iPhone 6s uses 375MB of storage per minute of video recorded. It doesn't take a genius to understand that 16GB iPhone users would quickly fill up their storage when shooting 4K video in no time.
Rather than taking a whole lot of unnecessary support calls for lack of storage, and rather than dealing with the fallout from people complaining about lack of space on the Internet, Apple made the wise decision and made 4K video opt-in only.
How to download online 4K video to iPad or iPhone?
With the help of this amazing iPhone Videos Downloader, you can enjoy ultra high quality movie on your iPad or iPhone whenever you want.
Click here to learn how to download 4K videos to iPad/iPhone/iPod Touch step by setp.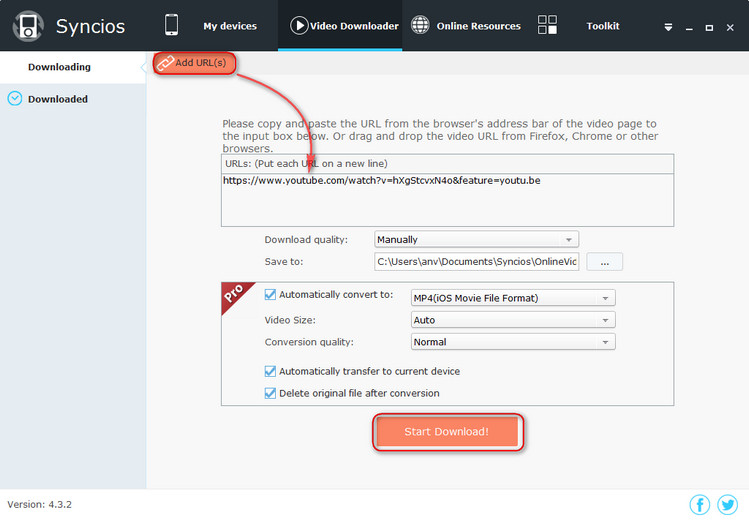 Reference: idownloadblog